All property searches should start with your criteria. Make a list of what you want…warm weather…proximity to a town…or a lock-and-leave apartment from which to explore…
If "income potential" is on your list, then the search gets really exciting.
Let's take France, a fertile hunting ground for bargain real estate. Now, I've never found what I class as a RETA-grade investment deal there. That is to say an opportunity to double your money in five years or make a gross yield in the region of 10% to 20%. But I have found plenty of stunning bargain properties with income potential. The kinds of places that can throw off a tidy income…country houses with self-contained apartments, a complex of converted farm buildings…town homes with a couple of small apartments.
On a rocky crag overlooking the river Vézère, the beautiful town of Uzerche was an unassailable stronghold throughout the Middle Ages. The medieval walls are these days artfully used to create terraced gardens full of vegetables, flowers, and orchards. It's in the Limousin region in south-central France—a land of rolling hills, deciduous forests, and delicious farm-fresh food.
In the center of Uzerche is a four-story building with three apartments—each with a terrace and a balcony. There's also a commercial space on the ground floor. As I write this it's been reduced in price from €112,500 to €98,500. (That's from $126,250 to $109,978.) The first- and second-floor apartments are both three-bed apartments. The third-floor studio apartment needs total renovation. You get cellars and a garden with this place too. That's just one of dozens of examples I've found digging around France (you can start looking yourself at Frenchestateagents.com).
Many of the best income plays I've brought members of my Real Estate Trend Alert have been from the Riviera Maya in Mexico. This 80-mile stretch of Caribbean paradise draws millions of people from all over the planet. Cancún airport saw 25 million passengers last year…put that in the context of any tourism market in the world and it's just enormous.
If income potential is high on your list of criteria, then the key is to find an attractive destination that vacationers can easily get to from as many locations as possible. (That's not going to be rural France.)
The Riviera Maya attracts Europeans during their summer, North Americans escaping their winter, Latin Americans are drawn at holidays like Easter…Japanese and Chinese tourists are coming…people are always visiting.
That's why…with the right type of condo in the right location on the Riviera Maya…you can get fantastic rental returns. For example, three years ago, RETA members bought little luxury suites in Playa del Carmen with a RETA-only price from $143,800. The last similar units available listed at $209,500. The development is now operating as a hotel, with guests paying up to $220 a night to rent a suite…
That translates to one of the strongest places on my beat for short-term rentals. You can rent by the night, by the week, by the month. Peak season is getting longer and longer as more tourists visit from across the globe. Premium season—the holidays—sees the best rentals snapped up months in advance.
Back in Europe, one of my team spent time in the Las Alpujarras region of southern Spain last year and has kept a close eye on the real estate market since. The white villages here cling to the slopes of the Sierra Nevada and have an ancient history. The closest city is Granada, where you'll find the Alhambra palace—visited by more than 2 million tourists a year.
He sent me details of a four-story converted mill in the village of Busquistar listed for €150,000 ($168,239). The house has 11 bedrooms, four bathrooms, two kitchens, and three separate entrances. It's close to the town square and has a lot of original features like chestnut ceiling beams and fireplaces. Without actually visiting it's hard to tell for sure, but it looks like there's the possibility of creating at least two separate units, perhaps three. It certainly has potential as a guesthouse boutique hotel. The region is hugely popular with walkers and eco-tourists.
Deciding how much work you want to take on is important. If you're looking for something ready to go then look for existing rentals for sale. For instance, last year I found an Airbnb for sale in Portugal's second city of Porto, about 15 minutes' walk to the center with a great track record of reviews on Airbnb. The list price was €220,000 ($246,697) and if occupancy was as solid as it looked, then the yield was very respectable. In this case you're not just looking to buy the property, you want the return clients, those great reviews…Of course, my final piece of advice is that if you're serious about making income from real estate you should consider becoming a member of my Real Estate Trend Alert. Let me do the hard work for you. To get a taste of regular updates on what my research team and I are up to, where I'm going scouting, and details of cool overseas properties like those I've mentioned here then just sign up to my Roving Real Estate Investor. It's free and easy. Go to this link: Intliving.com/rrei and pop in your email address.
Your Real Estate Questions Answered
Meyers comments: Hi Ronan, I just recently signed up for the newsletter and the RETA membership. I also received your book, The Profit Principle. Being a newcomer to any real estate investment, I'm a little overwhelmed about where to start.
First a little bit about myself. I'm 56, live in Los Angeles, and am married. We don't currently own a home. We rent a duplex here—sold our other property a few years back when my spouse went back to school for a masters. My goal is to retire around age 65 and live part-time in the U.S. and part-time in Europe. Possibly working remotely from wherever my home base is, sooner than 65.
While my destination goal is Europe, obviously that's a wide net. A couple of other requirements within the continent: 1) warm weather (similar to southern California); 2) ocean view or even on beachfront itself; and 3) easy access to a major city for culture and the like. We are a gay couple, so a welcoming community is another consideration.
Ideas that appeal to me: southern France or Italy; maybe Spain; I've never been to Portugal but know that it rates high on your and International Living's radar. I like the idea of possibly renting out the property when not there, but frankly, that's not top of my priority nor is selling for a profit right away. Where to start? Especially now that travel is so limited.
Ronan says: Well, Lagos in the west of Portugal's Algarve is often compared favorably to Southern California. In fact, I know of one expat from California living in Lagos who says the oranges are even sweeter. It's got a similar coastline of coves, cliffs, and good surfing beaches. I've recommended deals to RETA members there and I know of members who have bought there.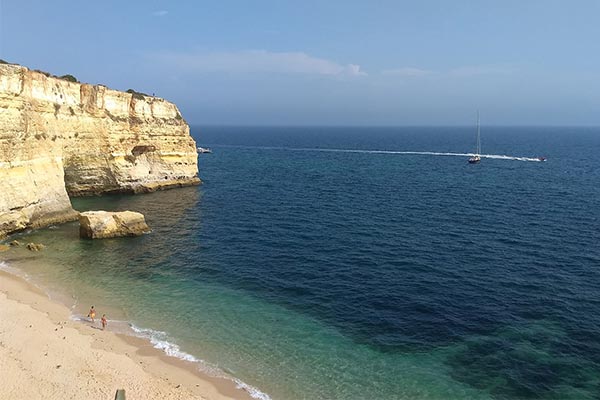 Lagos is a historic town with winding lanes, lots of restaurants, and good connections to the airport at Faro. The climate is Mediterranean. Portugal's banks will lend to foreigners at extremely favorable rates and I rate Portugal's Golden Visa program the best for real estate investors in the world right now. I might be biased about Portugal though, I'm personally seeking a base there. I do think that if you're seeking ocean views and good weather France might not offer as much return on your investment as Portugal, Spain, or Italy.
Ronan's Note: Unless I say otherwise, I haven't seen the properties mentioned on either of these two pages in person, nor have I conducted any due diligence. As always, it's critical you do your own due diligence on any real estate.
Get Your Free Real Estate Report Now
Sign up for our free daily Postcard e-letter and get a valuable free report on the The 5 Best Places to Buy Real Estate In 2023.
Related Articles
The 10 Best Places to Invest in Real Estate
Making Money in a Crisis Shouldn't be Nerve-Wracking
My Biggest Discovery in Faro (And it Wasn't Real Estate)