With several feet of snow on the ground not uncommon during winters in their native Calgary, Canada, Warren Schoff and Rhoda Parent were looking for an escape south of the border.
"In 2002, we visited Playa del Carmen and fell in love with Mexico. We kept coming back twice a year. In 2009 we started scouting properties on the Yucatán Peninsula. We liked the lower cost of living and the inexpensive, more personalized healthcare. And there's a party every weekend," says Rhoda, who adds they wanted to have an adventure while they were still young enough to enjoy it.
Finally in 2013 the couple made the move to a small traditional Mexican village near the colonial city of Mérida, which is on the western side of the Yucátan Peninsula.
"We sold all our stuff as a package deal, including our home. We packed our dogs, some luggage, and family photos in our Jeep and started driving. This has been a huge change in our lives, a huge turnaround. We have often questioned our sanity, but never our decision," Rhoda laughs.
Their new hometown is called Cacalchén. While nearby Mérida is an expat haven home to thousands of Americans, Canadians, and expats of other nationalities, their town has just four expat couples, says Rhoda. And it's still a bastion of traditional Yucatecan culture.
"It's clean and well-run," notes Rhoda.
Rhoda is active in the community, volunteering to teach English to students eager to improve their job prospects. She also enjoys taking part in local festivals and celebrations.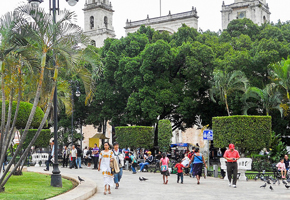 "We've been embraced by the town. When I speak with people, I answer them in half English, half Spanish. They teach me while I teach them," says Rhoda.
The cost of living and high taxes in Canada were another motivation for moving. They have cut their monthly expenses by about a third since moving, according to Rhoda.
Their property taxes are $6 per year. They pay $23 to $38 per month for electricity. And gas for their stove runs about $27 a tank, which lasts five to seven months, depending on how often they use it. They frequent the local markets for the vast majority of their grocery needs—there are three within walking distance of their home. A big bag of fruits and vegetables for the week runs them about $3.80.
A successful real estate agent back home, Rhoda started two online businesses in the financial and skincare spaces when she moved. It's a portable income, and she can work from anywhere with reliable high-speed internet.
She gets online at about noon, working until about 4:00 p.m. or 6:00 p.m. each day. The part-time schedule allows her plenty of time for her new hobbies…but still gives her a comfortable income.
Warren also works online, providing graphic design services for a company in Canada.
The couple heads to the beach—about 30 minutes away—on weekends…or jumps in their jeep to explore the countryside. The region is full of cenotes, freshwater pools in limestone bedrock that offer a cool place to swim in the tropical heat. There are also former haciendas of rich landowners of times past that have been restored as boutique hotels and restaurants.
Rhoda notes they are also just 30 minutes' drive to Mérida, so it's easy to come in to the city a couple of times a week.
Mérida's historic centro, made up of restored colonial homes, churches, and other structures, features a thriving arts scene. Mérida is well known for its symphony performances, theater, fine art galleries, arts and craft exhibitions, folkloric music and dance performances in the towns' many parks and squares. Much of the entertainment is free.
There are also First-World hospitals, shopping, and a variety of dining options, from simple local fare in the markets to fine dining with an international flair.
"It's been a fabulous experience," says Rhonda. "I wonder why more people don't do it. Life is short. We dream as kids, but somewhere along the way, we lose that."
Get Your Free Fund Your Life Overseas Report Here:
Sign up for IL's Fund Your Life Overseas e-letter today and we'll also send you a FREE report about ways to earn money abroad. Simply enter your email in the box below and we'll send you this free report: Fund Your New Life Overseas With These 6 Portable Careers.
Get Your Free Report Here