There have only been two times in my life when the influence of others has provided immeasurable positive benefits for me. The first was when I met and married my wife, Diane. The other was when I discovered International Living.
Like millions of others during the 2008 recession, Diane and I found ourselves struggling to survive when my executive-level job disappeared and the equity in our home quickly vanished. Like a brutal home invasion, the global economic meltdown had forced its way into our family and the consequences were painful and very personal.
I was about to reach retirement age; the time when most people shift their lives into a lower gear but instead, we were fighting for survival. Despite our efforts, we were sinking and no conventional solutions were at hand. It was then, at our lowest point, that I discovered a new romance…with International Living. It turned into a love affair that would throw us a lifeline and be a huge positive influence in changing our lives over the next several years.
It all started when I read an article from International Living detailing the top overseas retirement havens for North Americans that offered the promise of an enhanced lifestyle at a fraction of the cost available at home. As I read about beautiful and exotic locations, sundrenched beaches, and mountain retreats—all available for pennies on the dollar, compared to anything that could be found in the States—a lightbulb came on in my head. Could this be our better way?
I spent more than an hour scouring the IL website, its various articles written by and about those already living outside the U.S. I had never before considered the notion of living outside the United States but that first encounter with International Living provided hope and planted a seed which quickly grew.
I think that was the first night I slept better than I had in over a year. I spent the next week or so, researching a number of countries, I subscribed to the IL monthly magazine and bought a few country reports and books. This was it…our solution! I had enough information now to share my discoveries with Diane and we both agreed to move forward with plans to find the country that best met our needs and become expats.
The International Living resources, combined with our ongoing research from many other sources, continued to reinforce the idea that our plan was viable. Every article and report we read was like receiving a full charge of enthusiasm; like our own private cheerleading squad telling us we could do it. We read about others who had done the same thing all across the globe and while people around us thought we had lost our minds, we knew better.
In the spring of 2012, Diane and I sold what remained of our belongings and packed the six suitcases allowed by the airline. Diane tucked our Chihuahua under her arm and with a deep sigh and only a small amount of trepidation, we began our expat lives on Ecuador's northern coast. It was in Ecuador when Diane and I first began to do some occasional freelance writing for International Living.
We attended our first IL conference in Quito, Ecuador and, in fact, we were invited to speak at that conference along with many others, describing our new expat lives to those in attendance.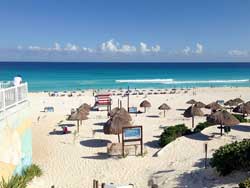 After two years in Ecuador, and recognizing that as a heart patient, I needed to be closer to the VA medical care system in the States, Diane and I said goodbye to our wonderful new lives in Ecuador and moved to the Caribbean coast of Mexico. We now live in Cancun, just a bit more than an hour away from Miami. We have a beautiful condo with spectacular views, right on the Caribbean, in a city with modern hospitals, great infrastructure, and more entertainment options than we'll ever utilize.
I had been regularly writing articles for International Living and continued to do so when we moved to Mexico and about a year ago I became IL's Correspondent for the Riviera Maya…I was now a fully fledged, card-carrying member of the International Living family.
The truth of the matter is that International Living was the primary, but not the only, resource we utilized as we pondered a new life overseas. When considering a move overseas, you should use as many resources as possible to gather information. International Living provided us with credible, solid information, and the encouragement we needed for such a major lifestyle change. For us…it was a total win!
Because of International Living we've not only survived but we've thrived. We've swum with sea turtles in the Caribbean, snorkeled in dazzling underground cenotes, and had a lesson in tortilla-making in the primitive outdoor kitchen of a Mayan family. We've visited the natural hot spring pools on the edge of Lake Chapala in the Sierra Madre mountains and attended an amateur drag show featuring expats willing to shave their beards and don evening gowns and heels to raise money for charity.
I'm extremely proud and privileged to now be part of the IL family, providing the research and information to assist people like you as you may consider a similar decision. And as part of the International Living family, and the larger community of expats, we never feel alone…no matter where we travel.
Get Your Free Report on the World's Best Places to Retire:
Learn more about the best places in the world to retire in our daily postcard e-letter.
Simply enter your email address below to sign up for our free daily postcards and we'll also send you a FREE report on The World's Top 10 Retirement Havens.
Get Your Free Report Here