"Darling," I said to my husband, Mick, in my sweetest voice, "How would you feel about buying a beautiful apartment in Thailand?"
"You've got to be joking."
Mick's face made his feelings clear. There was no way he was going to invest the little money we had in another country, particularly one we knew very little about.
But my heart was set on the idea. And, when I saw an apartment that we had previously stayed in on a holiday in the northern Thai city of Chiang Mai for sale on an online real estate page, it felt like destiny calling.
I recalled the view of Doi Suthep—the mountain with a sparkling golden temple that can be seen day or night—from the apartment and thought about the fellow expats I had met there who had bought a unit in the same building. If they could do it…
Three months later, having convinced Mick to at least take another look at the apartment, we were on a plane to Chiang Mai.
Stepping inside, we could see the unit had great bones. It was a studio, with white tile flooring and white walls. Light flooded in and it came furnished—as do most apartments in Thailand—with a queen-sized bed, a lounge, a few coffee tables, and inbuilt cupboards.
The location was good too: in an area that doesn't flood and near a hospital, a shopping center and about 200 restaurants. Unbeknown to us then, the area, called Nimmanhaemin, was about to surge in popularity.
So, we bought it. Mick caught my enthusiasm and we justified the purchase as we considered it a perfect holiday home.
We paid $28,000 and did a little bit of work right off the bat. Just a paint job and some new tiles in the kitchen and bathroom ran us about $1,200.
We decided to rent it out when we weren't using it ourselves. The area was getting a name amongst expats and wealthy Thais as a trendy spot for food and artisan products, so it was easy to find eager tenants. Ours were mostly young Western expats who had come to Thailand to teach English and experience a new culture.
Initially, we rented it for $300 a month. After a few years we raised it to $400 a month. We saved the money and then spent it on our holidays back in Thailand.
Mick and I made the move here, along with our teenage son, back in 2015. Needing somewhere bigger than our apartment, we settled into a three-bedroom, two-bathroom townhouse. We continued to rent out our unit but, just recently, decided to put it up for sale.
The market was a bit slow, so it took four months to find a buyer. But, when we did, we got more than we expected and made a profit of $50,000. And, when I factored in the rental income over the years, I realized we were $79,590 ahead of our original investment.
The funny thing is, we didn't buy it to make money. It was just a holiday apartment that we accidentally maximized on. And, aside from the initial DIY work we did, we really didn't have to lift a finger.
Get Your Free Real Estate Report Now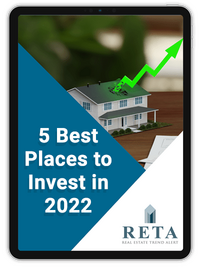 Sign up for our free daily Postcard e-letter and get a valuable free report on the The 5 Best Places to Buy Real Estate In 2022.
Related Articles
Best Places To Buy Condos In Chiang Mai, Thailand
The Best Cheap Eats In Chiang Mai: My Top 5