I absolutely adore Spain. In fact, as I write this, I'm getting ready to head on vacation there.
I go to Spain whenever I get the opportunity; this is my third vacation there in the past five years. This time I'll head to the North of Spain…to the little-known but very affordable region of Galicia. Previously, I've visited artistic Barcelona, historic Seville, and sun-soaked Malaga…three cities with their own distinctive characteristics, appeals, and benefits—and I'm anxious to follow up this vacation with another soon, to picture-perfect Valencia, the bull-running city of Pamplona, and the traditionally preserved hillside towns of Cuenca and Ronda.
So what is it about Spain that I love so much? That's hard to sum up briefly.
For a start, the people are wonderful: warm, friendly, passionate, and incredibly helpful. They've figured out what's important in life in Spain, too. Nationwide, the country still takes a daily siesta—a mid-day break—to make time to eat well, have a nap, or see friends and family. And evenings are dedicated to friends and family, too: sitting in local restaurants or around a kitchen table, with everyone from the very young to the very old eating together.
And the offerings at the table? If you're a foodie, like I am, you'll be in heaven. Fresh, locally caught fish, salamis and jamons (dry-cured hams), cheeses, as many olives as you can eat, and more are all washed down by affordable but delicious wines and beers.
Culturally, too, Spain is hard to touch. As the birthplace of so much history, art, and world exploration, it's very hard to be bored in Spain. Take in Gaudi's "melting" church—the Sagrada Familia—in Barcelona…Picasso's artwork in his hometown of Malaga…the maritime museum in Bilbao…the historic "camino" (pilgrimage route) to Santiago del Compostela…
Not in the mood to go exploring? Then you can head to one of the country's countless beaches for some relaxation…to the many cities for some great shopping—Zara, Desigual, and Mango are all Spanish brands…or to the countryside to take in stunning and dramatic mountains, orange groves, and rustic villages.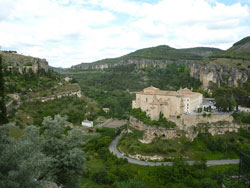 All of this comes a lot more cheaply than you might expect. Though Spain offers positively First-World amenities—top-quality health care…great infrastructure and affordable trains and buses throughout the country…museums, galleries, operas, and theaters—because of the recession, which hit Spain more strongly than most other countries in the EU, it is the most affordable European retirement destinations on our beat.
That fantastic food I mentioned earlier is ridiculously affordable. Stop for a menu del día, the set lunch offered countrywide, and you'll be hard-pressed to spend more than $13 on a meal that includes a choice of starter, main course, and a beverage including wine. Indulge in tapas in the evening and between a couple, with a bottle of wine, you can expect to spend $30 to $40 to gorge (less if you stay out of the tourist areas).
With real estate going for a song to rent or to buy—the bottom fell out of the property market in Spain a few years ago—a couple could live exceptionally well in Spain for $30,000 a year or less. That's without slumming it.
And who knows? Maybe I might see you in Valencia, or Bilbao, or Ronda in the future…
Free Spain Report
Learn more about Spain and other countries in our free daily postcard e-letter. Simply enter your email address below and we'll also send you a FREE REPORT — Live the Good Life in Sunny, Affordable Spain.
This special guide covers real estate, retirement and more in Spain and is yours free when you sign up for our IL postcards below.
Get Your Free Report Here