When I told people, I was selling everything I owned, leaving behind my teaching career and moving to Thailand, I heard, "No you're not," "You can't"…and even, desperate pleas of "Don't do it, you're making a mistake." Actually, I couldn't believe it myself, although I knew by then that I was committed to the idea.
Two years on, at the age of 47, I'm retired and living an incredibly beautiful life in Chiang Mai, Thailand.
My day begins when I wake up naturally, without an alarm. I take advantage of the coolness of the morning and wander off to explore the exotic landscape surrounding my home. Just yesterday I happened upon a temple where Thai people were releasing fish, frogs, and turtles into the Ping River after a Buddhist prayer. I discovered that each offered different types of fortunes. If you released turtles, for example, you could rid yourself of ill health. Every temple has a secret treasure, whether it's a painting, Buddhist quote, striking statue, or serene garden.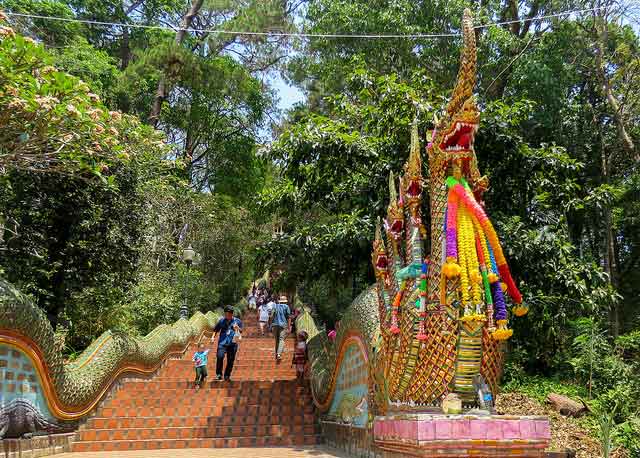 Back home, in my old life, I would wake to an alarm at 5 a.m. My day would be busy and stressful, and I wouldn't arrive home again until after 6 p.m. I wasn't there to see my son at breakfast and often missed the family dinner. I had little time to exercise, garden, or cook. The weekends were filled with finishing work related items and laundry. I liked my life, but I felt it closing in on me.
Nowadays, I swim in a clear blue pool under a steamy sun by midday, my husband and 17-year-old son in tow. A late lunch at a restaurant called Khao Soi Khun Yai costs less than $2, and they specialise in my favourite noodle dish, Khao Soi, a distinguished example of Northern Thai cooking. It comprises of soft noodles in a gentle, yet spicy and richly flavoured soup topped with crunchy noodles that satiates in the most spectacular way.
My afternoons often involve a bicycle ride around town. The old city, on the inside of an ancient moat, is filled with little streets and shops selling Thai arts and crafts, street food and coffee. Another regular afternoon event is my Thai language lesson, which I adore. It's a challenging, musical language and the lessons are also a wonderful cultural exchange.
Living in the city, we often visit the famous night bazaar on Chang Klan Road to enjoy what the food trucks offer. My family can sit at the same table in an outdoors courtyard with great live music, while eating different styles of food. My son gets the $3 hamburgers, my husband goes for the fried chicken that only costs $2.40, and I will always find an interesting curry for around $1.60. We rarely went out as a family back home. I was always too tired and too busy preparing for the next day or the next week.
My move wasn't about escaping a terrible life…but shifting to a healthier one. Two years ago, I didn't even realise that I yearned for a better lifestyle. It naturally evolved when I moved here. I have time to pause, breathe, and really appreciate the time I have.
And the secret to how I made it happen? I sold my house and bought property in Thailand. It provides me with an income stream that meant I could kiss goodbye to my old 50-hour work week. Apartments here start at $32,000, and that's in the bustling city; they get cheaper as you move out into the peaceful suburbs. This is a well-kept secret, which I only wish I had discovered sooner. It has certainly proved a life-changing discovery for me.

Need a Way to Fund a New, Better Life?

Join our Fund Your Life Daily e-letter today, and you'll hear from us five times a week, telling you about ways to earn income that lets you live anywhere, travel anytime… and give you the funds to make your dreams of a better life real. We'll also send you your FREE report Fund A New, Better Life With These 6 Portable Careers.
Related Articles
The Quickest Way to Make Money Online
5 Reasons to Become a Travel Blogger