I've come across repurposed real estate before…but this was outrageous.
You've got a graveyard that you want to build on. But it's filled with the bones of Carmelite monks. What do you do?
Nowadays, you'd jump through all kinds of red tape and bureaucratic hoops, face down public protests, before finally relocating the bones and paying a fat sum for the privilege.
In the past, things weren't so strict. You took the bones and gave them—well, a new lease of life. As a chapel.
I chanced upon this bone chapel in Faro, Portugal, and couldn't resist a look.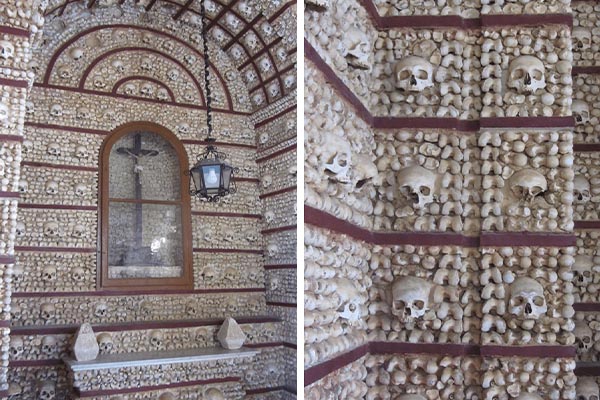 The bones of 1,245 monks had been used as building material, carefully arranged into patterns. It must have been a long, time-consuming process. I'm not sure that the monks would have been entirely happy that their bones were used in such a way. But it's fascinating. And got me thinking about all kinds of things…crisis moments, repurposing, unloved, and unfashionable real estate…
This repurposing is something that Ronan has written about recently. With the current pandemic, more folks are working from home. It's accelerated the trend for online shopping, rather than visiting a brick-and-mortar store. Hotels are likely to struggle with occupancy for the foreseeable future. What will happen to all the unused office, commercial, and retail space?
I've seen this play out in locations around the world in the last couple of decades.
In the late 2000s, I came across a brilliant hack in Montevideo, Uruguay. Its Centro neighborhood was home to historic buildings, sometimes split into huge apartments. They had wonderful tiled floors, high ceilings, carved wood details around doors and windows. A wealth of original features.
But list prices seemed really cheap compared to other central neighborhoods in Montevideo. That's because these buildings were being sold as "office space."
Buyers were flocking to purchase in Ciudad Vieja, Montevideo's old city. Historic but newly renovated buildings there were selling for top dollar to local and foreign buyers. Centro was steps away…with equally fine buildings…yet nobody was paying attention.
With a little love and care, Centro's buildings would have made fantastic historic homes. Once the local market caught on to it, prices rocketed.
In 2009, I viewed an apartment in Centro with almost 3,700 square feet of living space. It had wood paneling, painted ceilings, stained glass, parquet floors, and a wraparound balcony overlooking a plaza. It was fabulous, a real showstopper.
The asking price was $280,000. But there was a fly in the ointment: another buyer had already made an offer. Technically, the apartment was off the market. I was smuggled in by the agent, a long-term contact. I immediately made an offer…but was second in the running.
My offer pushed the other buyer, who had dithered for months, into moving ahead and closing. I was disappointed. I knew I had missed out on a steal.
The apartment went back on the market in 2018. It looked more or less the same, no real updates. But it was listed as a residential apartment, not office space. And the list price was $1.5 million. You can see the listing here.
My point is, be more open when you're considering what property to buy. Just because something has been used as office space for generations doesn't mean it has to stay that way.
Times move, trends change. Folks move to the suburbs, leaving city centers as office and entertainment districts…then folks want to ditch the car, walk to the movies, and live in city centers again. Neighborhoods rise and fall, often going through dramatic changes over the years. Even property types go in and out of fashion. Keeping an open mind, recognizing the potential, means you can get ahead of the crowds, spot a hidden gem, and set yourself up for some very nice profits.
Get Your Free Real Estate Report Now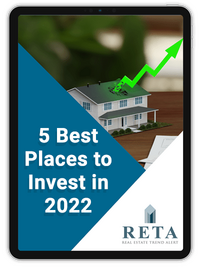 Sign up for our free daily Postcard e-letter and get a valuable free report on the The 5 Best Places to Buy Real Estate In 2022.
Related Articles
Bigger Isn't Always Better In The Short-term Rental Market
Cut Your Property Tax by 75% or More
On the Trail of Panama's Hottest Property Deals
Upcoming Conferences
Live Better, Spend Less, Retire Sooner
IL's Retire Overseas Bootcamp
October 21-23, 2022 in Atlanta, GA

In safe, warm, welcoming communities abroad, as little as $1,700 a month can bankroll a good life... this fall, our experts will show you where—and how.
Early Bird DISCOUNT—Save $100 When You Register by Sep. 29
Details Here IL's Retire Overseas Bootcamp
---
Registration Now Open for the Best of Europe Private Screening

In the Right Spots in Europe, You Can Retire in Style—in an Historic, Sun-Drenched Locale—for as Little as $2,300 a Month or Less—Especially Now With the Dollar and Euro at Parity for the First Time in Two Decades.
And We'll Show You How, October 1-2, During the Special All-Online Best of Europe Private Screening.
---
The Income Revolution Forum
What if You Had the Freedom to Enjoy the Good Life Anywhere in the World You Wanted to Be...and Get Paid While You're There?
We'll show you how—with hands-on guidance—you could beat inflation...secure your retirement...ditch your commute...and turn a skill you already have into a portable side income of $300, $600, even $3,000 or more a month.