Hitting milestones in anyone's life can be pretty amazing. Big or small, they give us a reason to celebrate.
I keep careful track of my stock photography images, as well as the sites I list them on in hopes of a new sale, so when I recently passed the 15,000 image mark, I was ecstatic.
I mean, that's a lot of photos.
The fact is, less than five years ago I didn't have any. Joining a photography club and attending an intensive workshop with like-minded photographers was what helped get me going.
At first, I started taking photos around my hometown, which helped me get my feet wet. I took images of everything—paying attention to composition, lighting, and subject matter.
I took pictures of everyday subjects: a steaming cup of coffee, an open book with dog-eared pages, a typewriter with stacks of copy paper nearby, and people walking down a busy city street.
I photographed beautiful landscapes and seascapes, details in ultra-modern and historic architecture, all sorts of museums, and events happening in and around the area where I lived.
Once my photos began to sell, I branched out, trying to capture striking images of the places I traveled to, all the while dreaming of glossy magazines that would pay to use them.
I've photographed springtime in Paris while wandering along the river Seine, traditional Kava ceremonies in Fiji, and the picturesque village of Adare in Ireland, where I snapped pictures of thatched cottages, friary ruins, and too many castles to name.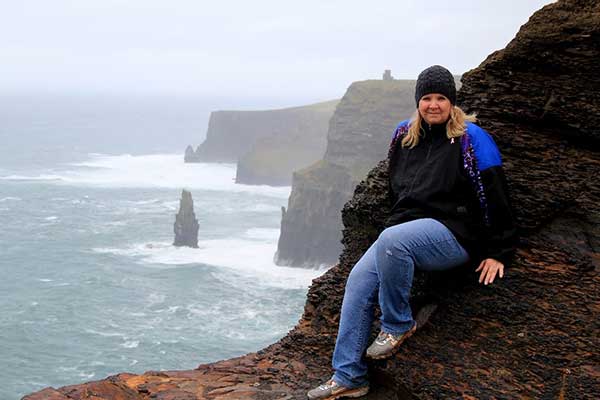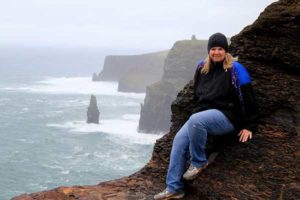 Theresa St. John on a trip to the Cliffs of Moher in Ireland
My love for stock photography creates a nice income for me today. I've landed five magazine covers. Images have appeared in blogs, medical publications, college papers, and travel brochures all over the U.S.
My work has appeared in art galleries and coffee shops. I've gone on to sell many stock photos as fine art to private clients and businesses in my hometown.
With stock photography I can earn a passive income even when I leave my camera at home, or even while I'm sleeping. I simply upload my photos to my favorite stock sites, and from there they can continue to make me money, indefinitely.
And best of all, I can do this anywhere. I don't have to sit in an office all day, chained to a desk. It means I can travel if and when I want to. I never dreamed of having so much freedom, but I've realized that's exactly what I want. Stock photography's been a great tool, helping make that dream a reality.
Need a Way to Fund a New, Better Life?

Join our Savvy Retiree Daily e-letter today and you'll hear from us daily, telling you about ways you can gain the freedom to live where you want, travel when you like and create a life you love. We'll also send you a FREE Report Fund A New, Better Life With These 6 Portable Careers...
Related Articles
Bargain Living in a Vibrant Spanish City by the Mediterranean
3 Surprising Side Effects of Having a Portable Income
A Profitable Beach Bar Business in the Caribbean Haven of Belize
---
You know more Spanish words than you think you do! And we guarantee you can be carrying on conversations...in Spanish...in just 20 Minutes. Special summit 'Speak Spanish in 20 Minutes' is now live!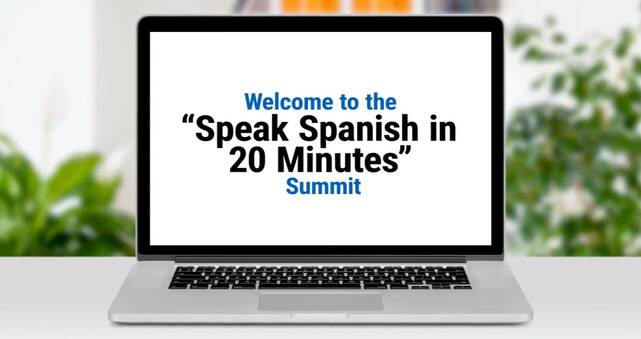 ---