It has been almost three years since my wife Rita and I first purchased our oceanfront condo in the popular beach town of Salinas, Ecuador, and just over two years since we moved here to live. Sometimes it's a bit mind-boggling when we stop and think about how different our lives are now.
If I had to pick one of the biggest changes we've made that has had the biggest impact on our lives, I would have to say it's living without a car. Let's put aside the obvious effect on our pocketbook—to be free of the expenses of car payments, car repairs, maintenance, insurance, and gas—and look at the change it makes in our lifestyle.
Automobiles are so convenient that you find yourself using them even when you don't really need to. Now that we don't have a car at our disposal, we think nothing of walking around the corner to a restaurant, a few blocks to the bank, the half mile to the mercado, or even making the three-mile round trip to enjoy a walk on the beach and a stop for lunch at our favorite empanada place. We typically walk six miles or more a day now, and are much healthier because of it.
But we are far from stuck at home. Salinas has plentiful and cheap taxis, with typical fares from $2 to $3. In fact, you can get all the way across the peninsula for $5, and most drivers are willing to negotiate an hourly rate of $8 to $10 if you would like them to take you to multiple stops and wait for you.
The bus system is also a great way to get around, especially since my wife turned 65 and now pays half fare. For 45 cents (30 cents for me, 15 cents for Rita), we can get anywhere we need to go, including the new bus terminal in Ballenita. From there, we can go virtually anywhere in Ecuador on comfortable regional buses. Tickets are typically about $2 for each hour of travel (only $1 for over 65), so we enjoy day trips to the big city of Guayaquil, or to other coastal towns as often as we like.
Of course, the weather plays a big role in our ability to walk everywhere, and is another big change in our lives. We have found that we now take good weather for granted. We just assume that wherever we go, the clothes we are wearing now are just fine. No need for a jacket or an umbrella, just decide whether or not you want to wear a hat for a little sunshade.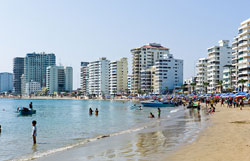 This came home to us recently when we took a trip up the coast. We were caught in some fairly heavy rain, and realized we had not packed a single thing to deal with it. Bad weather is just something we no longer think about.
We are certainly eating better…and cheaper too. Unlike in the States, it's cheaper to eat healthy, whole foods that are unprocessed and fresh from the farms and the ocean. We get a better variety of produce as well. We can get most fruits and vegetables that we used to buy in the States…and now we also have all the tropical fruits that are in abundance here. I especially enjoy learning to appreciate new treats, like yucca, pitahaya, babaco—every trip to the market is another opportunity to experiment with new flavors.
All of these changes have had a big impact on my life. I now weigh 65 pounds less than I did living in the States, I no longer need medication for Type 2 diabetes, and it looks like in a few more months I'll also no longer need to take blood pressure medication.
When I look back, it's hard to believe that we used to spend most of our winter days indoors instead of out walking in the fresh air and sun…that we used to spend twice as much or more at the grocery store, for foods of lesser quality…that we were too caught up living to work, instead of being able to slow down and enjoy life. Ecuador certainly has been good for us.
Get Your Free Ecuador Report Here:
Learn more about Ecuador and other countries in our daily postcard e-letter.
Simply enter your email address below and we'll send you a FREE REPORT – Ecuador: Live Like Royalty on Your Social Security.
This special guide covers real estate, retirement and more in Ecuador and is yours free when you sign up for our postcards below.
Get Your Free Report Here