Former Alaska resident Russell Agnew, 43, doesn't wait for the weekend to indulge his passion.
"Before all of this, my profession was as a graphic designer. I was making way more money then and had great benefits, but I lived in a cubical," Russell says. "So I moved to a ski town, Girdwood, Alaska, where I learned to paraglide. I was able to start a new career in paragliding and support myself that way."
Now he flies almost every day, gazing down at Bucaramanga, one of the loveliest cities in Colombia, where he lives. He's turned his dream into a reality…and he's making a living at it, too.
More and more expats are flocking to Colombia and scores of people have turned their outdoor passions into profitable businesses. One industrious expat living in Bogota is even starting a competitive wrestling school. In 2007, Russell moved to Colombia to run Colombia Paragliding.
"They needed an English-speaking instructor, someone who had been taught in the United States method of flying," Russell says. "Most of our clients do not speak Spanish, so we need a fluent English-speaking instructor."
The cost of doing business in Colombia is much lower than in many paragliding hotspots, such as the San Francisco Bay area.
"Our course costs 2.5 million pesos (about $1,300)," Russell says. "You would probably pay about $3,000 for it elsewhere."
Bucaramanga is one of the world's best paragliding spots…not least because of its climate. "Colombia is like an undiscovered gem and it's just now getting popular around the world, especially with paragliding," says Russell.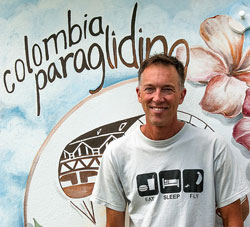 "In other places, where the climate is variable, it can take three months to finish training. We can get someone trained here much faster because the climate is good every day. Most people stay here for two weeks, three weeks if they want to stay and fly after the course."
Russell trains 100 to 200 students from around the world each year. "From Christmas until the end of February we turn people away because we have so much business," Russell says.
Bucaramanga is a cheap place for him to live and fly. "You do have to take a drop in pay working here, but you have to consider the lower cost of living. The benefit is that the living conditions are nice, the weather is great, and you meet good people," Russell says.
"I've never paid more than $200 a month for rent. Here, I spend just $400 to $500 a month, total. I'm able to save money living here. I live comfortably and buy whatever I want.
"You can have a life of adventure and make your dreams come true here. Anything is possible here in Colombia."
Free Colombia Report:
Learn more about Colombia and other countries in our daily postcard e-letter. Simply enter your email address below and we'll send you a FREE REPORT: Beautiful, Diverse and Safe – Take Another Look at Colombia.
This special guide covers real estate, retirement and more in Colombia and is yours free when you sign up for our IL postcards below.
Get Your Free Report Here