I retired to Panama in 2007 and I've seen big improvements in that short time. Getting around the country has become much easier in the time we've lived here. For example, the Panamanian government is expanding the Pan American Highway from Santiago to David. The magnificent eight-lane highway from Panama City ends in Santiago, forcing you to continue on a smaller two-lane road to David. Traveling from David to Panama City we've often been stuck behind a bus or truck and can't pass due to oncoming traffic. When we first visited Panama in 2006 it took over eight hours to travel from Panama City to David, now it's approximately six. With the new highway expansion it'll take closer to five.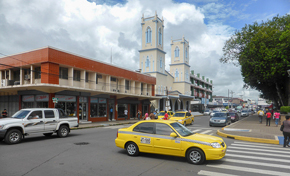 And it's not just major highways that are making travel times easier. In order to control traffic in downtown David some years ago, the local government decided to change the traffic flow on one busy street. This has made the drive into the downtown area much easier, encouraging us to go shopping, dine out, and participate in cultural activities.
Expansion of grocery stores, auto repair shops, home improvement centers and services have kept Panama attractive to retirees. We have witnessed that expansion first hand in David. For example we found a new vegetarian restaurant that offers several healthy alternatives including a great pizza. The DIY stores continue to offer home improvement materials we couldn't purchase a few years ago and even our gym has doubled in size…but still charges the same monthly price of just $35.
And although it's not something that you'd think of, the improvement in water irrigation canals along the smaller rural towns channeling river water from the mountains has improved the crop production. For retirees like us, that means more farmers' markets have sprung up throughout the region. Several cities have built new indoor air-conditioned farmers' markets which has made the fresh, local produce even more accessible.
Our first few years here, we had to travel into town for all our produce. But now my wife enjoys shopping at the new farmers' market outside David, where prices are lower than in the grocery store (five bananas cost just 25 cents). We buy fresh mangos, bananas, and pineapples, along with a variety of vegetables. Beef and fish stands are also part of this market, along with several restaurants within the building.
Get Your Free Panama Report Here:
Learn more about Panama and other countries in our daily postcard e-letter. Simply enter your email address below and we'll send you a FREE REPORT — Panama: First World Convenience at Third World Prices. 
This special guide covers insider advice on real estate, retirement and more in Panama. It's yours free when you sign up for our IL postcards below.
Get Your Free Report Here