"It's like a silent Odile," a friend said to me over the weekend.
Odile was the brutal hurricane that hammered Cabo in 2014. Today, Cabo is empty. You'd have to watch the swaying palm leaves to note the gentle breeze. But I understood what he meant.
The economic impact of this current crisis has been just as dramatic. Like the rest of the world, Cabo has shut down. Closed for business until the threat passes.
It was 2015 when Cabo bounced back from Odile. And Real Estate Trend Alert members got in at the ground floor of some incredible opportunities, in part thanks to that crisis.
Members bought homes that shot up in value by as much as 100%. The home I'm writing to you from now is one of them.
I consider myself lucky to be riding out the lockdown here. It's beautiful. Peaceful. Idyllic. I can go to the pool, the driving range, or the beach and not even see—let alone get within sneeze shot—of another soul.
I can't remember the last meal I had in a restaurant. But I don't miss eating out at all. I'm learning that I might like solitude even more than I thought I did.
As soon as planes start flying again, Cabo will pick up where it stopped…on its upward trajectory. It's stunningly beautiful and a short hop from much of the U.S.
Back at home in Ireland, like many parts of the U.S., it's complete lockdown. People can only leave their homes for food or emergencies. Scary times.
But good times for the bailout business…
Two weeks ago, Forbes reported that Boeing wanted a $60 billion bailout for their industry. This coming from a company that distributed almost every cent it made over the past decade to shareholders and executives—coincidentally about $60 billion—in the form of share buybacks, the most tax-efficient way to do it.
Over the weekend, CNN reported that Boeing still expects government support, but doesn't want to give up any equity. Life is good when you think you are too big to fail.
When things go wrong they look to you, the taxpayer, not the shareholders or executives, for a bailout.
That's not capitalism. It's not socialism either. It's a plain old-fashioned shakedown. A hustle…
The first rule of business is…stay in business. Boeing executives ignored this and lined their pockets instead. It's rational behavior. They are responding to the incentives of the system.
They will get a bailout. The only consequence to them might be a half-day in front of congress looking serious and saying sorry.
All across the world, the system works. It might only work for a very small percentage, but in their eyes, that's a success. And so, it will continue to work this way.
Over in Panama, the government identified tourism as a sector with growth potential. And so the developers and hotel chains made a deal for themselves. They negotiated a special incentive to create more hotel beds, even as the world has stopped traveling.
Here's how it works…
If a hotel group spends $10 million building a hotel, the hotel owner gets a $10 million offset against any other Panama income taxes. This is an incredible deal. There are some conditions, but they are very light. For example, the max you can claim in a year is 20%…or $2 million back from the taxman every year until you've claimed the full $10 million. It's as close as it comes to getting a hotel for free—once you have a use for the tax write-off that is.
That's where the suits come in. And one thing a financial safe-haven like Panama has is a lot of suits. Lawyers, accountants, and investment bankers. They have clients with big tax liabilities. And, have figured out a mechanism for selling these tax credits. Hey presto, a tax break gets turned to cash the minute the deal is inked.
This new tax break is hot off the presses. I know the folks who understand the ins-and-outs of it. And they understand it, in large part, because they are the ones who encouraged the government to introduce the legislation in the first place.
So…rich guys getting richer…what's new?
Well, for members of Real Estate Trend Alert, quite a bit…
Here's the thing: when I started RETA in 2008, it wasn't to give members a better view from the sideline when things started happening. The idea was to create a group with buying power…with influence…so that when opportunities arose, we could all sit at the fat cats' table and get our piece of the pie.
This week, RETA members have the chance to do just that. Members of our group can claim a $65,700 discount thanks to a tax break that hands Panama's connected insiders hotels for almost free.
How does this work?
Simple: As half the beachfront development where we are buying is a hotel, the developer receives a huge saving in the form of tax credits. And because of RETA's group buying power, he has agreed to pass a significant percentage of the saving on to us as a discount of up to $65,700 on each condo.
This is a true RETA-only exclusive…a superb deal.
The opportunity is right at the start of the Riviera Pacifica, on the closest, nicest beach to Panama City.
It's impossible to find anything truly comparable to what we're getting—which is right on the sand, in a master-planned community completely orientated to the beach.
A few miles down the coast, in the town of Coronado, you'll pay $200,000 to $385,000 for condos about a 30-minute walk from the beach. What we're getting is right on the sand. It comes with incredible amenities, including a superb community swimming pool…an exclusive gym…a top-notch restaurant…all right on the beach. And we can own here for a stunningly low price…from just $214,300.
True beachfront like this is a rare thing. And at this price, it's practically unheard of. I know no other place where you can own true beachfront this close to a world-class city for a price as low as ours…
I suspect we'll never see anything like it again. This isn't an opportunity that turns up in normal times. This is a crisis deal. And this is the crisis of a lifetime.
Stay tuned…
Get Your Free Real Estate Report Now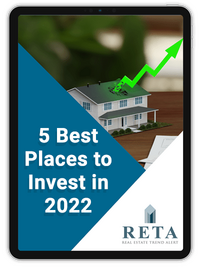 Sign up for our free daily Postcard e-letter and get a valuable free report on the The 5 Best Places to Buy Real Estate In 2022.
Related Articles
The 10 Best Places to Invest in Real Estate
Claim Your Own Private Bailout