Each year, as spring rolls in, I pack my bags, lock my front door, and leave my condo in Cabo san Lucas behind.
It's a liberating feeling. I like to spend my winters in Cabo. But once the weather picks up, it's time hit the road and head to Europe where I'm based until late fall.
The ability to just pick up and go is priceless to me. And it's made all the easier when I know that, if I choose, I can hand the keys over to a property manager, who can deliver a $1,750 check to my account each month.
The truth is almost anyone can own a profitable home overseas. With the right real estate plays and a lot less money than you might think, you could actually own several…travel among them, rent them for a good income when you're not there, and the day you want to sell, you could lock in a meaty profit.
This international lifestyle and the ability to profit from destinations with a decade plus of upward growth is the reason I love overseas real estate.
You just can't find that combination in North America. Wearing an investor hat, it's difficult to see much sustainable upside there.
Most U.S. and Canadian markets are highly leveraged and expensive relative to incomes, very susceptible to interest rates rising or employment falling. I've watched over the last two or three years as "little guy" property investment and speculation has come back in vogue. News articles and hundreds of blogs cover investing in Atlanta or Austin. Television shows feature baristas or graphic designers turned house flippers.
For me, that kind of investment play is way more stress than I need. Instead of tight profit margins and a lot of sweat equity, I prefer to look for markets with huge upside and lower risk. Markets where even in times of global crisis, we can still do well.
I also like to buy in destinations where owning real estate doesn't feel like a major liability. When I lock my door in Cabo each spring, I know that my condo's holding costs aren't eating into my assets while I'm not there.
I pay just about $300 in taxes and HOA (homeowners') fees on my condo a month. A similar property I found in California had holding costs of $2,320 a month. We're talking magnitudes more. And that's not even including insurance or utilities…or mortgage payments for that matter. That's for a home that you own outright.
And, quite honestly, the holding costs of my condo in Cabo are quite a bit higher than many opportunities I find for RETA members…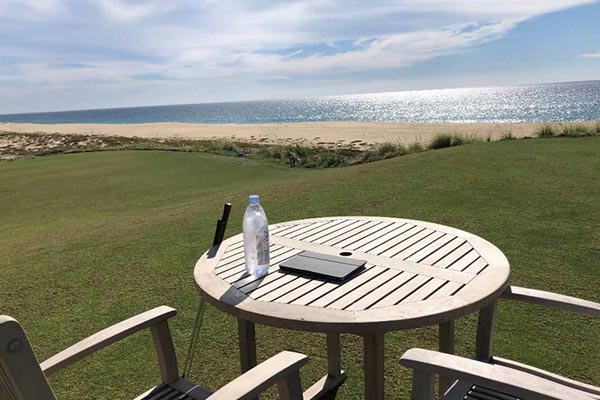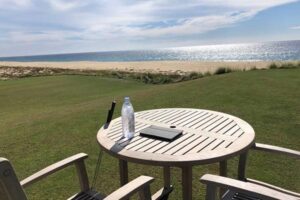 First time investors frequently overlook the importance of holding costs. But if you fail to consider what owning a particular property will set you back each month, it could eat into your returns.
Holding costs (or carry costs) are any recurring expenses you have to pay on a property. Typically, you're talking condo fees or Homeowners' Association (HOA) fees for homes in private communities, property tax, insurance, and utilities. You might also include interest on a loan in your holding costs calculation.
These costs can vary significantly depending on location of the property, its age, your loan type, and whether you're a long- or short-term investor.
For instance, if you're a short-term investor (such as a house flipper), you might have to get unoccupied property insurance. Or you might have a loan with a high interest rate. And if a project runs on longer than expected, those holding costs could significantly reduce your profit margin.
Likewise, if you're investing long-term for rental cash flow, you need to be aware of management costs and anything else that can affect your net income.
But when it comes to holding costs, there is no single factor as important as location. Where you buy—in which jurisdiction or country—can be the difference between paying a few hundred dollars a year or multiple thousand dollars a month.
It affects the property tax you pay, the cost of your HOA fees, your insurance costs, utilities, and more.
For second-home buyers, this is crucial. After all, a second home is something that's supposed to be there to enjoy, not a cash drain that keeps you awake at night.
Like I say, when I lock my door in Cabo each spring, I don't have to worry because I've already accounted for the low holding costs. But if I was an owner in California or Florida, it might be a very different story.
A recent survey by Savills research found that the holding costs of luxury property in major North American cities exceed those in the rest of the world by a long shot.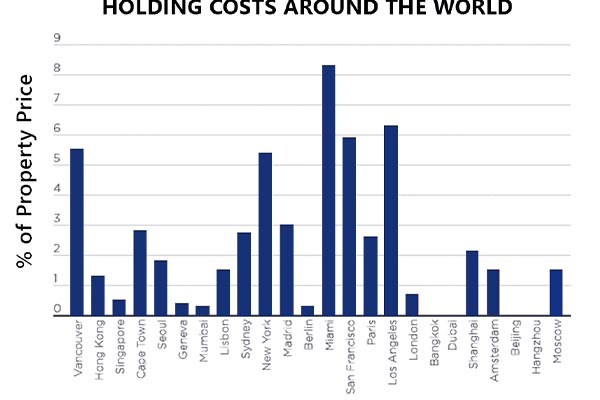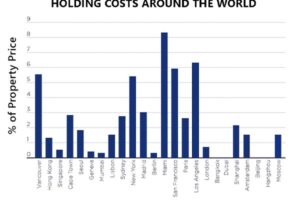 In the U.S., you can expect to pay higher property taxes, higher HOA fees, and steeper insurance premiums.
For example, in Miami, an average two-bedroom condo close to the waterfront could cost you anywhere from $600 to well over $1,000 a month in HOA fees alone. Property taxes in Florida are a little below the national average but still come to a state average of 0.94% of property value. So, even on a $250,000 home, you'll pay $2,350 per year.
And in a hurricane prone state you can expect a hefty insurance premium. I've seen reports of homeowners paying upward of $16,000 a year in places like Key West.
My point is this: These are all costs you can minimize when you buy in the right real estate markets.
In the right destination overseas, you'll not only find real estate that you can buy for far less than the cost of similar homes in the U.S.—a property that offers you the lifestyle you want, and can make you money too—but you also won't be paying through the nose to maintain it.
Take a home in Portugal worth about €200,000. For that, your property taxes would be just about €400 per year. Your home insurance would typically be only €250 a year. And your HOA fees would amount to just €300 to €400 a year—or €800 a year with a pool.
That's just €950 to €1,450 a year, total.
If you decide to rent, you can make that back in a week in a popular destination like the Algarve. After that, the property is yours to enjoy as you please. You don't need to worry about impending bills or leaving it vacant for a week or two while you travel.
And that, ultimately, is what makes a home an asset…
This week, I'm going to take a deeper dive into holding costs, and how they compare in destinations across our beat.
Get Your Free Real Estate Report Now
Sign up for our free daily Postcard e-letter and get a valuable free report on the The 5 Best Places to Buy Real Estate In 2023.
Related Articles
The 10 Best Places to Invest in Real Estate
Scouting Portugal's Stunning Silver Coast
Bigger Isn't Always Better In The Short-term Rental Market