My brother thinks I'm a millionaire. And I couldn't blame him. After all, I hardly work and I enjoy winters in warm exotic lands, while he curses the cold and toils away.
Friends can't comprehend how I spend my winters in tropical destinations yet drive around in an old rusting Jeep, live in a modest condo, and show no other signs of being well-to-do.
Truth is, I'm not actually a millionaire, but I do have a lifestyle that many people wealthier than me would be envious of.
Ever since I was a young boy watching Jonny Quest and Speed Racer I've yearned to explore exotic lands and have adventures abroad. As I look back, I realize that these Saturday morning cartoons truly whetted my appetite for travel very early in my life.
Five years ago, as soon as I turned 55, I took an early retirement from a fairly mundane planning position with state government. Since then, I have spent four winters in warm sunny places—Thailand, Costa Rica, Vietnam, and currently I am in Ecuador for three months. These countries are amazing destinations to explore and can be remarkably affordable.
I consider myself a traveler not a tourist; living amongst the people rather than being isolated from them. This is by far the more interesting and rewarding way to travel. I visit awesome places but usually don't stay in posh hotels or dine at fancy restaurants. I take buses with locals and eat and drink in the same places they do. If you can't do without your American creature comforts, the price of travel rises steeply.
My strategy to living like a "millionaire" is to reduce expenses everywhere I go. If you can keep your expenses low then your income requirements will be equally low. This doesn't mean I live on canned beans and ramen noodles; it just means I'm conscious about my spending decisions and don't waste money on things that aren't truly important to me. This isn't hard to do. For example, at a restaurant, get the house wine or the "happy hour" domestic draft. Maybe have a drink before going out to dinner. Pass on the NFL package for your TV if you don't need it. Perhaps downsizing would save money on utilities, taxes, maintenance, etc. Be as debt-free as possible.
My second strategy is to use affordable properties to earn through rent. I own a very modest condo at a beach resort in Delaware and a studio condo at a ski resort in Maine. The trick is to not get caught up in the "bigger is better" mentality, because when it comes to real estate, it's all about location—that's what prospective renters want. I was able to acquire my properties well below average market prices due to their tiny-home-like dimensions. Yet they generate respectable incomes and are typically simpler and less expensive to maintain than larger units. I prefer long-term renters as I feel they generally take better care of your place and are less hassle, so I have a one-month minimum. Typically, I advertise and rent directly, but have sought help from rental agents when I've gotten myself into a jam.
Last night was a full moon and the tides are consequently extreme here in the little beach town of Montanita, Ecuador. The fact that breakfast is not even served until 9 a.m. at my hotel highlights the vibe of this laidback surfing town. The jungle is just a few miles inland and is home to howler monkeys and many colorful birds and butterflies. A half-day horseback trip is just $20.
As I sip my coffee and breathe the briny air, I watch several locals hunt for lobsters in the rocks exposed by the low tide, while surfers behind them jockey for the best waves. Life is simple; life is good.
My beautiful beachfront room costs just $22 and includes a nice breakfast with fresh fruit, fruit juice, coffee, croissants, eggs, and a wonderful pineapple marmalade made by Juanita, the resident chef.
Ecuador has startling diversity, from historic colonial cities high in the Andes, to the unparalleled flora and fauna of the Amazon jungle, to glorious Pacific beaches—not to mention the renowned Galápagos Islands.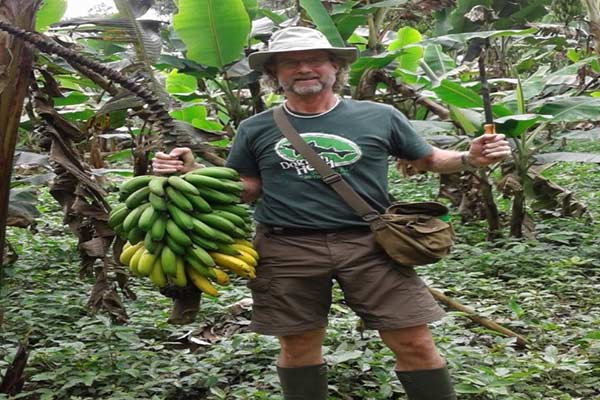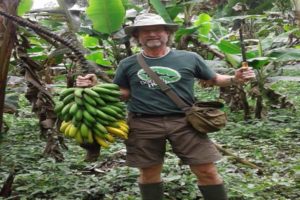 Dan is currently enjoying Montanita, Ecuador, where his room only costs $22 a night.
As much as I love exploring this unique country, I like to keep myself engaged and earning a little extra money where possible. So, to supplement my rental income, I've taken on a role renting umbrellas and chairs on the beach in early and late summer when kids (the primary workforce) are in school. It's a family-run operation, which has been in business for over 50 years. I work on a beautiful beach, get a great workout, and earn pretty good money—with tips comparable to serving at a good restaurant.
In addition, I conduct bike safety training and do bike repairs for the hundreds of international students that flock to my beach town to fill the many summer seasonal positions. Peddling is their primary way of getting around and the transportation department has gotten involved to improve bicycle safety in the congested resort area. It's always fun working with young people, especially considering their diverse backgrounds.
As I patch together this article and reflect, I am reminded that I've indeed got it pretty darn good; living the way I've always wanted. With some desire, focus, and discipline you too can live your dream. And I hope you do.
Need a Way to Fund a New, Better Life?

Join our Savvy Retiree Daily e-letter today and you'll hear from us daily, telling you about ways you can gain the freedom to live where you want, travel when you like and create a life you love. We'll also send you a FREE Report Fund A New, Better Life With These 6 Portable Careers...
Related Articles
Five Reasons Why You Should Move To Ecuador
Create A Fulfilling Working Retirement In Punta Carnero, Ecuador