It's said "a little knowledge is a dangerous thing"…but that's definitely not the case when it comes to learning Spanish. On the contrary, knowing just a little Spanish is often enough to reach your goal of starting a new life in a Spanish-speaking country.
With just a little knowledge of the language, you can express and understand many very basic exchanges. Then, you just keep improving little by little…day by day.
You'd be amazed how it can enrich your life. Take getting around in a taxi as an example:
With just a little Spanish you can tell a taxi driver where you want to go and get an estimate of the cost. With just a little more, you can exchange a few pleasantries. A little more and you learn the taxi driver's name and maybe get a recommendation for a great restaurant. With a little more Spanish, you're chatting with the taxi driver about the recent weather.
It could even open up new and very affordable retirement destinations to you.
One up-and-coming Latin American haven I've visited recently is Tarija, Bolivia. The city of Tarija lies in a mountain valley in Bolivia's wine country. The climate is similar to the Mediterranean. You'll find a selection of good restaurants, as well as gyms, swimming pools, tennis courts, and a movie theater. You'll also find an array of modern medical facilities here. The locals are known for their kindness. And the cost of living is very low—a couple can live well for as little as $1,000 a month.
So what's the catch with Tarija? You guessed it. Aside from the small expat community, few people here speak English. And without knowing any Spanish a move to a place like Tarija could prove difficult. But knowing just a little Spanish can often be enough.
A good example of this is Marcia Bohannon, who, as a recently retired professional, moved on her own from the U.S. to Tarija in 2013. Marcia took a Spanish class at a community college for six months prior to her move. So, she left for Tarija knowing a little Spanish.
When she arrived she took additional Spanish lessons at a local Spanish school, learning a little more Spanish and meeting new people in the community. She needed a little help to get things rolling—she hired a translator/consultant to help her find an apartment, get utilities hooked up, apply for residence, and get settled. But, once she was set up with a place to live, Marcia could manage her day-to-day tasks on her own.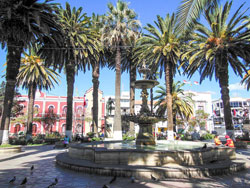 Now she's building a helpful social circle. "People are really open to helping you and helping you connect with others through introductions. I am creating a community here," she says. "Developing a social network is happening faster than when I moved to a new place in the U.S." And with a little Spanish, Marcia is making friends with locals, as well as other expats, whom she often meets for coffee.
In Tarija, just like in parts of Spain, the whole town shuts down for a couple hours in the afternoon for siesta. As the rest of the town naps, Marcia studies Spanish in a comfortable chair in her living room. "I think about what I will be doing and what words and phrases I will need to do it," says Marcia.
She keeps getting better and better. "I post in English and Spanish on Facebook two or three times a week. And recently I even told a joke in Spanish."
So, if the thought of moving to a Spanish-speaking country is a little intimidating, let Marcia be your example. She, like many other expats, didn't start out being fluent in Spanish. She realized that for many of us, the Spanish language isn't something we master, and then go out and use. It's an incremental process we stay with over time.
And little by little, with just a few minutes a day, you can do it.
Related Articles
The 3 Best Highland Cities in Bolivia