At the beginning of a crisis, most ordinary people are looking for their way out. They take a hit, sell what they can, then hunker down and try to limit the damage.
The smart investor, however, is looking for the opportunity. And as a Roving Real Estate Investor reader, I assume opportunity is what you're after.
You won't be disappointed…
Right now, we're living through history, a once-in-a-lifetime moment. Play this crisis right and you are going to thrive and prosper regardless of the outcome.
This will be a time of great change. This change will create great opportunity. The world looks upside down…I fear for many people's economic security…but there is a solution…in the midst of all of this will be the real estate buying opportunity of a lifetime…
I'm already seeing discounts on beach homes in some of the world's most stunning locales. I've seen examples in Miami, Cascais, Portugal and Punta Mita near Puerto Vallarta, to name but a few.
This crisis will be acute in some places, relatively mild and short-lived in others.
Find places with a lot of deals and then the key is to home-in on the motivated sellers. That's how we lock-down 40% or 50% off.
As the crisis bites, you'll find more motivated sellers across the world. Look for places where folks have second homes. These are non-core assets they're likely to offload at a discount.
Buying the right kind of undervalued real estate now sets you up for the recovery and a lifetime of income.
For me, this is the perfect path to freedom, both financial and personal. The freedom to go where you want, when you want. Freedom from worry and stress…to not to care what happens in the stock market…nor about job losses…politics…
Amid the debt crisis following the 2008/09 financial crisis, I recommended condos in La Duquesa on the Costa del Sol. One RETA member who bought there for €99,000 met me four years later. He put out his hand and thanked me. His condo had grown in value to €210,000. But of even more value to him was how having this home is Spain enriched his life. His dream had always been to own a home in Spain, but he never thought he could afford it. He didn't bank on a crisis moment plus the RETA edge coming together.
In a crisis, no-brainer deals like this float to the surface. But keep in mind that finding them can be extremely tough. It's not like shooting fish in a barrel.
Following the crisis in 2008/09, there was a lot of junk amid the fire-sales of Europe…in Ireland, Spain, and Portugal. To find true double-your-money deals, you needed to do some digging. You needed the contacts and the context, and most of all you needed a cool head…
We can't choose when crisis moments like this come along either. Often, we're not 100% ready for them: Our assets are tied up…we're distracted…the timing is wrong.
But whether you're a complete beginner or an investor with some real estate experience under your belt, getting in on the right crisis deal now could set you on the path to a richer, more rewarding retirement.
That's why my team and I are crafting a package of resources designed to show you exactly how to use this buying moment to set up an income stream for life.
I'm calling it Project Prosper: How to Save and Grow Your Retirement. And if you're a Real Estate Trend Alert member, you can get the full lowdown in your latest RETA issue.
This project is my ongoing mission to help you retire rich regardless of economic shocks, and create a life of ease, travel, fun, and adventure…
Now is the time to organize your finances in such a way that you're ready to pull the trigger when you find an opportunity that stacks up for you. And Project Prosper will show you how to do that.
We are in an unprecedented zero interest rate environment in the developed world.
If you can cheaply leverage an asset back home it's an amazing opportunity. Or maybe you have cash in your retirement account.
In Europe we can directly benefit from Europe's sub-zero percent interest environment. I recently got quoted an interest rate of 0.86% in Portugal… In France, Italy, and Spain the range is 1% to 1.7%. Once fire-sale deals start rolling in, I'm anticipating we will be able to buy direct from the bank with no money down.
In Project Prosper, over the coming weeks and months, we'll delve much deeper into smart ways to play this crisis moment.
Remember, buying at a low price is step one in locking-in incredible yield potential. Buying something with huge appreciation potential is key to your exit strategy—which I will be talking about more to RETA members in the coming weeks.
If strong income and an international lifestyle appeals to you, stay tuned.
This is going to be one hell of a ride…
Wishing you good real estate investing!
Get Your Free Real Estate Report Now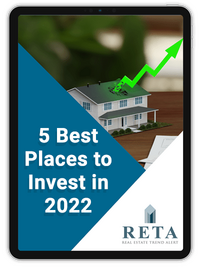 Sign up for our free daily Postcard e-letter and get a valuable free report on the The 5 Best Places to Buy Real Estate In 2022.
Related Articles
The 10 Best Places to Invest in Real Estate
Crisis Discount: Ocean-View Lots in Rocha from $31,356