Owning a French vineyard is the ultimate dream for many expats—and it's easy to see why. From Burgundy to Bordeaux, France's vineyards lie in some of the most beautiful areas of the country and have produced extraordinary wines coveted throughout the world. To live in such an idyllic setting, drinking wine from your own grapes and playing some small role in wine's ancient story, is a concept that's both thrilling and gratifying.
While the backbreaking realities of running a winery can make the most ardent wine lover think twice about living the dream, take note: there's no reason to give up just yet. There is a way to live on your own French vineyard and enjoy all its fruits without having to lift a finger. You can enter into a "fermage."
A fermage is a long-term agricultural contract through which landowners lease their property to a tenant, usually a farmer or winemaker. Under the contract, the tenant works the land, producing the wine or other harvest, while the landowner may continue to live on the property. In exchange for the vintner's use of the property, the landowner receives rent, which would be based upon a careful estimate of hectolitres of wine produced per hectare multiplied by a standard rate for a particular appellation.
For example, if you owned a one-hectare parcel of healthy vines producing a Côte du Rhone Village AOC of average age, producing an average yield, it might be valued at 38 hectoliters. In the 2011-2012 campaign, the price of Côte du Rhône Villages AOC was $99.47, putting your annual rent for this single parcel at about $3,779.
Under French law, a fermage must last a minimum of nine years and is automatically renewable. You can get around the automatic renewal part, however, by creating a one-time lease of 25 years. With such a long-term commitment at stake, be sure to consult with an experienced lawyer in advance.
Sound tempting? Here are a few gorgeous French winemaking properties for sale to tempt you further:
Picturesque Merlot Vineyard in the Aquitaine Region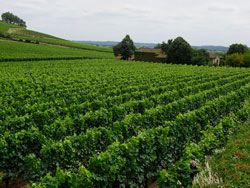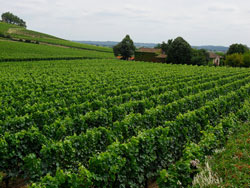 Beautiful vistas and solitude are practically guaranteed in this small vineyard in southwestern France. Fortuitously located next to an estuary—and only 30 minutes from France's wine capital, Bordeaux—this lovely 2.77 hectare vineyard is composed of AOC Bordeaux Superieur vines with 100% Merlot grapes. The vineyard produces an annual average of 50 hectoliters of wine per hectare.
In addition to the vines, the property has a charming 1,291-square-foot, one-bedroom stone house and an additional 2.05 hectares of land with plantation rights. The entire estate is selling for €152,000 ($202,950). There's also the possibility of acquiring an additional 1.37 hectares of land and an outbuilding to create a winery. See here for more information.
Sunny, South of France Vineyard an Hour from the Mediterranean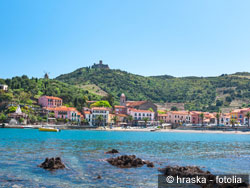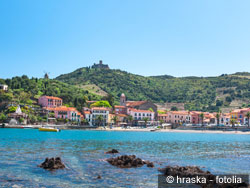 The wild rocky hills of the Corbières and deep blue skies provide a dramatic backdrop for this vineyard in the Languedoc Roussillon region in the south of France. Set on 10 hectares of land, the property features an ivy-covered, three-bedroom farmhouse with an enormous living room, dining room/kitchen and terrace, a wine cave with all necessary winemaking equipment, 5 hectares of organic varietal grape vines, and the right to plant on an additional 3 hectares.  There's also a large garden and an area to grow vegetables. The property is listed for €380,000 ($507,390). For more information on this property, see here.
The vineyard lies in the heart of Cathar country, a region known for its rich history and stunning medieval towns and castles. Carcassonne, the legendary fortified city, is just an hour away as are the Mediterranean's pristine beaches and the hiking trails of the Pyrenees mountains. The region offers an average of 300 days of sun, so it's likely you'll have plenty of opportunity to enjoy its charms.
Dordogne Vineyard with Potential for Wine Tourism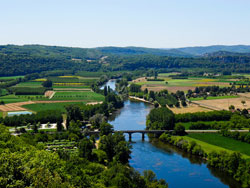 The Dordogne, with its gentle deep-green hills, ancient forests and picturesque cluster of villages, is often considered the French countryside at its prettiest. Over the years, thousands of expats have settled in this southwest region, seduced by both its natural beauty and tranquil pace.
A highly inviting wine estate is currently on the market in this lovely region for €550,000 ($734,000). The vast property features 4.2 hectares of AOC vines for white wine, 5.6 hectares of AOC vines for red wine, and 7.8 hectares of woods and fields. The main house has three bedrooms and a separate four-room apartment that could be converted into a B&B. Two large stone barns, one which could also be turned into a guest house, are also included in the estate, as is a wine tasting room and winemaking facilities.
The estate is next to a small village with a few amenities, but is 45-minutes away from the lively town of Bergerac, which never has shortage of services and activities. For further information on this property and properties like this, see here.