I was accidentally napping (it happens sometimes) in my favorite chair in the den when I was awakened by the loud, unmistakable lowing of a cow. It was the local milkman announcing his arrival with an amplified recording. In just a few minutes, we received our delivery of milk and cheese from his specially equipped motorcycle and cart. Other vendors regularly wind their way through our middle-class Mexican neighborhood selling fruits, vegetables, prepared food, bottled water, and even pots and pans. It is not only charming, it is convenient.
In June of 2012 my wife, Diane, and I left the U.S. for our retirement in Ecuador. We packed the six suitcases permitted by the airlines and moved to a small town on Ecuador's coast, sight unseen, seeking an improved lifestyle at a significantly reduced cost. We would still be there today if only the hospital care on that part of the coast had been better. After two years and with my pre-existing medical conditions, we felt we could no longer roll the dice and began to look at other options.
Mexico quickly rose to the top of our list. With thousands of miles of coastline, its shores washed by the warm waters of the Gulf of California, the Pacific Ocean, the Gulf of Mexico and the tropical Caribbean Sea, Mexico offered nearly unlimited opportunities to live an affordable coastal lifestyle. Diane began to imagine the long sandy beaches of the Mayan Riviera including Cancun, Playa del Carmen, and Tulúm while I began to imagine the powerful pull of a sailfish or marlin fought from the gently rolling deck of a fishing boat.
Medical care was reported to be excellent in the Yucatan Peninsula, the area of Mexico which had captured our attention. The Yucatan is as safe as Vermont or rural Kansas and offered us a rich Mayan influence with access to a large number of historic ruins as well as crystal clear cenotes (sinkhole rivers and deep pools) for swimming and exploring along with a long and accessible coastline.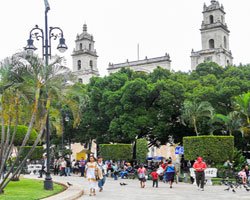 We found a wonderful home listed for rent in Merida. The home (recently remodeled by its U.S. owners) has three bedrooms and two-and-a-half bathrooms. It's completely furnished including linens and kitchen utensils: $650 per month.
We didn't know then that we'd find another place about four hours away in Cancun, but we did! It was a small condo with direct access to the world's finest sugar-sand beach directly on the Caribbean Sea. At $750 a month, the cost of the condo was just a little more than our house in Merida. We saw the photos, exchanged a few emails with the local owner and, after poring over our budget, I sent our second deposit. We now had two houses rented and waiting for us in two distinctly different parts of Mexico.
We have now been in Mexico for about six weeks. Our Merida house is beautiful and modern and permits a wonderful, truly Mexican experience…while our Cancun condo allows a breathtaking view and direct access to the jewel-like, deep turquoise waters of the Caribbean literally steps away.
In our short time here, we have bought and registered a car, acquired our permanent resident ID cards and have made a few new friends in both locations. If our budget forecast is anywhere close to reality, we just might be able to hang on to both places. (If not, we will have a really tough choice to make!) My best estimation so far (remember, we've only just arrived) is that a couple supporting only one household could live a very comfortable life on about $2,000- $2,500 per month in Merida.
While we certainly don't have all the answers, there's one thing we know for sure: we won't allow fear to be the thief that steals the life we could have…
Free Mexico Report:
Learn more about Mexico and other countries in our daily postcard e-letter. Simply enter your email address below and we'll send you a free special report – Why Millions of Americans Are Moving to Mexico.
This special guide covers real estate, retirement and more in Mexico and is yours free when you sign up for our postcards below.
Get Your Free Report Here