Tania and Keith Von Barkenhagen never meant to move to Italy. The California couple thought they'd spend a year, and then go back to southern California—Keith to his IT career and Tania to managing small businesses. That was 14 years ago, and their lives and jobs have evolved a lot since then. The first few years Keith continued to work in programming, traveling back to the U.S. every couple of months, while Tania led wine tours and wrote a blog about life in Italy. Now, they're organic olive oil producers in the town of Cortona, Tuscany.
They hadn't even specifically set out for Cortona. Tania says they wanted to be in Tuscany near good wine and picturesque places, but back then it was harder to find rentals. "There wasn't much available on the internet. We wanted to have two to three bedrooms for visiting family, and we were also bringing our Labrador Porter with us. Cortona had this apartment that we could see three photos of, and we thought, how bad can it be?"
They also needed a good internet connection for Keith's work, which wasn't common at that time. "They put it in for us," says Tania. "We signed a six-month lease, paid up front and figured if we really didn't like it, the cost was one-third of the rent we were paying in California, so we would figure it out. It turned out better than we ever could have expected."
Nearly from the beginning they helped local friends with the olive harvest and became interested in the flavor and process of fresh-pressed Tuscan oil. Soon they were taking bottles of their labors back to family and friends. "They started asking for more for their friends and families, and soon we were hauling 80 liters from Cortona to California," says Tania.
In 2010, they formed L'Arte dell'Olivo. "Keith became obsessed with the health benefits of fresh olive oil while also looking for a purpose in life that wasn't programming software. Soon, we decided to have our own olive groves," says Tania.
Now they have 2,200 trees and five olive groves under their care, have received organic certification, and have racked up 31 awards for their oil, 13 of them gold. "Keith is a certified olive oil sommelier and we do tours of the production to educate people about why olive oil should be fresh and from a producer you know, along with the health benefits."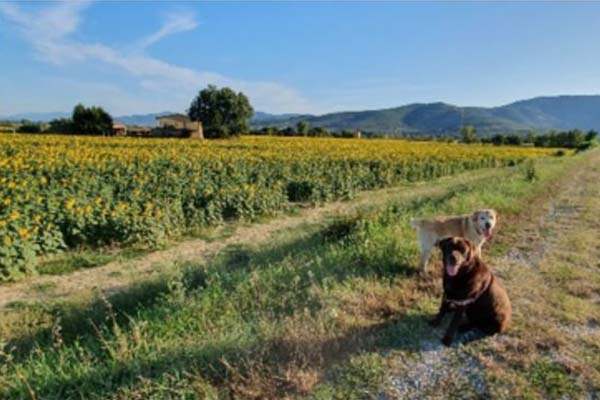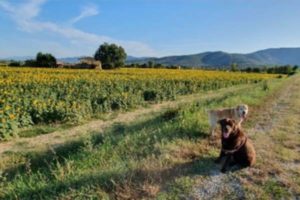 Tuscany is the perfect setting for Tania and Keith to produce their award-winning olive oils…and also offers them a wonderful quality of life.
Customers started asking for other quality Italian products, so Tania and Keith began offering balsamic vinegar from a producer in Modena. But they also decided to give it a twist. They wanted to offer flavored balsamic vinegar but didn't like the ones already being produced. "We felt we could do it better, and in our not-so-humble opinion, we are," says Tania. "We use natural artisan ingredients to flavor our four-year aged white balsamic, and our business has been doubling almost every year." They infuse shallot, pomegranate, Amalfi lemon, truffle, and other flavors into their vinegars.
They say anyone interested in doing business in Italy needs tenacity, patience, and a very good commercialista (business and tax adviser). "Trying to do business here has been a challenge," she says. "But there is always a way around to do what you really want to do. We use a commercialista to keep us straight, and have had a lot of help from our friends."
The challenges are bearing fruit in the olive grove and in the business's growth. They also get to enjoy Tuscan sunsets and gatherings with friends. "We get to meet so many people from different walks of life; the friends we have made are amazing."
They have a mix of expat and Italian friends, and Tania's parents moved to the area three years ago. "I'm lucky we have family here, and that makes it even more like home," she says. "I enjoy every morning when I get up early and walk my dogs in the Tuscan countryside and get to see the seasons change, and the birds and sounds of the morning surrounded by fields as I get a sweeping view of the medieval city of Cortona in the distance."
Related Articles
10 Things To Do In Italy…for that Uniquely Italian Experience
Slow-Paced Italy Is the Perfect Place to Turn Your Passion Into a Money Spinner
Modena: Italy's Hidden Fairytale Retreat