"Who are RETA and how did they get this deal?"
I get variations of this question all the time…
Sometimes from readers who want to understand more about our members-only service…
…Sometimes from brokers, real estate sales teams, and industry professionals who can't believe the prices we get for RETA deals.
I expect, soon, they'll be asking it once again…
That's because we're set to launch a new RETA deal in Playa del Carmen on the Rivera Maya with starting prices that makes no sense if you aren't really and truly plugged in on the inside.
Our deal will eclipse anything local brokers and sales teams have to offer…and they won't be happy about it.
We're buying in the heart of Corasol, an incredibly high-end master-planned community a few minutes from the best beach in Playa.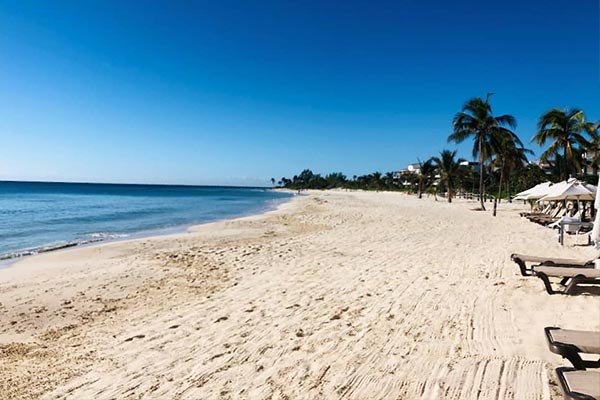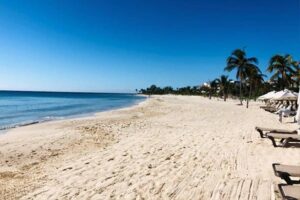 Corasol is a master-planned community where you'll pay $300,000…$400,000…all the way up to $4 million for a luxury condo.
But not our little group…
RETA members can get a two-bed condo in a community called Sunrise at Corasol, a few minutes from the best beach in Playa del Carmen from just $192,800
It is an incredible deal and one that meets all our RETA requirements, offering the potential for six-figure capital appreciation, handsome rental income, and an amazing base to spend time yourself if you wish.
I figure the condos we can buy will be worth $300,000 three years after delivery (slated for early 2023.) But I think I'm being really conservative.
Just look at this for example…
The Village is another community in Corasol and the closest like-for-like comparison to what we're getting. Start prices for one beds come close to $300,000 and go from there. A two-bed condo will cost you from $427,444 to nearly $500,000. Remember…our price is from $192,800. No one can touch us at our RETA-only pricing.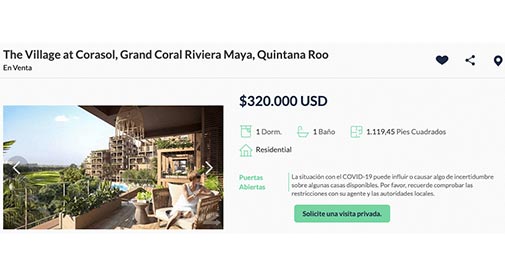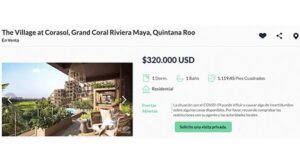 So, how did we pull this off?
Deals like this aren't born overnight. I've spent years traveling the globe, seeking out opportunities and building a network of contacts. My research team and I spend close to a million dollars a year on travel and research alone. One week, I might be driving a 4×4 through the Costa Rican jungle, the next I could be in a tuk-tuk bouncing around a beach town in Thailand.
Our latest deal in Playa del Carmen has been 17 years in the making. It's a place I've been visiting since 2004. I've returned again and again as the mammoth Path of Progress down Mexico's Riviera Maya has turned Playa into a global destination.
I've run the rule over more than 300 potential opportunities, but only a few have been strong enough for me to recommend to RETA members.
As Playa grows, land has become key…
To find a RETA-grade deal in Playa today, you need to be plugged in with the insiders, the big landowners, and the savvy developers who had the land in the family for generations or got land at low prices.
This is exactly what we've done with our latest opportunity. The developer we're dealing with got a great deal on the land, which means we can craft an incredible deal on the very best-in-class real estate.
And for the developer, dealing with RETA makes sense. They know the value of sales momentum, which is why they are smart enough to do a deal with us. They appreciate what our group brings to the table—our buying power—and they are giving us our phenomenal price and exclusive financing to get it. That's how our little group has manoeuvred our way into the best deal in Playa del Carmen.
We're locking down spacious two-bed condos in Sunrise in the super high-end master-planned Corasol from just $192,800.
Nestled in mature tropical vegetation, our condos sit on a finger of land amid the fairways of an immaculately manicured and world-class Nick Price golf course.
Just three minutes' golf cart ride away is a white-sand beach—the best in Playa. A beach few folks know about. It's sheltered just beyond a rocky point from the booming beach town.
And the amenities are everything you expect in a master-planned community where homes list for well over a $1 million.
As I say, the closest like-for-like comparison to what we're getting at Sunrise is another Corasol community called The Village. This is pre-construction and as you can see below, the prices are much higher. A two-bed condo in The Village will cost you from $427,444 to nearly $500,000. Start prices for one-beds come in at $291,981.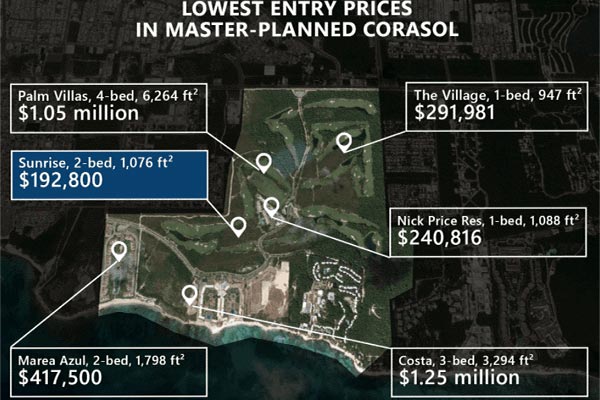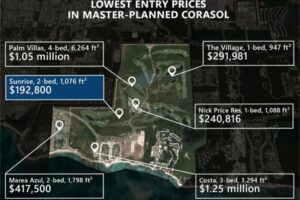 I figure three years after delivery the condos RETA members can own will be worth $300,000. And based on our already stellar track record in Playa, I am being really conservative.
Tap into the red-hot year-round rental pool in Playa and I reckon you can gross annual rental yields of $24,000. That's based on 120 nights at an average of $200 per night. It's a gross yield of 12.44%.
But like I say, this is a RETA only deal. When this opens only members can act.
Get Your Free Real Estate Report Now
Sign up for our free daily Postcard e-letter and get a valuable free report on the The 5 Best Places to Buy Real Estate In 2023.
Related Articles
Why You Should Pay Attention to Leverage
Gains of $107,200 in Playa del Carmen, Mexico
Why You Should Consider a Master-Planned Community