Retiring to the temperate climates of Grecia, Costa Rica in the country's Central Valley was a no-brainer for Mike and Jean Kalburn from Ontario, Canada. They'd been vacationing there since 2000; usually staying in the same duplex B&B. When the opportunity came to buy that property in 2007, they jumped at the chance to have a permanent base in the land of Pura Vida, all it needed was a bit of an upgrade.
The house is nestled within a gated enclave of six houses, set in several acres of land and centered around a rancho and pool area; ideal for lounging around and hosting gatherings. The entire site is planted with native vegetation, palms, and fruit trees, with a stream running through. Spectacular views of the valley and mountains beyond complete the idyllic setting.
The community is a short drive from downtown Grecia, with its stores and farmer markets, but far enough away to avoid the hustle of the shoppers and tourists.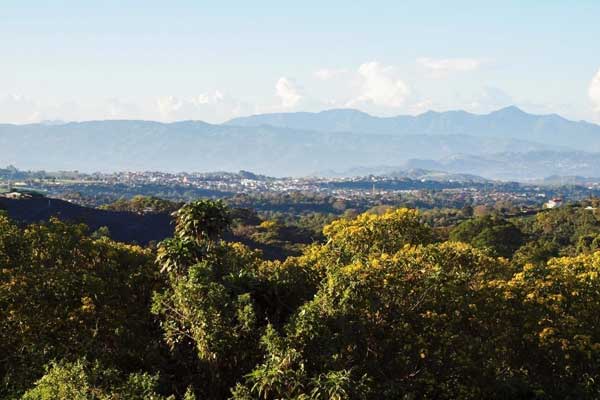 Not yet ready to trigger their retirement plans, Mike and Jean continued to vacation in one half of the duplex while renting out the other to tenants and vacationers. But the ultimate plan was to convert the house into a single-family dwelling equipped with the U.S. conveniences to which they have become accustomed.
Handyman Mike's knowledge of construction, electrical, and plumbing work, combined with Jean's creative and artistic eye helped create a clear plan of action for the renovation and remodeling works they needed to carry out.
While replacing the roof in 2012, Mike discovered that the house was not built with the traditional cinder block frame and walls—which is typical of Costa Rican construction. Instead, it was steel studded with cement board walls. This allowed for the expansion and open floorplans they had desired, without any of the major engineering or structural work required. And by 2015, the floorplan was finalized.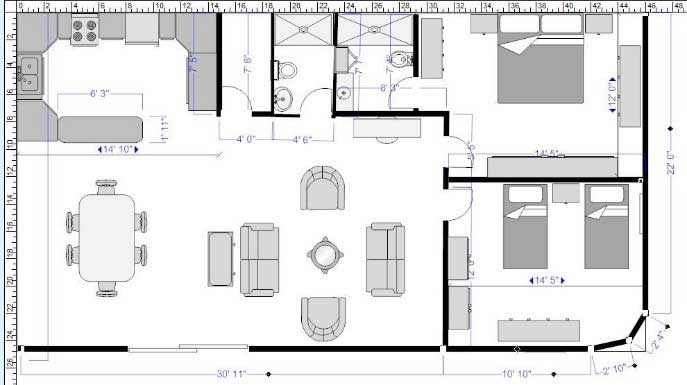 In early August that year, the demolition started with the help of a tico friend and a couple of local workers. Mike did all the electrical and plumbing work himself.
Construction supplies are readily available from local hardware stores known as ferreterias, with detail items like custom lighting, ceiling fans, modern kitchen, and bath fixtures available from specialty stores in the area.
As with most home renovations, kitchens and bathrooms require special attention to detail. With the help of a local artisan carpenter who had experience working in North America, custom cabinets were designed, constructed, and installed, along with custom vanities, and closets for the bedroom suites.
Ideally, they wanted to use 100% of Costa Rican resources, but they discovered that some items were only available through outlets in North America such as waterproof membranes for the showers, extension rods for the ceiling fans, and LED under-counter lighting for the kitchen. But with the beauty of online shopping, those gringo luxury items were just a click and a 10-day wait away.
The Kalbuns say, "If we were to do it over again, we would not do it much differently. Because we managed this ourselves with local workers, the total time from start to finish was four-and-a-half months. Had we hired a contractor, it would have been finished sooner but costs would have been higher. There are always trade-offs." Mike and Jean moved into their newly renovated, open space home in mid-December, 2015. "One of our favorite features is the large kitchen. There is lots of storage and enough counter space for both of us to prepare and cook at the same time," Jean says. "We love all of the large windows, and the open floorplan. Although the house is relatively small (1,300 square feet) it feels much larger." While property valuation in Costa Rica is not an exact science, they estimate that by using personal and local labor and buying most of the supplies nearby, they've added roughly $75,000 to their home. But more importantly, they now have a living space that they can truly call their own.
Get Your Free Your Overseas Dream Home Report Now

Sign up for the FREE Your Overseas Dream Home e-letter and get a valuable report (free for a limited time) on the The Global Real Estate Boom of 2021: 15 Places Where You Can Profit.
Related Articles
The Joys of Retiring in Costa Rica
Maps of Costa Rica: Best Beachside and Mountain Towns
Fun & Interesting Facts About Costa Rica