When Chicagoan John Marrero started his international house hunt in Costa Rica in 2013, he had tropical villa dreams in mind. Maybe Spanish style, a tropical landscape, maybe an ocean view. "I originally planned to put $100,000 down on a place and finance the rest, but once I got down here, my perspective shifted a little," says John.
In looking for a new home in Costa Rica, John was seeking a place where he'd be able to come and enjoy the year-round summer climate, and where he could lead a simplified, more relaxed lifestyle.
"After looking around and realizing some of the realities of the market, I sat back and started thinking, what do I really need for a comfortable life here," explains John. "I ended up deciding it was more important for me to find something that would be simpler from a maintenance perspective, and something I could buy outright with the cash I had."
John was able to find a townhouse listed at $93,000, just minutes from the center of Tamarindo and the equivalent of about a two-block walk to the beach.
"It had two bedrooms, two bathrooms, was a little under 1,000 square feet, and while it needed quite a bit of work, the location was perfect," says John. His complex is gated, with a guard at night covered by HOA fees. Fees are about $220 per month and also cover outdoor maintenance, care of the community pool, etc. John preferred the townhouse style over a condo. He liked that he only shared a wall with one neighbor, and that this particular unit was one of only 13. "It's a small enough complex. When decisions that affect everyone need to be made it keeps it simple, which was really appealing to me."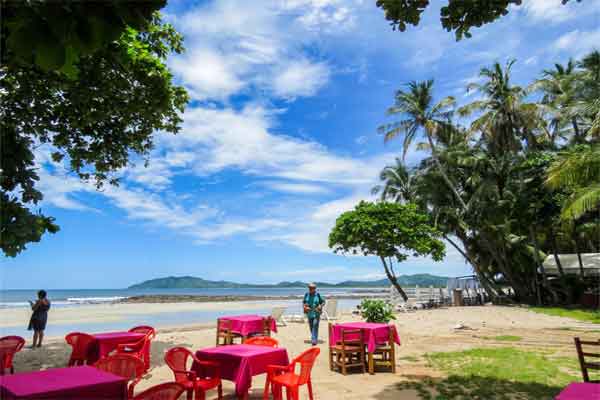 After assessing the work he'd need to do, John was able to negotiate the purchase price down to $85,000. "The process of buying the townhouse was pretty easy, actually easier I'd say than buying a place in the States," John said. "It was just less formal with a lot less red tape. As long as you have a good lawyer who conducts the proper due diligence and ensures there are no outstanding liens on the property, you should be in good shape for a smooth buying process."
With $15,000 left in his budget for renovations, John hired a local property management company to manage the project. Over the course of two months, pretty much everything on the interior of the townhouse was changed, including kitchen cabinetry and countertops, a new half bathroom, a fresh coat of paint throughout, all new furnishings, and a new washer and dryer. "The property managers oversaw everything for a fee of 10% of the renovation costs. Because I didn't speak Spanish and was not living here full time, hiring them was well worth it—they kept the project on track and made sure everything was done according to plan," says John.
Having finished the project before he was ready to make the full-time move, John actually employed the same property management company to rent out his unit for some time. "That was a really great way to understand the full value of the investment right away—I owned it outright and was in a market perfect for rental income. So, it reassured me I had made the right decision and even if I decided I didn't want to live there, it would be a property I could easily earn rental income from," he says.
But by November 2014 John was ready to trade in the cold winters and hustle and bustle of the city for flip flops and sunshine. "I have been a thousand percent happy with my decision to narrow my search down to properties I could buy outright," says John. "I can walk everywhere so a car is not necessary, and my monthly housing expenses are less than $500—only my HOA fees and utilities."
Property taxes have been another pleasant surprise for John. "I still own my place in Chicago and rent it out—the property taxes there are about $5,500 per year…my property taxes in Costa Rica are $250 a year. That's just crazy—in the best possible way."
John says he doesn't stress about much here in Tamarindo, bills or otherwise. "Sunshine every day and beach walks in the morning and at sunset have been a major lifestyle enhancement for me here—I had started to find Chicago winters pretty depressing. I also really love the small-town vibe in Tamarindo and the opportunity you have to get to know pretty much everyone. I hug more people here in a day than I do in Chicago in a year!"
Get Your Free Your Overseas Dream Home Report Now

Sign up for the FREE Your Overseas Dream Home e-letter and get a valuable report (free for a limited time) on the The Global Real Estate Boom of 2021: 15 Places Where You Can Profit.
Related Articles
Why Buy Real Estate in Costa Rica?
Find Your Bargain Home in Booming Tamarindo, Costa Rica
Guanacaste is the Warmest and Driest of Costa Rica's Seven Provinces