Roving Real Estate Investor could change your life.
I'm not being sensational or unduly dramatic. And I don't expect you to take my word for it.
Just ask Jonathan…
A few weeks ago, he sent me a direct message on Instagram telling me he was now the proud owner of a dream home on Croatia's Mediterranean coast.
It's a seriously cool property, in a stunning part of the world. And at just €90,000, it's a true bang-for-your-buck bolthole.
And Jonathan found it after following up on a bargain bolthole listing I shared here.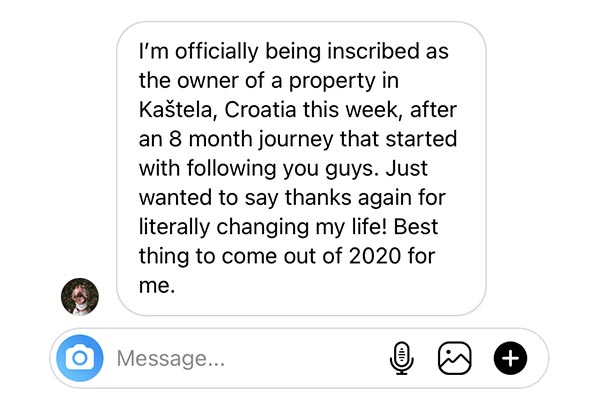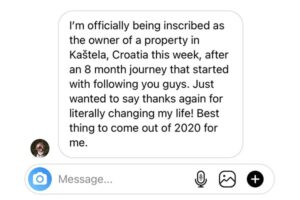 My team and I uncover these properties all the time. They pop up consistently throughout our scouting and research and we share many of them here. (They aren't investment-grade RETA deals, just cool bargains in beautiful parts of the world.)
What's really interesting…
Not only did Jonathan buy his overseas dream home, he did it without even getting on a plane…
I've asked him to share his story…
Read on…
"I Bought My Dream Home in Croatia"
By Jonathan Klein
I never imagined that the chaos and frustration of last year would have a bright side.
It was May, and I was in my small cabin in Pennsylvania's Pocono Mountains. I had moved up there in March with my girlfriend and dog, following the forced closure of my restaurant and bar in Philadelphia.
We wanted somewhere green and quiet where we could wait out the lockdown. My shack in the woods was the obvious choice, but I found myself with a ton of free time on my hands.
That's when I started following Ronan and the cheap properties he was sharing.
I've always dreamed of having a house, however small, somewhere in Europe. I'm a Europhile and have been since I first visited in 2001. If I could emigrate full-time to just about any EU country, I totally would.
However, I didn't think it was possible. Or at least, I couldn't see how I could afford it until closer to retirement. I love European history, culture, traditions, and architecture, but I found it expensive. In places like Amsterdam and Berlin, prices are high—and no amount of refinancing my mortgage could make it possible to own there.
It simply never occurred to me to look elsewhere…
Not until I saw Ronan's post about a property listing in Croatia.
I first visited Croatia in 2013 and absolutely fell in love. The climate, the people, the architecture, and the geography all blew me away. The food and wine were amazing too—the pasta and truffles were even better than I had in Italy. But I never considered looking for real estate there, nor would I have guessed how cheap it could be!
Low and behold, Ronan's post about a $108,000 house in Kastela, Croatia popped up in my feed. It immediately grabbed my attention…and it set in motion a sequence of events that have changed my life.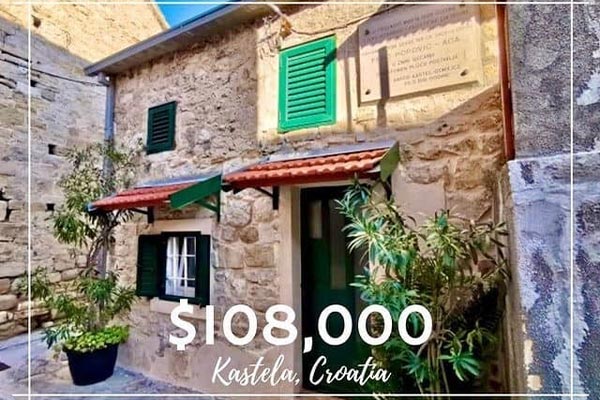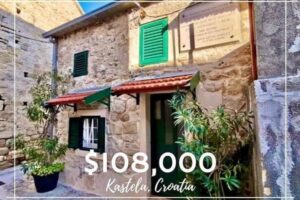 This was the house that started my journey… You can find the listing here.
The property was exactly what I'd dreamed of on my past trips to Europe. A slice of history tucked inside a stunning medieval fortress. A place I could come and go from…exploring the wider continent…or where I could just relax and soak in the local culture.
I'd never even heard of Kastela before stumbling across the listing. But it turns out to be a well-kept secret. It's on a quiet bay, stretching over 10 miles along Croatia's Dalmatian Coast.
The town is actually composed of seven coastal villages built around 15th and 16th-century castles ("Kastela" means castle in Croatian).
In fact, the property Ronan found is literally inside one of the castles, a fortification on a sea reef built by Benedictine sisters in 1529. They even shot a scene from Game of Thrones there.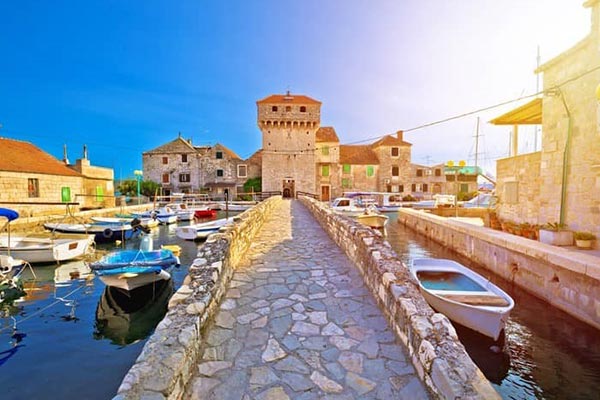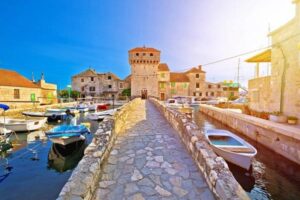 Kastela—the city of castles (You can even live in one for just $108,000).
Kastela is also a 20-minute drive into the heart of Split, Croatia's second largest city.
So, if you want to visit a city built inside a Roman emperor's palace, it's a quick bike or uber ride away. The advantage of Kastela is that you don't have to regularly deal with the higher prices, traffic, and over-tourism. It's more like a sleepy suburb that happens to be a 500-year-old Venetian town on the Adriatic—with (supposedly) a solid restaurant scene too.
My biggest concern about buying here was getting financing. But the small price tag put it well within reach.
Rather than look for a Croatian mortgage—which was difficult to do without be able to travel—I decided to find financing at home. Philadelphia's residential real estate prices have skyrocketed in the last few years, despite the pandemic, so I'm fortunate enough to have accrued a good bit of equity on my primary home. With interest rates as low as they've been, the idea popped into my head to refinance my house in Philly and use the equity for a cash purchase.
Some quick googling led me to these interesting facts:
Not every state in the U.S. has a reciprocal property purchase agreement with Croatia, but fortunately, Pennsylvania does.
There are also no restrictions on foreigners owning property there.
I can't live in Croatia full-time without a residence visa but being a property owner there would entitle me to six months of residency every year. On top of that, I could add the 90-day standard tourist visa. So, I could actually live there nine months out of every year without any residence requirements.
I still have my business in Philly, so I wouldn't be there full-time anyway. Plus, Croatia has extremely liberal Airbnb laws, allowing for ample use of the property as a vacation rental whenever I'm not visiting.
After viewing some of the real estate agent's other listings, I ended up finding one that was twice the size of the original, feet from the brand-new marina, and just yards from the nearest beach, for even less money (€82,000).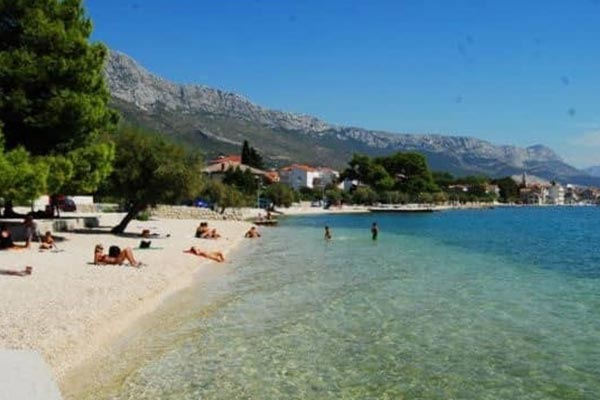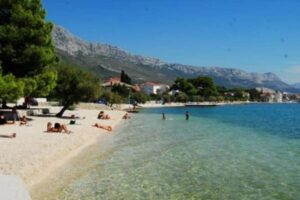 After browsing the real estate agent's website, I found a house in Kastela, right on the marina and close to a beach, for just €82,000. You can see the listing here.
I then reached out and began a dialogue. The agent's English was excellent, and he was very patient with all of my questions.
Of course, due to restrictions I couldn't visit the property in person, but he came around to the idea of completing the entire transaction remotely. He did increase his fees, but for all the work he ended up doing, I could hardly complain.
The agent facilitated me getting an OIB (the Croatian equivalent of a social security number), along with the process of approval by the Croatian Ministry of Justice—necessary for a foreigner to purchase any property.
I ended up paying €90,000, a little more than the original listing price, because a relative showed up with a €10,000 claim that had to be dealt with in order to clear the title. (My understanding is that it is not uncommon for things like this to happen in family settlements.)
I also took a little hit when the euro jumped in value against the dollar, but with a 2.5% interest rate on my new mortgage in Philly, my payments are still incredibly low.
All of this took time, and, of course, lots of notarized documents, but here I am at the end of the road. I was inscribed as the owner last week!
I'm really hoping to get there in April, both to spend time there myself and to finish the odds and ends of furnishing the house. If it's possible, I'll cash in on the summer rental season. I've already arranged a property manager.
Croatia is insanely cheap for just about everything. It's crazy how reasonable food, wine, and my monthly property expenses will be. There is zero property tax after the initial transfer tax is paid.
This is an investment in my future happiness, and a path that I thought my life would not be taking for some time to come. Even if I only get to enjoy it once a year for the time being, as an Airbnb the property should cover my costs. And, if it makes me a little extra, I'll be absolutely thrilled!
Get Your Free Real Estate Report Now
Sign up for our free daily Postcard e-letter and get a valuable free report on the The 5 Best Places to Buy Real Estate In 2023.
Related Articles
Canary Islands Condos With Ocean Views
An Unmissable Deal on Portugal's Algarve