My husband and I just returned from a trip back to the USA, to spend quality time with our family. After such a trip it's natural to reflect upon why we relish our lifestyle in Belize…and there are many good reasons.
We first visited Belize in 1999; almost a decade later, in 2008, I moved permanently to Ambergris Caye. And yet, each time we visit friends and family in the USA someone asks "when do you plan to move back?" It's a befuddling question since we have no plans to move back fulltime.
As a child I spent part of each summer splashing in Michigan's abundant lakes… As a young adult I made my way to San Francisco, with its dramatic views of the Pacific Ocean… But for me neither compares to the breathtaking beauty of the Caribbean Sea. Its hues range from aquamarine or turquoise green to deep topaz blue. As a seasoned diver, each time I gaze out to sea I give thanks for the abundant, colorful fish and coral that flourish off our protected coast…
An absolutely idyllic day is one spent sailing on a small catamaran, snorkeling at Mexico Rocks or Hol Chan Marine Preserve.
And, each time we return to Belize, I look forward to the puddle jumper flight to San Pedro. This 20-minute flight is always spectacular. The plane flies low, so it's possible to see through the clear seawater below, down to the sandy sea floor. We whiz past fledgling mangrove islands and developed islands—such as Caye Caulker. At times I've spotted manatees swimming near the mouth of the river near Belize City…or an eagle ray gliding through the offshore shallows…
Belize is so small that many aspects of our daily life are easier here. We leave home for the San Pedro airport 30 minutes before our flight to Belize International—no long traffic jams or five-lane freeways in Belize… On our return trip through Belize International we usually breeze right through Immigration and Duty Inspections.
Once we moved here we said sayonara to stress. It's just too beautiful and laid-back here to take life too seriously. Many expats in Belize still work. But we take time to enjoy living. We are no longer plagued by the stresses of the traditional lifestyle in the USA. There's no need to keep up with the Joneses…
Although Ambergris Caye is not "cheap" (when compared to other parts of Belize), we can get by on a third of what we spent monthly in California. Transportation is a major saving for us, living on this island. We own only one golf cart (no car). Our monthly gas bill runs $20 to $25 and the golf cart insurance is $75 a year. And, unlike the USA, Belize doesn't tax our offshore income.
The environment is casual on Ambergris Caye. No more formal business suits and constraining shoes for me. Our fashion attire consists of shorts, t-shirts, and flip-flops. Our clothing budget dropped significantly when we moved here. Now it's a treat to dress up for a fancy Wine de Vine event, since we seldom need to don our fancy duds.
We relish the sense of community in Belize, and our active social life. We're constantly meeting interesting people, especially on Ambergris Caye. And when traveling around Belize, I regularly bump into acquaintances. In such a small country you to get to know people since you see them often—from shopkeepers to local politicians.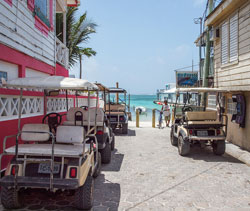 Most events, parades, and festivals in Belize are free. So there are constant opportunities to enjoy time with neighbors. And local bands regularly play live music at beach bars and clubs—also for free.
Our major expenses—other than utilities and groceries—are going out to eat and trying new wines—which is our guilty pleasure. With our savings we indulge in snorkeling excursions and vacations…or for a trip to the mainland—to explore the Cayo, Punta Gorda, or Placencia…
A commitment to community and volunteering is ingrained in the social fabric of Belize. We are inspired by this aspect of Belizean society. There's no economic "safety net" in this country, so Belizeans assist their neighbors in need. In the USA we seldom ran into our neighbors. We were all working long hours and getting home late… But in Belize many expats become involved in their community by volunteering.
We returned from our recent vacation to find an empty fridge. That gave us an excuse to head to our favorite beach restaurant—Wild Mangoes—for a welcome home dinner. While sipping refreshing mojitos, we eased back into the pace of island time. The waves gently lapped on the soft sand beach…locals and visitors sauntered along the beach…the sun set as a sliver of a moon rose above the sea. Relaxed…content… We were happy to be home…
Free Belize Report:
Learn more about Belize and other countries in our daily postcard e-letter.
Simply enter your email address below and we'll send you a FREE report – Belize: The Top English-Speaking Retirement Haven in the Caribbean. This special guide covers real estate, retirement and more in Belize and is yours free when you sign up for our postcards below.
Get Your Free Report Here