In August of 2012, I sold my home and most of what I owned to finance what I thought would be a three-month adventure in Italy. I arrived a month later in Florence, not knowing a single person or a single word of Italian. What I did know was that I was in need of a change…some time on my own and some new scenery. I'd visited Italy twice in the two previous years and each time I'd felt rushed…I hadn't wanted to leave; I'd felt strangely at home.
Initially I found life in Italy an enormous contrast to my hometown of Salt Lake City. My day-to-day experiences were different in almost every way…but right from the beginning, I found myself thriving and feeling joy in a way I had not in the previous decade. In Florence, because it is a pedestrian city, I was walking all day the ancient streets, markets and piazzas, fully captivated by the art, architecture, and culture. I still feel, six years later, that I only have to step out of my door to be swept up in its beauty!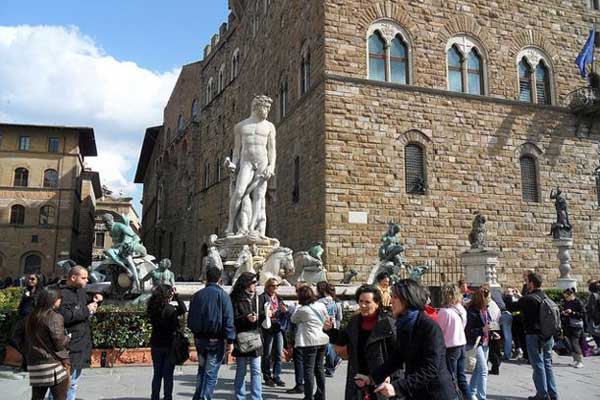 I began writing travel articles for Italian and American online magazines soon after my arrival, and found that as my audience grew, a great number of readers were asking if I could show them "my Tuscany." The response to that request, ultimately, was creating my own tour company called Find Yourself In Tuscany. I organize small, private tours through the Tuscany region (as well as the Cinque Terre) and also design custom itineraries for travelers throughout Italy.
In the five years since I started the business, I have found my niche is to create luxury travel tours and itineraries that provide my clients with an authentic view of Florence and its surrounding cities. Because I live here, I handpick the experiences as well as the people that my guests will interact with. I want my groups to feel that they have their own concierge with them and even during their free time, they know I'm just a message away.
The shortest tour I offer is eight days and seven nights, so guests are not rushed and can truly savor their Tuscan experiences. From the cooking classes, to hotels, artisans, drivers, guides, and restaurants, I feel I've chosen the "best of the best" to offer my clients—and even after years of tours, I'm constantly tweaking and refining the itinerary. I believe there is nothing like a local's view of their city…the back roads to walk, the hidden local trattorias, the perfect place to watch the sun set.
Because I am passionate about my love for Italy, the Italian culture and people, it continues to be joyous work to pour myself into my job. I work full-time for several months, but then will have weeks off where I travel throughout Italy and Europe. My lifestyle offers great freedom and, with the exception of when I'm guiding a group, I can work from an apartment in Florence, my favorite hideout in Cortona, or while traveling. My professional resources are my connections and knowledge of my favorite region in the world…Tuscany.
Related Articles
Where to Stay When You Travel in Italy
Fun and Interesting Facts About Italy