Dick Walton, 53, and his wife, Dawn, 47, have always loved to travel. And they knew for a long time that they wanted to retire to English-speaking Belize…the tiny Central American country on the Caribbean Sea.
But when Dawn had an aneurysm in 2009, the couple pushed up that timetable to escape the stress and fast pace of life in their hometown of Cedar Rapids, Iowa.
Over time they visited a few places in Belize: the island of Ambergris Caye and the low-cost retiree haven of Corozal. They then spent Christmas 2011 in Placencia, a 17-mile narrow peninsula that offers laidback Caribbean living. The sun, the beach, the people—it had everything they wanted.
"When we came for that visit, I woke up one morning, got a cup of coffee, turned to Dawn and said, 'This is it,'" recounts Dick. "When we got home we sold the businesses and everything else."
Seven months later they moved.
Today, the couple enjoys a new life with all the benefits of life in a beach town. A big one for these northerners is the climate—it's warm year-round in Placencia.
"In the U.S. we shut up our homes in winter because of the cold and in summer because of the heat," said Dick, who explains in Belize they let the sea breezes cool things down. "I hibernated in winter for 50 years. Not having to shovel snow is so worth it."
And they love to get outdoors.
"I try to relax as much as I can. We go to the beach, and I love to fish. Me and some buddies get a charter with a guide and go out to certain cayes and reefs," says Dick. "We caught 63 snapper in one day on a trip. We weren't fishing; we were catching!"
The couple rents an octagonal-shaped home on the lagoon, which lies between the peninsula and the mainland. The beach is just a few minutes away.
And Placencia Village, the "town center" of sorts of the peninsula, is just down the road. This is where you'll find a walkable area of stores, restaurants, bars, and beach bars that serve as unofficial expat hangouts like the Tipsy Tuna.
"There are long-term rentals everywhere. For $1,000 a month we get a beautiful two-bedroom house with a dock and outdoor bar. It's perfect," says Dick.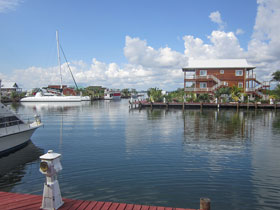 The home is also an ideal home base for Dick's business. While Dawn is growing her new writing career, he has picked up his profession from the U.S.
As a master plumber with his own business back in the States, Dick realized there was an opportunity to apply his skills and experience immediately after arriving in Placencia. It's booming right now as an expat destination. And that means construction, especially homes.
"I saw a need, and now we're doing the plumbing for all the new houses. I'm making as much as Dawn and I were making in the U.S.," says Dick, who has nine employees. "I was planning to lay around for a year. But I only lasted a month. I love my work."
The difference is…he has plenty of time for enjoying fun and relaxation and enjoying all that Placencia has to offer—a big change from his old work life in the States.

Related Articles
In Pictures: Corozal, Belize–A Subtropical Haven for Active Expats