Max Davies still can't believe the monthly fee for using the gym at the 4-star Hilton Hotel is only $63 a month. He can use the sauna, the pool, the weight room, the squash court, ping-pong tables, and a clean locker room scented with frangipani. Resort-quality amenities for locals. That's one of the many benefits of retiring in Hua Hin. Local residents can take advantage of the struggling hotels during off season, which lasts most of the year.
Max, a retired San Francisco cop, has been living here about six years. At first, he was only visiting Thailand, cruising to the different beaches along the southern coast such as Khao Takiab and Cha-am and enjoying the fresh seafood, nightlife and relaxed day-to-day lifestyle. He had planned to go back to California and take up welding, but after a few weeks he could see that returning was an insane move.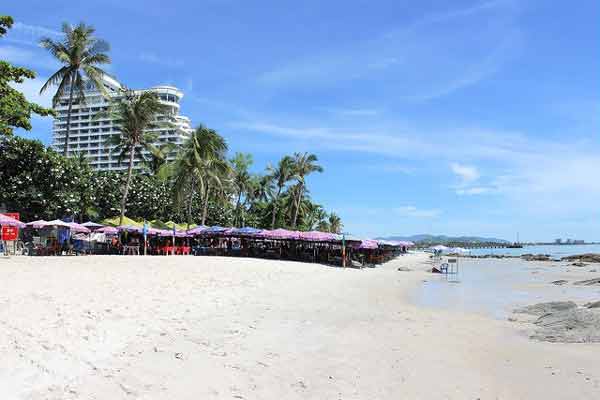 Umbrella-laden section of Hua Hin beach in the center of town.
The cost of living was a major factor in his decision to stay in Thailand. His retirement package is about $3,000 a month. It is a whopping sum for Max's lifestyle. He tells me, "I never dreamed I could stop worrying about money day to day. I do what I want, enjoy life, and money is just a tool I always have in my pocket." He has no worries about scraping the bottom of his account in any situation or emergency.
Max is 53 years old, very fit with a tanned face and unruly, short grey hair. You can see he spends a lot of time outdoors. Dressing up for Max is jeans and a pressed tee shirt, which is fine for almost all of the restaurants around town. As far as clothes, Max recommends leaving most of them back home. "Shopping here is pretty much the same as in the States except for the lower prices."
Quality of service is high. Max had a major root canal procedure for a little over $200 last month. The hospitals and medical services overall are excellent. But, Max recommends you do a little research on the doctor or dentist first. Not every medical school here is top-rate and you can get in a bit of trouble if you pick a disreputable doctor. Finding a good one isn't difficult though. Just Google the person, look at where they graduated, where they have worked, make sure they speak English well, and check any reviews on major expat forums like Thaivisa.
Max also recommends you do not buy a condo or small house in a development. You are better off renting a place. At the low end that costs about $500 a month, and at the high end around $1,500 a month. Max rents on the lower end of the scale as he is single for now and he doesn't need to be right on top of the beach. Some of the condominium complexes off the beaten path are old and a bit rickety, but it is fine with him. In fact, the older condos have a mysterious air, something like a good noir detective novel. After all, he was a cop for 20 years.
The best way you can get ready for a big move to Hua Hin or any other resort town in Thailand is to visit first. Plan a trip for two or three weeks and try to get away from the confined tourist areas once you are here. Do not stress. Culture shock is real and you will feel out of sorts, maybe even the whole time. No big deal. This is why you are moving! Do not bother with tourist attractions the tuk tuk drivers want you to visit. Instead, live like a local or at least like you are a local. What do you every day at home? Do it here. Get coffee, take a walk, read a good book, have a beer with friends.
Max divorced about six years before his retirement and he has remained single, which gives him a lot of freedom. Hua Hin fits his desire for a simple lifestyle near the beach. No condominium full of furniture, fancy coffee makers, or stacks of knick knacks. He likes to be outside. Khao Takiab beach is just a 10-minute walk from his condo. Every morning he walks there then takes a short jog on the sand. He uses this time to reflect on his life, his two grown daughters, and a book he has always wanted to write. Most of all, he reminds himself retiring in Hua Hin was one of the best decisions he ever made.

Get Your Free Your Overseas Dream Home Report Now

Sign up for the FREE Your Overseas Dream Home e-letter and get a valuable report (free for a limited time) on the The Global Real Estate Boom of 2021: 15 Places Where You Can Profit.
Related Articles
Rent from $430 a Month in Hua Hin—The Golfers Paradise Beach Town
Freedom, Fun and Adventure: At Home in Hua Hin