Even without meaning to, how can you ruin someone else's day? Just mention the words "property taxes" and watch the instant transformation from happy feelings to smoldering resentfulness. Which is exactly how I used to feel, when living in my California condo.
Located 13 miles from Disneyland, in the City (and County) of Orange, my condo's annual property tax was just under $5,000. It was a single story, two-bedroom and two-bathroom condo, about 1,000 square feet in size. Added to that, I used to pay $350 monthly for my home owners' association fee (now it's $468 every month, according to my former next-door neighbor). My subcompact car always needed repairs and was driving me straight to the poorhouse. Taking a taxi from home to the airport was a 22-mile drive, costing $42 each way. Every month I paid my internet, television, and cellphone carriers a combined total of $245. Money was slipping through my fingers like fine sand.
All that changed—and for the better—when I followed International Living's advice to move to Ecuador, and join the other smart retirees living here. And how glad I am that I did. I sold my money-draining California condo in 2014 and paid cash for a similar condo here in beautiful Cuenca.
It has three bedrooms and three bathrooms, is about 1,600 square feet in size, and it's a brand new two-story modern condo, which cost me $115,500. At $34 monthly, my home owners' association fee here is less than one-tenth of what I paid back home.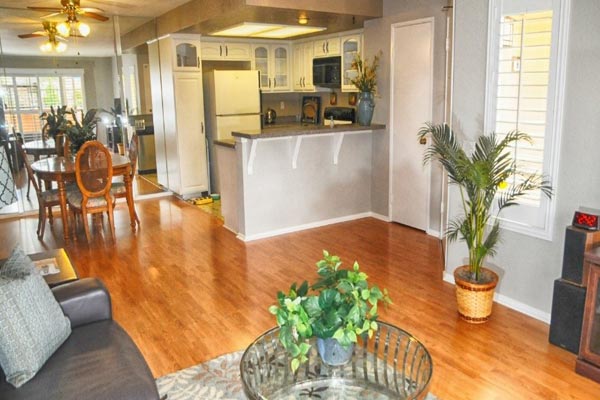 Taxi fares cost $3 on average for each trip. And because I recently became a senior citizen (Tercera Edad, or third generation) when I hit 65 years, I get many generous discounts (descuentos). My bus fare dropped in half to 13 cents per ride. The water bill costs half, now $3.85 a month. My combined cable TV, internet, and cellphone monthly payment is $97.
When I take a future vacation to the Galápagos Islands (the crown jewel of Ecuador) my transportation costs will be discounted by 50%. Every month I am entitled to receive an average refund of $105 from the sales taxes I have paid. These generous entitlements are allowed to anyone—even foreigners like us expats—who has been issued with a permanent visa and are age 65 years and beyond. No need to feel guilty, because the government encourages such popular programs.
But, back to the painful subject about paying property taxes. On January 8th of this year, I went to the city municipal office to pay my annual property tax (Impuesta.) Last year I paid $44, and expected to pay only $22 this year. So, when the clerk told me how much was due, I immediately had that "deer-in-the-headlights" look of shock. I asked again, in disbelief, how much did I owe, and she assuredly smiled and said again: "Cincuenta y siete centavos", which is 57 cents. That's right, only $0.57. Compare that to living in California and paying nearly $5,000 each year. Thanks to the senior citizen 50% discount, and to receiving an additional 10% discount for paying during the first 10 days of January, all categories of the tax to be paid were discounted down to only 57 cents total due.
So, with all of these ways to save money by living here, what can I do with the extra money? For starts, keep watching as my wallet and bank account get fatter. Taking occasional tour buses to visit nearby towns and villages for a day, paying anywhere from $25 up to $40, which includes round trip transportation, breakfast and /or lunch, and a bilingual guide. Installing a new Jacuzzi hot spa in my patio, after remodeling the cement walls with ceramic tiles. Treating myself to a new, and well deserved, professional digital camera and lens kit.
So now, whenever I think about paying property taxes, I cannot help but break out grinning with a devilish grin.
Get Your Free Roving Real Estate Investor Report Now

Sign up for the FREE Roving Real Estate Investor e-letter and get a valuable report (free for a limited time) on The Exact Location of Where to Make the Most Real Estate Profits This Year (Plus 4 More Places to Build Your Fortune in Latin America and Europe).
Related Articles
There Are Many Reasons to Live in Ecuador
The ABCs of Retiring to Ecuador