I have been grouchy lately. I would say for months. A year? I guess it was lockdowns, canceling multiple plans, and dealing with the ongoing rescheduling aftermath. My initial hopes for a more "normal" 2021 were dashed by personally contracting COVID-19 (it's still a mystery, since I practically walked around town in a hazmat suit; alcohol sanitizer dripping off me with each step). We've all been touched by similar social maladies to one degree or another this past year.
When my husband and I moved to Tamarindo, Costa Rica, we had a plan. We designed a life with our main residence in Costa Rica, and a smaller one in Austin, Texas (returning each autumn for football, family, and frivolity). We also allotted two or three months of each year for international travel. This blueprint had been going swimmingly up until…well, you know. Since late 2019, we have stayed in our tiny beach town (population: 3,000 to 5,000-ish), riding the proverbial viral storm. I post photos on social media of sunsets on the beach, cold Imperial beers, howler monkeys, waterfalls—whatever tickles my fancy. The responses have been a resounding, "You are so lucky" or "You are living the life."
"I am living the life," that little voice inside reminded me. "Then why am I so grouchy?" came the reply. I dug deep into my COVID-blurred brain and asked, "Remember being that fresh-eyed expat just eight years ago? Thrilled with each new tantalizing sight, sound, and smell taking the senses into glorious overdrive?" Where was she?
I am living the life. So why am I so grouchy?
It didn't take much effort to remember the magic. It's why so many people find Tamarindo to be such an enchanting beach town. But I needed an accomplice. So I reached out to Kelly Montgomery, a native of Oakland, California.
Kelly's a sassy expat who arrived with her two children exactly when Costa Rica's borders re-opened to select U.S. states in October 2020. Her social media feeds are flooded with the mesmerizing, yet simple, first-time experiences. Things like watching monkeys wander by while she sits on her terrace, or enjoying that perfect cup of Costa Rican coffee, or building sandcastles with her kids at sunset on Playa Tamarindo's golden sands.
When Kelly first moved to Oakland 25 years ago, it was about diversity and like-minded folks. "It was a wonderful city to live in back then. But the crime and violence have gotten worse. Everyone is fighting for something, and while that matters to some degree, it leaves everything feeling angry and unsafe. I had to get my kids out. I decided about five or six years ago that I wanted my kids to know other parts of the world and different cultures," she explains.
Kelly is a licensed psychotherapist and certified health and wellness coach working remotely for her own companies, Healing Happens Therapy and Healing Happens Coaching. "My original plan was to buy a bed and breakfast and conduct health and wellness retreats, since I'm a licensed marriage and family therapist. But COVID came and plans changed," she continues. "I knew I wanted to live on the Pacific coast. After all, it was already my coast. I explored Sámara and really loved it, but it was too sleepy. So, I settled in the Tamarindo area."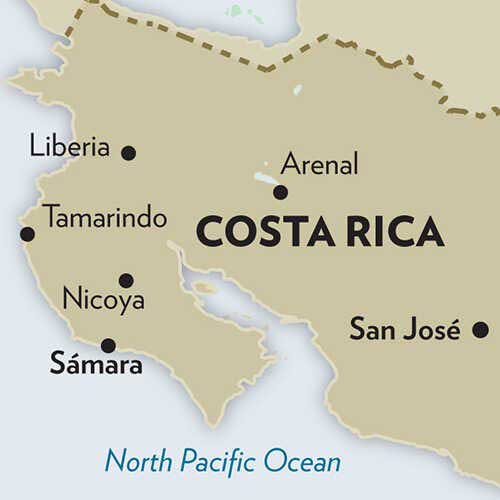 Every time Kelly mentioned something about her new life here, I was reminded to let go of the stress I was holding onto. Her warm and carefree attitude is infectious. "I have long, luxurious mornings for self-care. I am a better mom, a better therapist and coach. Costa Rica is much more affordable for me. I have a maid and a nanny, a private Spanish tutor, and I go to yoga classes on the beach. I am living like a queen."
Costa Rica is affordable. I am living like a queen.
Kelly reminded me of things I'd started to take for granted. "There is so much more nature here. I swim a lot more. There is so much access to outside activities. Here, you can sit in one place but not get tired of it. I mean, you can see a sea anemone in one direction, a sunset in the other, and hear a foreign language at the same time," she points out.
"I watch the monkeys go by. I tell my patients 'these are your therapy monkeys.' I've seen wild horses, and even a wild pig once. I send them photos and they love it." She is right. The animals are therapy! Lately I have often found myself passing by a howling monkey in a tree and not even glancing upward. Kelly's enthusiasm reminds me that I need to reconnect with my surroundings, and remember why I love the place so much. That includes thinking about some of the things that I've let irritate me over the past year. Tamarindo has quite a few beach vendors selling pottery, jewelry, and annoying bird whistles (most are supporting families back in Nicaragua). Kelly offered her take, "They are hard-working people. In other countries they are relentless. Here you just say "no gracias, pura vida," and they say "pura vida" back, smile, and leave you alone."
COMING "HOME" TO TAMARINDO AFTER COVID
A worldwide pandemic helped many of us realize that life is precious, and short. While we had to put things on pause, we also had time to re-evaluate where we wanted to "be."
Fada Quinn, originally from Dublin, Ireland (by way of New York City) first visited Costa Rica in 2014 for a holiday and loved it. "Randomly, a year later, I got a call for a work project from an investor at a development near Jacó, asking me to do some consulting. After exploring up north, in 2016, I decided to move to Guanacaste with my eight-year-old son," Fada shares.
"I loved the rawness of the country; undeveloped and beautiful. The ocean, the pure nature just pulled me in and spoke to me. No corporations, highways, or craziness that city life brings. I loved the little dirt roads and off-the-beaten-track bars and cute restaurants, the cows with floppy ears, the simplicity. I loved the feeling of freedom I felt. And the people, wow! So warm and welcoming."
But expat life can be transient, and occasionally opportunities call, Fada explained. "In 2019, my boyfriend, who I met in Tamarindo, got a job offer in Los Angeles that he couldn't refuse. I love L.A. anyway, so we looked at it as another adventure for the three of us, and left in October. We lived there for a year during COVID. The majority of the time we were in lockdown, so my DJ career was not very active, apart from the live streaming from my garage," she sighs. "We had a nice house with a big back garden. And we got in some hikes and beach days, so I couldn't complain."
When lockdown began, my boyfriend's company moved to remote working. Since we were missing Costa Rica the whole time, we decided that moving back would be the best thing for us. Living in paradise during a pandemic sounded better than the situation in L.A. Between the politics and COVID, we wanted to be back to palm trees and simplicity. I missed my friends there, the small community, the beach life, and the dirt roads," she adds, smiling. "I would recommend to anyone considering a move to just do it. Life is short, and change creates new stories and opens more doors of opportunity."
It's not just people who moved away who missed Tamarindo. Veronica Everette, originally from Chicago, has owned a home in Tamarindo since 2005. Her plan was to split her time between the two locations before her recent retirement. But Costa Rica closed its borders in mid-March 2020 and did not reopen to U.S. tourists until October. Even permanent residents could not return. Veronica Everette became a reluctant exile in the U.S.
"I left March 5th for a planned trip. I was due to come back in two weeks, but that turned into 11 months. By then, I just waited to get the vaccine, since I was concerned about the virus. I had a lot of emotions. I love my dog and I missed her so much. I had trusted friends watching her, but still, it was so long."
Veronica also worried about not having someone in her home for that extended time, and had concerns about mold during rainy season. She eventually hired someone to look after it, and clean and remove all her food from the refrigerator in case of a prolonged electrical loss.
"My sons needed me at that time and I stayed with both of them, splitting my time between Chicago and Pennsylvania. It was not an ideal situation, but it was too expensive to rent a house. I kept checking the Tico Times (an online English paper) for updates. I missed my dog, my friends, the beach, and this small community. It feels so good to be back."
Life in Tamarindo comes with a broad range of challenges that might not be top of mind when making your relocation plan. There are bugs. Kelly's Zen-like acceptance puts me to shame: "I have learned to like them. I even take photos of them and look at their cool colors." And it's true, I have seen bugs on her newsfeeds. Who gets excited about bugs?
Another regular occurrence is the Papagayo winds, which typically blow on occasion between January and March each year. Sometimes they are strong—you see lawn furniture blowing into the pool and potted plants rolling across your terrace, with dirt flying everywhere. I'd come to think of them as a menace, but perhaps that's just my recent grouchiness resurfacing. Kelly manages, again, to see an upside. "Yeah, we have to tape the doors. Nothing is sealed properly here. The winds just come through. I got used to it, it's like a lullaby to sleep. It doesn't bother me," she smiles. I am going to remember that lullaby analogy next time my neighbor's terrace divider screen flaps loudly in the wind!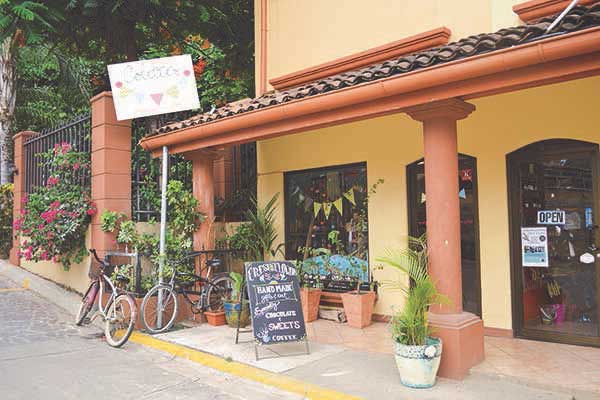 Although Tamarindo is mostly a flat and walkable town, Kelly quickly realized she wanted to purchase a car. "It's really difficult not having a car with two children. There are (mostly) no sidewalks. Even just going grocery shopping without a car is not easy. But life here would work with a golf cart or four-wheeler too." What does she think of the actual driving here, though? "I absolutely love it! I am an aggressive driver. I make the rules myself—taking it into my own hands."
Kelly, like me, knows life is not perfect anywhere on the planet. There are annoyances we all endure. Like when the ATM runs out of money just when you need to pay your rent (Kelly can't open a bank account until she's secured full-time residence status). Another annoyance for newbies? Ticos (Costa Ricans) are rarely on time and you will find that the repair guy may not come today as confirmed. Or tomorrow. Or this month. Her approach is the same as my own: "Just embrace it. It's part of the lifestyle." We laughed at the common ground we shared, while enjoying one of those amazing Costa Rican coffees. (Side note: Kelly's perfectly manicured fingernails actually matched her celeste blue coffee cup.)
There are always other random things which simply become a part of life for those who have lived here a long time. Not necessarily good or bad, just routine. "Be fluid, be patient. I have to go to multiple stores to find everything to cook one recipe. But we have made cooking dinner together fun," she adds. "Oh, and I had no idea about the goo on the roads. It smells like syrup. So weird, but ingenious."
To explain: shortly after rainy season, when business owners are fairly assured there will be no more rain for the next four or five months, a sweet smell wafts through the air and the roads get a little gooey all around Tamarindo. Besides the primary roads in town, the secondary and tertiary roads are unpaved. When those Papagayo winds kick up, we experience mini-tornados of dry dust from the roads.
Thankfully, ticos are resourceful. For a fraction of the cost of actually paving the road, business owners pool resources and hire a truck to spray molasses on the road surface. It hardens the next day and remains firm until the first rains in May wash it away. It works. (It probably tastes pretty good, too.)
"Coming from the Bay Area, there is a hidden anxiety level in you," Kelly admits. "Here, after two or three months, you naturally remove it. There, you think you are fine, but you are not. Working in mental health, I know this to be true. But here, there is a chance for full liberation. In the end it is all worth it. It's only your mindset that gets in the way."
Seeing Kelly make positives out of things I've allowed to become negatives in my own life, I have to admit that she's right. Sometimes, life isn't about making time to stop and smell the roses, but remembering that they're there. It's taken a conversation with a newly arrived expat to remind me of what is so wonderful about where I live. And though I'm not about to start licking the road molasses, I shall definitely look up next time I hear a monkey howl.
I don't think the novelty will wear off for Kelly. She's found her home here. "I do beach yoga three days a week," she says. "I was in the relaxation pose at the end of class after a stressful trip to California to complete my paperwork for residence. Usually I have my hands up, but this time I turned my hands down into the beach. I grabbed the sand for two full minutes, tears dripping off my cheeks, and I repeated to myself, 'This is my land.'"
Tamarindo Beach. This is my land too.
HOW ONE SURF MOVIE BIRTHED A BOOM TOWN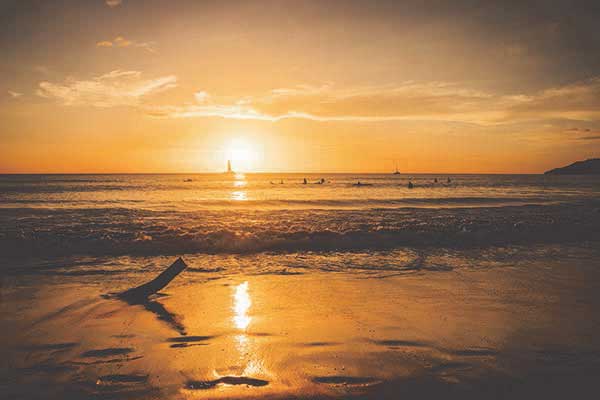 The history of Tamarindo and Guanacaste's Nicoya Peninsula stretches back to a time before the province was annexed by Costa Rica in 1824. But you are not going to read about the Spanish conquistadors storming the beach on horseback, or well-preserved historic buildings of the 1800s. That history does not exist because…there was absolutely nothing in Tamarindo. Unless you count fisherman at work, and grazing cattle from nearby ranches. One more thing defined the place, worthless back then, but priceless now: an uninhabited, pristine Pacific beach.
Tamarindo's modern history commenced in the 1970s, although it would take two more decades before it had a large enough population to qualify as a town. At that time, the Pan-American "Highway" was a gravel road from the Nicaraguan border to Puntarenas on the Central Coast—approximately 130 slow travel miles. The turnoff to Tamarindo's fishing village was a poorly maintained dirt road that washed out every rainy season.
In 1970 the only U.S. airline serving the country was Pan Am into San José. From there, travel to the Guanacaste coast could take days. It was not unusual to see camper vans dotting the roadside back then. Many adventurers drove all the way from the U.S. and slept in their vehicles, due to lack of accommodation along the route.
Tamarindo did not even have electricity until 1974. The old story goes that the only established beach restaurant and bar, Nogui's (which still exists today) would have blocks of ice delivered down the rutted roads once per week, on Thursdays. By the time Sunday rolled around, beer was consumed lukewarm. "Warm Beer Wednesday" was a not-much-loved tradition.
The first rental cabanas opened in 1965 and catered to national tourists from nearby Santa Cruz or San José. When the original beach hotel opened in 1973, the owners figured they would attract anglers seizing upon the abundance of marlin, sailfish, dorado, and yellowfin tuna offshore. As international anglers began discovering this extraordinary piece of the country's coast, the first excursion company also established itself in the area.
Fresh water was at a premium during dry season (December through April) as wells dried up and became salinized. A rural aqueduct was constructed in 1977, helping pave the way for what would decades later become a boom town.
Even in the 1980s, Tamarindo remained a small fishing village. While more anglers found this fishing bonanza, it was the surfers in their camper vans who discovered the perfect waves of Tamarindo Bay. At sloth speed, word was spreading.
However, it was not until 1994 that the iconic surfer movie The Endless Summer II showcased the waves in Tamarindo…and firmly established the town as a surfer's paradise. Robert August, who had also starred in the first Endless Summer movie from 1966, met an early Tamarindo developer, Russell Wenrich, at a surfing expo in 1990. Wenrich knew the excellent Tamarindo surf breaks, and convinced surfer/filmmaker Bruce Brown, Robert August, and their crew to come down and scout the area.
The rest is history. Surfers from around the world flocked there, and international surfing competitions clamored to host their events in the famed Tamarindo surf. Although Wenrich passed away recently, his legacy of development lives on. Robert August, Tamarindo's local celebrity, can still be spotted around town.
Expats from the "old days" in the 1990s enjoy telling the stories of communications back then. Tamarindo had no telephone lines until 1996. Not cell service—land lines! David Mills, a Tamarindo expat hailing from the U.K., remembers it well. "We used to queue up at one of the pay phones at the rotunda (the traffic circle), which were often out of order. People would phone home to get the news. We would write it on note cards or bits of paper and pin them to a board at Nogui's so we could all share what was happening elsewhere."
This became the precursor to a newsletter Mills and his (then) girlfriend created so everyone in town could get their news updates. It evolved into a magazine called The Howler (named after the bellowing monkeys that live in the area) which was eventually sold, rebranded, and is still published today.
By the late 1990s, four more hotels had been constructed and a couple of new restaurants competed with Nogui's. Tamarindo was officially a town, a district, and part of the Santa Cruz municipality. The tiny fishing and surfing village was riding its own wave of prosperity and fame.
In the 2000s, the four-mile dirt road from Villareal (the nearest town) to Tamarindo was paved. Daniel Oduber Airport in nearby Liberia upgraded to international aviation standards, allowing non-stop flights from North America to trickle into the area. Trickles turned to flows, and eventually the two-gate, open-air, barn-like terminal was transformed into a full-service, modern, air-conditioned airport in 2012. It served over 1,148,000 passengers in 2019.
Tamarindo is now Guanacaste's shining star for tourism, as its economy has shifted from agriculture to service. Although it's grown up a bit haphazardly, everyone who visits or chooses to call it home can feel the energy. They fall for the international atmosphere, the abundance of excellent restaurants, the variety of housing options, and the eternally beautiful arching beach— the heartbeat of the town.
Poised for a renaissance after the viral pause, new businesses are flourishing and real estate has not moved so quickly since the 2005 to 2008 boom. Casual and ever-charming; what Tamarindo lacks in history, it makes up for in spirit.
Related Articles
Best Places to Live in Costa Rica: Five Top Expat Havens
In Photos: The Top 5 Beaches in Costa Rica
Costa Rica On A Budget: Where to Live For $2,500 or Less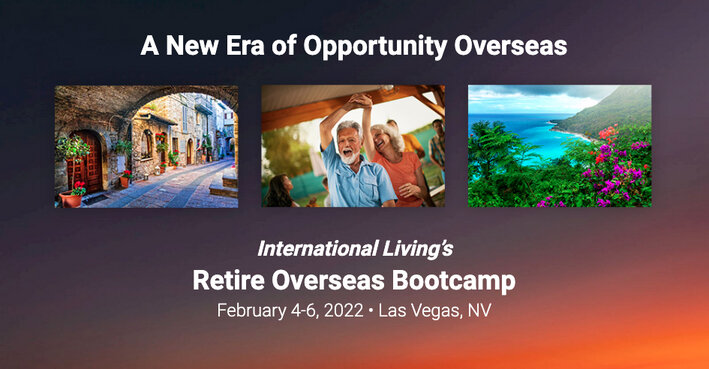 Popular articles you may also like