In 2006, even though the U.S. economy was still going strong, I looked around at my life and said, "It's time to go." So I quit my job, sold my apartment in New York, and moved abroad.
It sounds abrupt, but it actually wasn't. I'd been thinking about it for years. I'm no financial genius, but I can add as well as anyone, and I can certainly read writing on the wall. And, having hit a milestone birthday, calculated my net assets, and estimated remaining work years, they didn't add up to a retirement I'd enjoy. I saw absolutely no way to save as much money as financial wonks said I'd need to retire comfortably in the U.S.
But I knew I could do it in many places abroad, and I wasn't afraid to go. You see, I'd lived abroad before and knew I enjoyed it. Admittedly, that had been in Europe. But since then I'd traveled in Latin America, especially in Mexico, and I'd seen how inexpensive it was to live there. My savings could stretch much further, and it was even fairly easy to set up a business in Latin America—a consideration, since I was really too young to "retire."
I'd also been following International Living, where I got more details on destinations and on crucial factors like health care. I'd gotten medical care in Europe and even minor surgery (and I've since had excellent health care in Mexico), so I knew first-hand that health care abroad was good—and much cheaper than in the U.S. But having IL to do the research for me helped me focus on the right places and saved time. Even more importantly, it helped justify my instinct that life abroad was a viable option, not just some hare-brained scheme.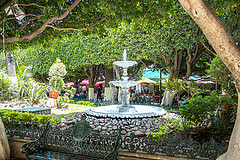 So, some years before I moved, I began saving in earnest—my nest egg for my Great Escape. By 2006 I felt the timing was right. Even so, it was difficult to just up and quit a job.
But one day I had an epiphany…I said to a friend, "You know those people who complain and complain about their lives, and they never do anything to change it? I'm not one of those people." So I put my apartment on the market.
My last weeks on my job, after submitting my resignation, I was inundated with good wishes from colleagues. "You are my hero," more than one of them told me. Everyone, it seemed, dreamed of doing the same thing.
It's now been more than eight years since I began this latest overseas adventure. It hasn't been all roses—as any longtime expat will tell you, moving abroad doesn't make you a different person, or exempt you from life's inevitable ups and downs.
But abroad, life can be more pleasant. With money stretching further, you're less stressed. Because you can afford good healthcare without its being tied to your job, you can afford to work at what you like.
And a new environment keeps you on your toes. You no longer take things for granted. You're surrounded by new, often unexpected, experiences. And you'll probably see the world as a much bigger, more varied—yet more approachable, more explorable, and a less scary place—than you did from home.
You'll also cherish the friendships you make with other expats. You'll find many of them to be interesting, multi-faceted people with many a story to tell. And, no matter how different their background may be, you'll feel many to be kindred spirits…for, like you, they've taken the road less traveled.
Get Your Free Report Here
Learn more about the best places in the world to retire in our daily postcard e-letter.
Simply enter your email address below to sign up for our free daily postcards and we'll also send you a FREE report on The World's Top 10 Retirement Havens.

Get Your Free Report Here