For Jo Self, moving from the Bluegrass of Kentucky to the arid desert of Peru's coast and the capital city of Lima, has been a journey of self-discovery and the beginning of a new life and career. She initially fell in love with this fascinating country back in 1995 when a twist of fate brought her to Lima as a foreign university student. 15 years later, another chain of events finally brought her back to the place she now calls home.
In 2010, after nearly 25 years in hospitality, sales, and corporate services, Jo was looking for an "out" to leave the U.S. She had two job offers at the time: one in the States for $80,000 per year and one in Uruguay for $300 per month, plus room and board. She took the one in Uruguay.
"While I was there, I met a Peruvian girl and I started telling her how much I loved my time in Peru. 'The food is so good, the people are so wonderful, I really enjoyed it, it was one of the happiest places I have been in my life.' And she said, 'If you liked it so much, why aren't you there?'
"Less than a month later I had a job, a one-way ticket, and was headed back to one of the few countries in the world that had felt like home to me. At that point, I still wasn't sure if I would stay there full-time, but nearly six years later, I'm married, have a precocious little son, and will be nationalized in the very near future."
Jo now works as a strength coach, and helps individuals, teams, and business managers achieve greater levels of success. She is currently the only Gallup certified strengths coach in Peru, but does her coaching online almost exclusively. "I help people focus on what they can do right, as opposed to what they do wrong, and help them do more of that. I work with clients in Ecuador, Costa Rica, Mexico, Spain, France, Australia, the U.S., and England. They're everywhere," she says.
Expats in Lima enjoy temperatures that rarely climb above the 80s F in the summer or drop below the 50s F in the winter. Besides all the well-known cultural sites, there are amazing restaurants, good health clinics, movie theaters, local markets, and modern grocery stores. Many gravitate to districts such as Miraflores and Barranco where they find a good mixture of parks, shops, and restaurants with the oceanfront at their doorstep. Jo lives in the Lima district of Magdalena del Mar.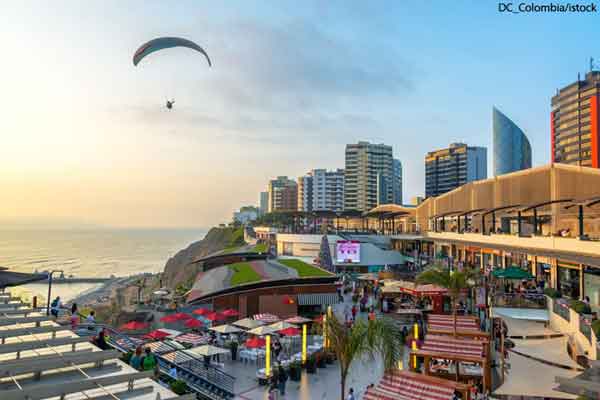 "I love living in Magdalena," she says. "Honestly, I can't imagine living anywhere else. I love how residential it is. I love that it is not overrun with a ton of expats…that it is still very Lima.
"It is still growing, yet feel compact. You are right next to San Miguel, Libre, and it is an easy drive into Barranco and Miraflores. It is a very nice centrally located district. I am right on the coast. I can go to Barranco and I can go to the beaches."
Everybody loves Peru's culinary delights and Jo is no exception. "I really like the quality of the food here in Lima," she says. "The food has a better flavor. It is just a better quality in general. People come here and always say they lose weight. You don't lose weight because you cut down your eating, you lose weight because the food is so good. It has more nutrients; it is generally better for you.
"When I first got here, there were things I missed from the States. I was crazy for an Oreo and crazy for Arby's. But then I went back to the U.S. and had some of these things and thought, 'I have had so many things that taste so much better in Peru.'"
"In the area where I live, a new two-bedroom furnished apartment would be $1,000 to $1,200 per month. Smaller, local, older unfurnished apartments are anywhere from $500 to $800. They don't do studios, they don't do lofts. If you find an apartment at least 10 years old, you get more space," says Jo.
"As a family, we probably spend about $370 per month on food here. That would be our basic food budget. Entertainment is another $15 or $20 a week. Maybe $25 a week on taxis.
Jo figures that she probably works on average maybe six hours a day or so. She said, "We always sit down as a family and watch some TV, we go to the movies on the weekends, and take our little guy out somewhere. I think this life would be pretty enviable for a lot of people."
Need a Way to Fund a New, Better Life?

Join our Fund Your Life Daily e-letter today, and you'll hear from us five times a week, telling you about ways to earn income that lets you live anywhere, travel anytime… and give you the funds to make your dreams of a better life real. We'll also send you your FREE report Fund A New, Better Life With These 6 Portable Careers.
Related Articles