On Saturday mornings I wake up with the sun in the small town of Kleinheubach, Germany and spring out of bed to get my cakes and pastries in the oven for my blog, Baking My Way Through Germany.
I spend my Saturdays creating recipes, testing, baking, and photographing the finished product. Then I write a post with a relevant story about what it's like being an American in Germany while also giving my readers a step-by-step guide and recipe to create.
Baking My Way Through Germany is just my hobby—a way I can be creative and make a little money on the side. Full time, I work as a pastry chef at a large catering company in the south of Germany. Can it be said that I bring my work home with me every day? Yes, and no. Working as a pastry chef and blogging about baking are two very different things.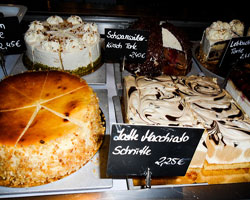 Baking and creating desserts are my passions, and I constantly have recipes and ideas running through my brain every second of every day. The blog is an outlet for these recipes, and a way to talk about the life I live as an American in Germany, like the difference in language, culture, etc.
I look forward to being able to put my ideas and concepts to the test every week, and tweak the recipes to see how they would work in a normal household kitchen. I love being able to capture the essence of the final products through photography.
Though I am in no way a professional photographer, I take extra care to make sure that everything looks just as great as it tastes. I also enjoy telling the stories about my time here, and the challenges and successes of trying to make a career out of what I love. My blog allows me to focus my energy on tasks other than work, and share what I love doing with people all over the world.
Though the income that comes from my blog isn't substantial, the potential is there. When I first started blogging, I had no idea how many readers would be interested in reading about my experiences in Germany as well as the recipes I've created.
I have seen through my own work that good content and high-quality photos will get you far in blogging even if you only have a few hours each week. That's all I can devote to it, so I knew that if I wanted to earn any money I needed a cost-effective, easy-to-use program. This is where Adsense came in.
Adsense is a program run by Google that gives bloggers a chance to earn money from advertisements that are targeted to the site content on their blog. Adsense is widely used because it's free, has a step-by-step guide to register and install, and the advertisements are relevant to the content and simple to customize.
Revenue is based on ad clicks or impressions from the site visitors. Once the account reaches $100, a payment is issued! For someone like me it's a perfect way to supplement my hobby because it's simple to use and requires very little time. Almost all of the income I make with my blog comes from Adsense. It essentially pays me for what I love to do and would probably be doing anyway…creating new desserts and sharing them with people!
Free Fund Your Life Overseas Report:
Sign up for IL's Fund Your Life Overseas e-letter today and we'll also send you a FREE report about ways to earn money abroad. Simply enter your email in the box below and we'll send you this Free Report: Fund Your New Life Overseas With These 6 Portable Careers.
Get Your Free Report Here