If you're thinking of buying property overseas, right now the stars have aligned to bring you an unbeatable opportunity on Mexico's Caribbean Coast.
This stunning stretch of coast is on the up thanks to the convergence of major trends along these stunning white sands. North Americans are back buying in numbers thanks to a strong stock market and recovering real estate values back home. They're not the only ones. The fast-growing Mexican middle class is honing in on this coast as a place to invest.
Credit is loosening. Six years of pent-up demand—demand created by the lack of development activity that came with the crisis—is set to be released. But, good inventory and developers here are limited. Now there is lots of demand chasing a very limited supply of quality real estate.
Good-quality developments shine in this current market—like the one I've been following in the Tulum area at the southern edge of Mexico's Riviera Maya. Right now, there's a strong and urgent opportunity that I'm going to tell members of my Real Estate Trend Alert group about—in full—next week.
I am seeing values increase in the Tulum area at an accelerating rate…and the best inventory is selling out fast. Just like in February when members of Real Estate Trend Alert (RETA) could lock down a condo here with prices from $141,500. Within weeks it had gone retail to the general public for $181,500 and was sold out.
We're still in the early days of this coast's great growth trajectory. I expect "retail" prices will continue to rise stronger.
At this point in the Tulum area's development curve your advantage as a RETA member is particularly strong. Developers are still conservative. Boom-time sales and pricing expectations haven't yet kicked in. That's why I can still negotiate killer deals on your behalf. And in the early days of this cycle, inventory can get mispriced. Some units just list too cheap.
A small number of members of Real Estate Trend Alert will be able to buy one of those luxury condos with prices from $145,000. When those condos go retail in July, it will be a whole different ball game.
I visited the model condo for this community in March. The finishes are luxurious and high end. That condo is just a gently stroll from a condo hotel where guests pay $1,800 a week…or more—the potential to earn vacation rental income from your condo is strong.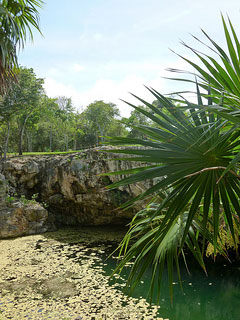 Five years ago members of Real Estate Trend Alert bought condos here with prices from $127,000. I recently saw one listed for $265,000.
The developer is strong. I have seen his work on other projects and been very impressed—no expense was spared. The partners on this project been developing along the Riviera Maya for the past 20 years.
One partner is a heavy hitter in construction. Another is a major marble and luxury finishings distributor who can source (and import) the best finishings for far less than his competitors. They've a number of advantages over rivals meaning that they can offer us members–only pricing that's lower than comparable prices in the area.
The lower the construction company's cost base, the more scope I have to negotiate a great deal on your behalf. Because these guys have the scale and leverage on the construction, design, and materials front to keep costs low relative to their high–quality standards, I've been able to negotiate a killer deal for these condos.
There's a lot of opportunity on my beat. Always…in good times and bad. But, right now here on the Riviera Maya it is a very special buying moment. Delay…and you'll pay a lot more. Buy retail and you'll pay a lot more.