My flights are booked.
On Thursday week, I leave Cabo for Europe. In the short- to medium-term, travel isn't going to be straightforward, but as countries come out of lockdown it's time to get my boots on the ground and assess our opportunities up close.
As you know, I expect premium real estate to drop by 30% in Italy and Spain. At the bottom of the market you could pick up a country or village home for virtually nothing. We'll have strong opportunities to pick up historic homes with stunning views. Maybe they need a little work, but that's part of the charm. One example: I came across a stone farmhouse in the rolling hills of northern Tuscany for €49,000. That's just $53,620. And that's a list price…I'm sure there's wiggle room on it. We'll see even more deals in the coming months.
For investors in Italy, the best play is to buy an apartment in one of Italy's blue-chip tourist destinations, where even before this crisis I found potential for 15% gross yields on small apartments close to the main attractions in Venice and Florence. Italy is the fifth most-visited country in the world and it's not going to lose its appeal.
My first port of call though is my native Ireland where I'll catch up with family and friends and take the pulse of the real estate market. There's talk of falling prices but nothing on the scale of the 2008/09 crash that gave RETA members once-in-a-lifetime buying opportunities in Dublin and Cork.
Along the dramatic west coast—the Wild Atlantic Way—you find plenty of vacation homes, and there's potentially deals to be done with motivated sellers as this crisis plays out. We'll see when I get there…
Portugal is top of my hit-list once I figure out the best way to get there. I've been in close contact with my insider on the Algarve. The Algarve is one of those internationalized places that's just inherently desirable…much like the Riviera Maya. It will always draw people thanks to its mix of perfect beaches, amazing weather, world-class golf, culture, and heritage.
It looks like Portugal and the Algarve have escaped relatively unscathed from the crisis. RETA members have been acting on opportunities here for a while, and I'm personally ready to buy.
I've been offered mortgage rates as low as 1.2%. My contact tells me he's just bought two homes in need of work for €600,000. He reckons he needs another €250,000 to €350,000 to finish them. He's got a mortgage on this with repayments of just €800 a month. Once the homes are complete he plans to rent one year-round, and live in the second which he will rent in the summer while he and his family are having fun in Thailand.
This isn't the first time he's done this…
In 2018, he bought a six-bedroom home on a massive plot of land with an apartment in the garden and a swimming pool for €420,000. His mortgage was a whopping 90%, so he was able to borrow €370,000 at an effective rate of 0.7%—his repayments were just €800 a month.
After spending €130,000 on refurbishments, the house is now worth about €1.1 million. That's a paper gain of over €700,000. And he only had to put €40,000 down.
Bargains by the Beach
From using leverage on multi-million-dollar homes to beachside bargains for less than $100,000…
As part of Project Prosper—my ongoing mission to help you retire rich, regardless of economic shocks—I've tasked my research team with a global search for bargain properties in the world's most stunning destinations…
The Dominican Republic offers powder-soft beaches and crystalline Caribbean Sea. The landscape includes waterfalls, mountains, valleys, forests, and lakes.
It's a country of firsts: the Caribbean's highest peak, Pico Duarte…the Caribbean's largest lake…it's home to the first cathedral, castle, monastery, and fortress built in the Americas…it's also the first seat of Spanish colonial rule in the New World. Moreover, it's the most visited destination in the Caribbean.
Tourism is one of the factors fueling growth in the Dominican Republic. The country has a warm climate all year, beautiful beaches, national parks, and historic sites. Upscale resorts bring in visitors from North America, Latin America, and Europe. They offer lots of amenities like golf courses, fine dining, and marinas. There's even a replica of a 16th-century Italian hilltop village inside one, with artists' studios, boutique stores, and an amphitheater.
But my top spot in the Dominican Republic is far removed from cookie-cutter hotels and extravagant resorts. It's the little town of Las Terrenas, on the Samana peninsula.
Las Terrenas is low-rise and low-key. Thirty years ago, it was a rustic fishing village. The town didn't have an electricity supply until the 1990s. But it attracted thousands of French and Italians who came as tourists, fell in love with the town, and started businesses: Restaurants, cafés, bakeries, art galleries, small hotels…
The old wooden fishermen's huts sitting on the beach are now trendy cafés and restaurants. They serve wood-fired pizza and simple snacks, right up to gourmet Italian and French food. You can dine on a covered outdoor deck on the sand, with good food and fine wine, soft music, and the ocean a few steps away.
This is one location where you can make good rental income when you're not staying in your home. There's good demand for decent accommodation, especially downtown where you can walk to the beach, dining, and entertainment.
My senior researcher, Margaret Summerfield, recently dug out an interesting looking bargain…a small, one-bed condo, 350 feet to the beach and close to restaurants and cafés. The complex has a swimming pool and tropical gardens. The condo comes furnished. The asking price is $65,000.
Also…a one-bed, one-bath condo in a small community with spa and wellness center, and a swimming pool. The condo is sold fully furnished and equipped. It's five minutes to downtown and close to a pretty cove and beach. The asking price is $100,000.
Margaret's traveled to the Dominican Republic four times, and scouted pretty much the whole island, but it's been a few years since her last visit when she found savvy expats renting short-term were making as much as 10% gross annual yields. It's definitely worth a return scouting trip. I've asked her to plan one as soon as travel normalizes.
Costa Rica Joins the "Rich Nations Club"
Costa Rica has long been a solid, stable, and progressive place….
Now it's the first Central American country admitted to the Organization for Economic Cooperation and Development (OECD).
Often referred to as the "Rich Nations Club," the group comprises 38 member States, which account for 60% of world trade and 80% of global GDP, and includes the U.S., Canada, Japan, Germany, France, and the U.K.
The OECD ensures members coordinate on best practices in the fields of public policies, business, trade, and investment, to improve economic outlook and overall standard of living.
OECD membership is considered an international "quality seal," and assurance of good regulatory practices for investors. And its influence is such that membership directly correlates to a rise in foreign investment. In fact, for some entities, membership in the OECD is an absolute condition for investing. That's why it's so highly coveted.
For instance, when Mexico and Chile, two of only three other Latin American countries in the OECD (Colombia was admitted in April) joined, they both saw a noticeable increase of foreign investment from the outset.
And now Costa Rica has a seat at the table.
If you've been following my dispatches, you'll know that Costa Rica has being doing things right for decades. It's a world leader in democratic, sustainable, and inclusive economic growth; it has far-sighted environmental policies; progressive social schemes; and a booming tourism industry—despite the current hiatus.
In recent years, most of our best real estate opportunities in Costa Rica have been in the Southern Zone. This is a truly special part of the country. It's quintessential Costa Rica: brimming with lush green jungle canopy…diverse wildlife…and sweeping Pacific beaches.
Things were triggered there a decade ago by a Path of Progress event—the opening of a new highway—and it's been going from strength to strength ever since.
Real Estate Trend Alert members got in ahead…and we have done well. As the region develops, we're set to continue our awesome run.
But our window is getting smaller.
Costa Rica has attained the status of a high-end destination. Every time I go there, it gets more expensive. When I was there in February, I paid $180-a-night for a standard, three-star hotel. Prices generally were more in line with the U.S. or Canada than its Central American neighbors ….A setback if you're looking to relocate there and live on a tight budget, but for real estate investors, this is extremely positive.
The barrier to entry keeps rising. Many new developers can't keep up with the high permitting and bureaucratic costs. On top of this, there are ever-tighter restrictions for environmental protection. (More than half of the land in the Southern Zone is in national parks and reserves). And this trend is getting more and more acute.
The barrier to entry is so high that it puts a premium on established projects that have overcome the regulatory hurdles. And because of the crisis, many small developers won't be able to get projects off the ground.
In other words, there's an economic moat surrounding existing real estate in the Southern Zone. And that's where my attention is focused.
RETA members have had some incredible deals from the Southern Zone in the past. Prime lots with stunning Pacific Ocean views with a $38,000 discount on retail list price. Villas in a boutique community with RETA-only pricing from $208,000.
I'll be sourcing for new deals in the weeks and months ahead…and RETA members will be first to know.
Get Your Free Real Estate Report Now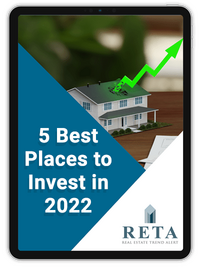 Sign up for our free daily Postcard e-letter and get a valuable free report on the The 5 Best Places to Buy Real Estate In 2022.
Related Articles
The 10 Best Places to Invest in Real Estate
These Crisis Deals Are Not For the Fainthearted…
Half-A-Million Dollars Off…But There's A Catch