If you've ever sat at a desk dreaming of owning your own jungle lodge in paradise, look no further than Wendy Green for inspiration. On the outskirts of Ecuador's cloud forest town of Mindo, two hours from the capital, Quito, Wendy runs wellness/yoga retreats on her five-acre parcel of land, complete with three waterfalls and a freshwater spring.
But this hasn't always been Wendy's life. Less than a decade ago, she was living in New Jersey and running a successful yoga studio, yet she yearned for a simpler lifestyle. "I'd had it with the rat race, the politicians, the wastefulness…and I longed to live life on my own terms in nature," she says.
She made her first move to the Central American country of Honduras, where she spent eight years in the rain forest of Pico Bonito National Park. A few years later she met her partner, Garth, and together they decided to give Ecuador a try.
"I loved Honduras, but it was too hot for me. We also had little in the way of an expat community," Wendy explains. "Now we live in the cool and fresh Andes, and there are folks to make friends with in Mindo."
Wendy and Garth bought their Mindo property—which included a fully furnished, four-bedroom house and a vehicle—two years ago for under $200,000. They settled there permanently earlier this year. While waiting on the sale of the Honduras property, the two would travel to Ecuador every few months and spend several weeks working on their new place. Most of the renovations are now finished and the new yoga space is complete. "We have been consistently busy and are making friends with the local expats who want our services," says Wendy.
Despite all the hard work Wendy has been doing, she finds time to enjoy her new home. "I hike, I swim, I eat supremely well, I visit with friends, I draw, and I keep busy with arts and crafts," Wendy relates. "Here's what I don't do—no TV and very little Internet!"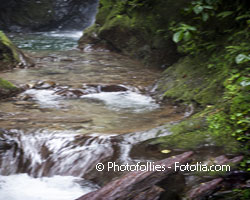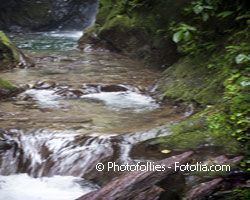 It's hard to blame her for shunning electronic entertainment when there is so much to be experienced right outside her front door. Mindo is known for its variety of birds and insects, as well as for the astounding plant life. There are miles of hiking trails and there are local companies that offer zip-lining, river-rafting, and other nature-based activities.
Though a low cost of living was not the main reason the couple chose Ecuador, they do appreciate the savings. "The produce is excellent and about half the price as in the States. And my property taxes are just $100 a year, not $4,000 like in New Jersey." Excluding construction costs, the couple spends just $1,000 a month on living expenses.
The best thing about Mindo? "It's a small town in the valley, where everyone knows one another and we're surrounded by forested mountains. The weather is cool and the area is clean and safe," Wendy says.
Perhaps the biggest draw for people like Wendy and Garth is the opportunity to be immersed in the nature they love. "We live at the end of the road, where there is no noise and no neighbors. Just a lot of trees and birds."