As I approach retirement, I realize that I will want my day-to-day life to be convenient. And, for me, having the option of walking to and from the places that supply what I want and need will be important. It will be crucial to live in a city where I can find the daily necessities and minor luxuries within walking distance of where I live.
Paris, New York, and San Francisco are wonderful cities to walk around. In fact, they are wonderful cities, period. However, they are also huge, crowded, and expensive. People are willing to pay a lot to live there, whether it's a large percentage of their working salary or their retirement income.
But what about the rest of the world, and not just the smaller cities in the U.S., but in other countries? What about Mexico and Central and South America? Those are places that U.S. and Canadian expats flock to, and if the beach isn't the central focus, as it isn't for most of the local populations, what about other areas?
Here are three cities to the south of the U.S. border that are very walkable. These are places the local populations have thrived in for centuries, and, for many similar reasons, are where expats are flocking to more recently. I have recently visited each of these cities, and not only did I enjoy walking around them, I would consider each, in its own way, an ideal place for an expat, or anyone, to call home.
Guanajuato, Mexico
Guanajuato is called a magical city and I agree. It's easy to compare it to other places, like the hill towns of Italy, but I see that as a disservice. It is its own place, with its own magic. And although very hilly, it's very walkable. Everything I and possibly anyone would need can be found along the mostly flat central boulevards that run from one end of the city to the other.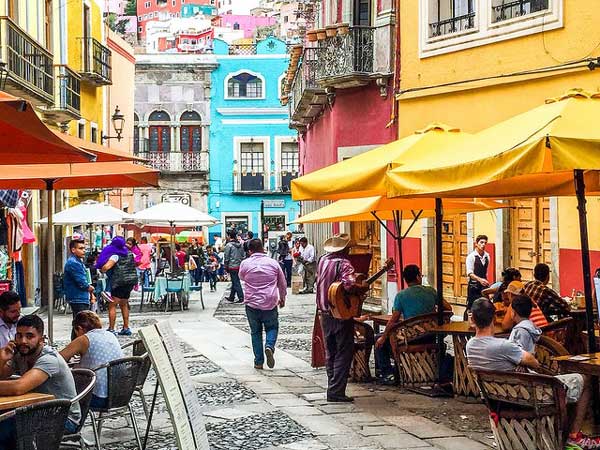 Cars are, for the most part, discouraged and are rerouted underground for much of the city center through tunnels that were designed to reroute the river and for the mining of the silver that made this city lovely and wealthy. Some of the most central boulevards, like the Calle Sopena that runs in-between the Teatro Juarez and the Jardin de la Union, are almost always closed to cars and, of course, the narrow and steep callejones (alleyways) that branch off into the hills from the main roads are for foot traffic only.
Cuenca, Ecuador
Cuenca is an expat favorite for the same reasons it's one of Ecuador's favorites. Each neighborhood in and around the Centro Historico (Old town section) of this picturesque mid-sized city is designed to be self-sustaining. All the amenities and necessities of daily life can be found nearby, often within walking distance. Restaurants, cafés, stores of every type and size, a library, several banks, a post office, healthcare providers and hospitals, colleges and universities, museums, and cultural arts centers abound.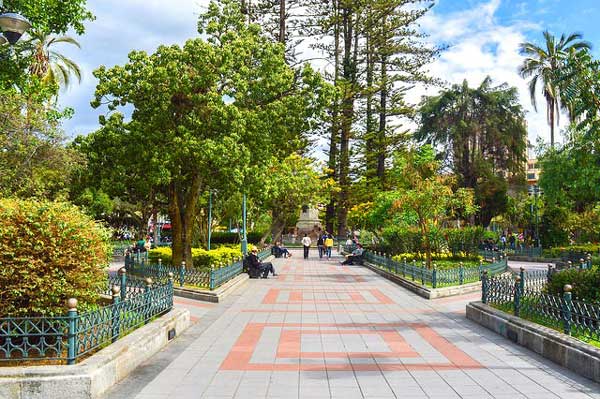 The Plaza de San Francisco, next to the blue-domed Catedral de la Immaculada Concepcion, and the nearby Parque Calderon, are all designed for strolling and sitting. Just to the south, between the Tomebamba and Yanuncay Rivers, the wide and tree-lined Avenue Remigio Crespo Toral seems to supply anything and everything that anyone would need or want. Finally, the quiet green areas that border the four rivers that course through the city offer everyone—local, expat, and tourist alike—a quiet place to walk at whatever pace desired and, when needed, provide a welcomed and deserved respite.
Mérida, Mexico
Although there is only about 750 miles as the crow flies between Guanajuato and Mérida, Mexico, they are, in many ways, worlds apart. Central Mérida is, for the most part, quite flat, and the streets are laid out in a grid pattern. All of these roads seem to lead to the main square, the Plaza de la Independencia, with its stunning Catedral de Mérida on its east side. On weekdays, when most people are working, Mérida—in the neighborhoods away from the plaza—feels small, almost like a large village. However, on weekends, especially south and east of the plaza near the Mercado Municipal, the crowded streets remind you that there are close to a million people who call Mérida home.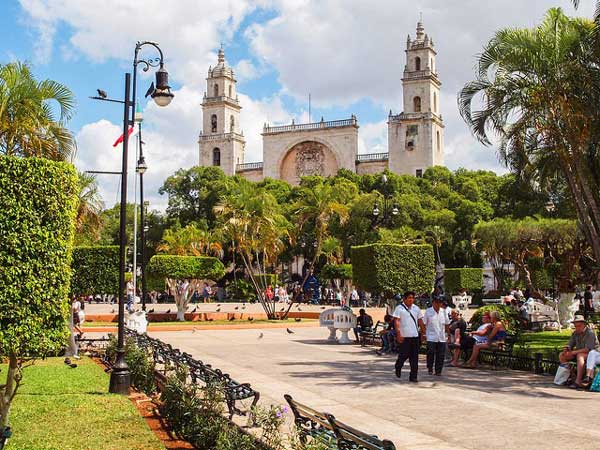 Not everyone, especially when older, wants or has the option to walk most of the time or everywhere. But for those of us who can and prefer not to own a car, the options of public transportation, from cabs to buses, and from trains to airplanes when desired, will provide the necessary assistance. For day-to-day living, it will be a pleasant convenience to walk to the café for breakfast, and to the market for fresh fruits and vegetables, to the library, the post office, and to the outdoor table for an afternoon drink and meeting with friends, watching the rest of the world walk by. Each of these places, when covered on foot, will be not only less expensive, but more convenient and simply more enjoyable.
Get Your Free Report on the World's Best Places to Retire:
Learn more about the best places in the world to retire in our daily postcard e-letter.
Simply enter your email address below to sign up for our free daily postcards and we'll also send you a FREE report on The World's Top 10 Retirement Havens.
Get Your Free Report Here