Creating an inviting vacation rental is a fun thing to do, but you have to keep focused. Here are three things you need to do to see maximum return on your investment. Not only will you have a higher number of nights booked, but you'll be able to command a higher rate and attract a higher level of guest.
1. Name your property.
This is so simple, yet many people miss it. When people are looking at a number of properties across a few listing sites, it will begin to register with them. If you want to do additional marketing and have a website or Facebook page, this gives people a way to find you without the competition of other rentals.
2. Kit out your home with every kitchen amenity you can think of.
Don't just buy a blender and a coffee maker, buy a panini maker, a kettle, a food processer, and more. I have a NutriBullet in the properties I market in Tulum, Mexico. In the marketing copy, I write that vacationers can go to the local markets, find fresh fruits, and vegetables and create healthy smoothies. I'm not sure they have been used—except by me—but people love to think they are going to live an entirely different life on vacation. Often, it doesn't pan out that way, but giving them the tools to create the dream is key to getting them to create the booking.
3. Build in a vacation experience.
What are things you can add that enable people to enjoy their vacation—without ever leaving your property? Here are some photos of a recent upgrade to a rooftop I did. Edison lightbulb fairy lights really added the dreamy, vacation experience—for about $100 including the labor.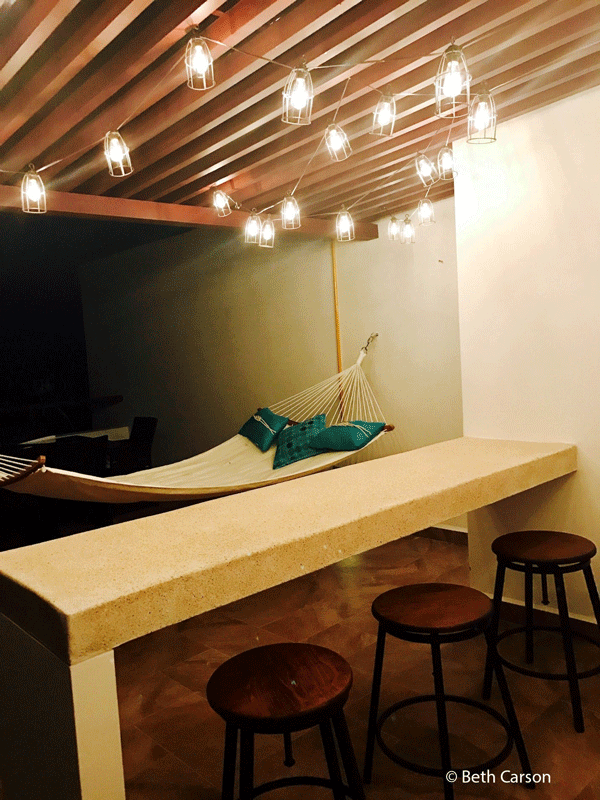 Buy a hammock. People love to sway and feel weightless—whether that's in the pool or on a hammock. This also was around $100, the outdoor pillows added another $60, but the splash of color was well worth it and photographed really well.
Add a variety of what are called "moments" in the design world. We have a formal dining area, the hammock, the bar stools, two lounge chairs in front of the spa tub, and a large lounger.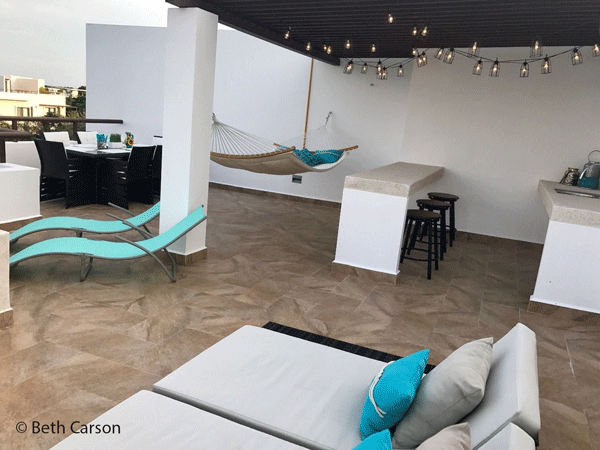 One thing to avoid
Being cheap—don't do it.
Now, I shop at HomeGoods and find Ralph Lauren sheets for $29. I'm not saying you have to spend $300 to give your guests an experience. But don't buy polyester sheets—your guests will hate them.
I used to rehab houses, and I learned an important lesson. Even though we were doing starter homes, we never used basic, contractor grade fixtures. I would shop in the clearance section and get something with style. That is what people noticed when they walked in the houses. They couldn't believe they could get something of such high quality, in their price range and it is one of the reasons why the homes would sell in a matter of days.
Here's a "moment" I did in a condo in Mexico. The platters on the wall are actually plastic and from IKEA—$20 each. The globe on the table is from Target, as is the floating shelf and lamp on it. (I brought these things over in my suitcase.) I get lots of compliments on it.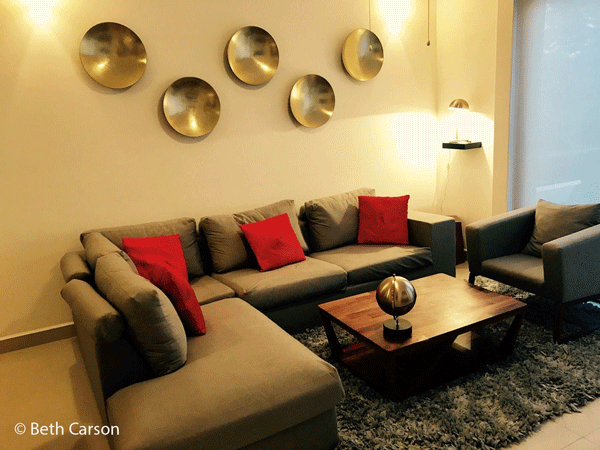 You can have high style without breaking the bank. Just don't go cheap.
Get Your Free Your Overseas Dream Home Report Now

Sign up for the FREE Your Overseas Dream Home e-letter and get a valuable report (free for a limited time) on the The Global Real Estate Boom of 2021: 15 Places Where You Can Profit.
Related Articles
Housesitting: 5 Places I Stayed for Free Around the World
---
The Countdown Is On! Discount Ends June 15
Right Now Is the Best Time in History to Start Earning as a Freelancer
If you crave the freedom and flexibility of a side income that allows you to earn when you want and play when you feel like it...we have a solution for you.
"Remote work" is here to stay, and we can show you how to capitalize on this trend and turn what you already know how to do into a side income online that can help fund a retirement that looks the way you want it to. Can you really afford to miss this?
Online Portable Income Masterclass
June 26-27, 2021
---