I worked hard when I lived in the U.S. Not only did my husband and I have intense jobs, we also homeschooled our children and managed our 10 acres of land in northern Idaho. Additionally, because we'd built our off-grid cabin by hand, we had the pleasure of hauling, splitting, and stacking firewood along with pitching snow off the roof and out of the driveway come winter.
Believe it or not, I actually enjoyed much of the lifestyle, but there were days when I fantasized about pampering myself. A day of being spoiled at the spa followed by a gourmet meal prepared by someone other than myself was sure appealing. But, aside from the one massage that my husband bought me for my birthday, I never did indulge myself. Why not? Well the cost was a bit prohibitive and, while I probably could have afforded to spend the money on myself, I simply couldn't do it without a lot of guilt.
Three years have passed since my family traded the Rocky Mountains for Ecuador's Andes and I no longer work so hard. Another thing that has changed is my attitude about self-indulgence. You see, I no longer have to feel so bad about spending money on myself because it's so very affordable here.
Take for example the day I spent with five of my girlfriends in the mountain town of Cotacachi last week. We met at a nice salon where we treated ourselves to manicures, pedicures, and/or facials. My 45-minute manicure left me with happy hands and beautiful nails and set me back a mere $3. Two hours and a whole lot of laughs later we finished up and headed to our next destination: Cotacachi's new spa.
For $5 apiece, we took advantage of the spacious hot tub, steamy Turkish bath, and toasty sauna. And for those of us with a sense of adventure (or maybe not much sense at all), there was the Polar Plunge—an icy pool in which to take a dip after spending time in one of the warmer locales. We had the building to ourselves and were able to stay as long as we liked.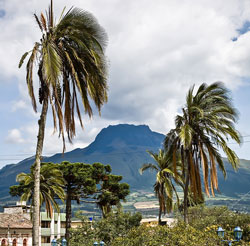 Unfortunately our dinner reservations meant that we couldn't linger all night, so off we went to Sumac, a local four-star restaurant run by a Quito-trained chef. At a cost of just $12.50, we received a four-course meal with fresh fruit juice. First up was an appetizer of shrimp in a garlic vegetable sauce, which was followed by a large bowl of thick potato soup. The main course was grilled trout, creamy pasta, and salad—all artfully presented—and fruit and ice cream rounded out the meal.
A day with friends and a bit of self-indulgence ran me just over $20 total whereas a similar experience back in the U.S. would've come in at well over $250—and that's small-town Idaho prices. You could double that price or more if you live in New York, Chicago, or Los Angeles.
While there are so many things I enjoy about Ecuador, I'd be lying if I said that the low cost of living didn't factor into why I live here. With housing, utilities, and food so affordable I can afford to treat myself now and then (or frequently) without financial regret.
Free Ecuador Report:
Learn more about Ecuador and other countries in our daily postcard e-letter.
Simply enter your email address below and we'll send you a FREE REPORT – Ecuador: Live Like Royalty on Your Social Security.
This special guide covers real estate, retirement and more in Ecuador and is yours free when you sign up for our postcards below.
Get Your Free Report Here