A couple of days ago, I got a taste of what it's like to be an ordinary real estate investor…
By "ordinary," I mean someone who isn't plugged in. Someone who doesn't have industry contacts. Or who doesn't get any insider knowledge.
Instead, all they see are the glossy advertisements battling for their attention. They see the real estate deals that have gone over a conveyor belt of agents, brokers, and marketing specialists.
By the time these "deals" reach the ordinary investor, they're carrying the cost of all those extra hands that sit between the developer and the buyer.
I was reminded of this on my flight from Cabo to Chiapas in southern Mexico.
I was kicking back in my seat, browsing my phone, when an ad for one such deal popped up on my Instgram.
I smiled when I saw the price…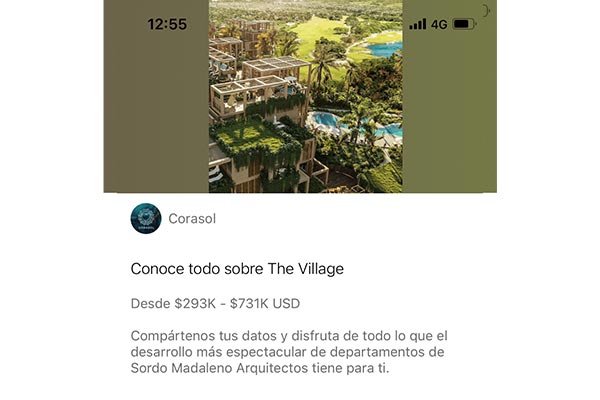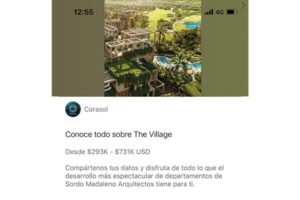 The ad was for condos in Corasol in Playa del Carmen, on Mexico's Rivieira Maya.
The starting price was $293,000…
One of my team dropped the broker a line to see what that entry price gets you. It looks like it's for a one-bed.
That wouldn't surprise me. Corasol is a top-tier masterplanned community with world class golf, and it sits next to the best beach in Playa del Carmen.
I know this because I've been there…many times.
In fact, the reason I was being targeted with that ad is because I was in Corasol just last month.
I was there to sit down with a developer and hammer out the details of an exclusive deal for Real Estate Trend Alert. A deal that's set to open to members in just a couple of weeks…
Our price is nuts. I'm still finalizing details but it looks set to be from less than $200,000.
That's $93,000 under what I'm being advertised from a neighboring project. And we're getting luxury two-bedroom condos—if we compared like for like, we'd be talking a price difference of magnitudes more.
And it's a deal that's only available to Real Estate Trend Alert members.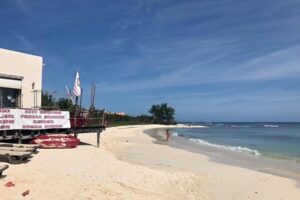 Because of our group buying power and extended network of insider contacts, we gain access to off-market real estate deals that aren't available to anyone else. It's the only group I know where regular folks like us can combine our buying power to gain access to deals that are usually only available to the mega-rich.
We use our group buying power to cut out the middle men and negotiate killer discounts directly with developers.
Because, as I'm sure you suspect or know, the best real estate opportunities aren't found peering through a broker's window and they don't pop up on your social media feed…
But when you invest like an insider, you can unlock some incredible gains…
For instance, in 2017, RETA members had the opportunity to lock down condos in the heart of what I call the "Zona Dorada," or the Golden Zone in Playa del Carmen. When I brought members the opportunity to buy in Siempre, our members-only price was from just $193,800. These days, units here have a retail listing of $282,900. That's a paper gain of nearly $100,000…before it's even finished.
And the more word gets out about our little group, the more opportunities we get and the stronger our buying power becomes.
The deals are now coming thick and fast. My team and I are gearing up for a banner year.
In the next few months alone, we're close to opening stellar deals from across my beat…
Following our deal in Playa del Carmen, we'll have a RETA-only opportunity in Cabo San Lucas. We can expect stunning views of the flat azure waters of the Sea of Cortes, a starting price under $200,000. I'm expecting six figure gains just a few years after delivery.
On Panama's Riviera Pacifica, I'm negotiating another shot at the beach deal of a lifetime. Our opportunity is on the closest, nicest beach to Panama City…a community with incredible ammenities…and we're looking at a potentiall starting price that's sub $140,000.
In Tulum on the Riviera Maya, I'm finalizing a deal with the grand dame of landbanking families. These will be some of the closest condos to Tulum's prized white sands. Truly premium products, and in a new previously untouched verdant area. I expect our entry price will be in the region of $169,000 to $175,000. I figure that three years after delivery these condos will be worth $250,000.
In the stunning beach town of Puerto Vallarta, we're close to the first members-only pre-launch deal to cut RETA muster there in our 12-year history. Our opportunity is in an incredible location, steps from the beach, with ocean and city views…and a price set to be under $200,000.
In Costa Rica, I am planning on bringing RETA members the chance to own a villa surrounded by the lush natural beauty and tap into a surging demand from well-heeled vacationers in a stunning location. We're looking at a members-only price of $233,000 for premium three-bedroom homes. I figure you will be able to gross $32,000 in annual income from one of these homes once the villas are into their second or third year of rentals.
This is only the beginning…
There's a boatload of deals to come, and if you're a RETA member, they'll be pouring into your inbox thick and fast in the coming weeks and months.
Like I say, when you're a member of an insider group, you're already way ahead of ordinary investors. You can skip the ads, the glossy brochures, and sales pitches, and cut straight to meaty deals…with discounts in the tens of thousands.
Get Your Free Real Estate Report Now
Sign up for our free daily Postcard e-letter and get a valuable free report on the The 5 Best Places to Buy Real Estate In 2023.
Related Articles
Why Real Estate Is The Single Best Asset
My Real Estate Trip in Lagos, Portugal
Homes With Land for as Little as $98K