As I write, Real Estate Trend Alert members are getting the chance to act on a killer new deal…
Totally turn-key two-bedroom condos in a luxurious, amenity-rich community a short stroll from my favourite stretch of beach in Panama for just $137,000.
The value of the furniture package is $17,000…factor that in and the price is more like $120,000…
For a high-end, totally turn-key condo in a unique beachfront community, which—thanks to the Great Bailout—comes with onsite rental management.
It's a totally hands-off rental play.
And the potential gains are huge. I figure these condos will be worth $250,000 five years after delivery—$113,000 in potential gains.
We're getting this deal because the Panamanian tax man is picking up a chunk of the tab and because of RETA's group buying power.
"The Great Bailout" is part of a huge government drive to attract more tourists. The developer behind the deal is getting a huge tax incentive and I've wielded our incredible group buying power to get him to pass on the savings onto us.
We're getting a $65,000 discount and a fully furnished and turnkey luxury condo.
Everything down to the cutlery and towels is included. Everything needed to rent or spend time here is included… And thanks to a five-year rental program, the hassle of renting is completely removed.
It's the kind of incredible deal you can find when you look in the right destination overseas. But I know that taking that leap can be a little scary the first time out. It can even be scary to tell people you're thinking of doing it.
I can relate. In 2004 I was in the exact same position…
When I told my friends and family that I was going to buy real estate in Panama they looked at me like I was crazy.
It was early in the days of my international global real estate scouting career. I had plenty of good reasons to head to Panama. I knew there was money to be made from real estate.
My friends and family, on the other hand, knew little about Panama. They knew it had an important canal and some jungle…that was the sum total of their Panama knowledge.
What I knew, though, was that there was profit opportunity to be had from a wave of development in Panama City, the country's capital.
I was right. I made a good profit by getting in at that buying moment—$72,370 in a short time.
That window of opportunity was worth serious upside to anyone who got in.
From there, I watched and waited for the next Panama opportunity…
It took nearly a decade…but when it came, it was even stronger than the one I found when I first invested.
A second wave of development and a mammoth Path of Progress along the country's Pacific Riviera has surged and RETA members have ridden that wave with amazing off-market deals.
I finally got in on this opportunity myself last November with a killer RETA deal.
Thanks to this wave of development and an incredible RETA-only discount, I now own in Playa Caracol, a stunning beachfront community; and the closest, nicest beach close to Panama City.
I stand to see much bigger gains, as does any RETA member who joins me…
As I say, with our latest deal I figure on gains of $113,000 five years after delivery.
In terms of rental income, for those two-bed luxury condos we can own for just $137,000, a 40% occupancy at an average nightly rate of $160 would net you 6% (after all costs related to rental and operation of the property including HOA).
Grow to 60% occupancy at $170 per night and you are nudging towards a net 13%…
Money into your bank account without hassles. You don't have to visit, to figure out furniture…nor promote your property on Airbnb…it's all taken care of.
Plus, of course, you get to use it yourself…
There's no trick to making money with overseas real estate. I simply do the research and identify the destinations with the highest upside. Then I negotiate a deal that will maximise our gains…with big discounts on best-in-class inventory from the very best developers…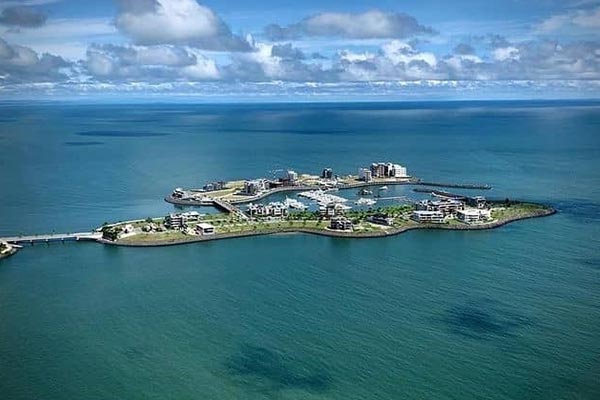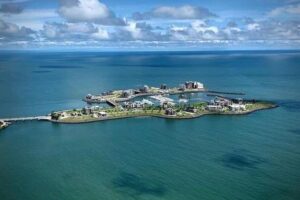 The thing is, if you are willing to look beyond your home borders, you really can have your cake and eat it…low risk and huge upside…
I have been investing in real estate overseas for close to two decades, because when you look overseas, there is always opportunity somewhere.
By investing in international real estate you get to follow big "once in a lifetime" transformations—like the one I've identified in Panama—and play them far more often than once in your life.
I look to invest in places where I can see a decade plus of upward growth. Markets where even in times of global crisis, we can still do well.
And I'm focused on the very best international opportunities. The ones that give the biggest upside for the lowest risk.
When you look overseas, you open yourself to much bigger potential gains. Twelve years of RETA deals go a long way toward proving that…you can double your money in a few short years, see rapid five-figure gains, even six-figures…generate rental yields ranging from 10% to 20%…
The luxury condo I've locked down in Panama is specifically designed as high-end rental. It comes turnkey down to the very last spoon. High-amenity beach living on the doorstep of Panama City hits many markets. And like I say, thanks to a five-year rental program I don't even have to visit, to figure out furniture…or do any of the work involved in promoting the property on Airbnb…it's all taken care of.
On top of the potential gains, my Playa Caracol condo gives me a new part-time base where I can spend time when I'm in Panama.
Like I say, I've been visiting Panama for years and can't think of anywhere I'd rather relax than the beachfront community of Playa Caracol.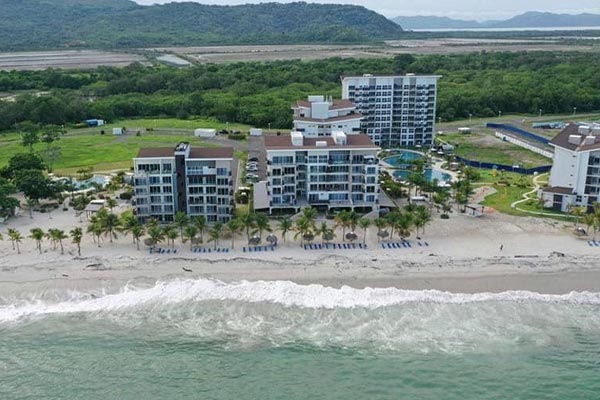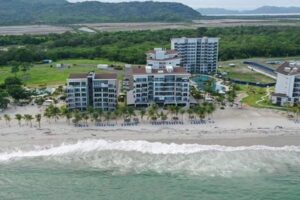 A couple of things make it unique…
Set on close to a mile of beach, the community is only 300 yards or so deep. You're only a stroll to the sand from anywhere in the community.
And, like I've said, it's the closest, nicest beach to Panama City.
The latest plans I've seen for Playa Caracol have blown me away. As Caracol has matured, the developer's vision has surpassed even my expectations…
Plans call for boutique stores, markets, restaurants, bars… There will be an event center, a dog hotel, skate rentals, bike rentals…yoga studio, a co-working area, and a tour operator.
You'll find a surf club beside a professional beach volley ball court. Beside that a golf simulator…
I personally intend to give surfing a try when I spend time there.
I can't wait to get my keys…
But in the meantime, I feel secure having my money parked in a global safe haven. Panama's robust economy weathered the 2008 crisis and Panama will withstand the current global crisis just fine, too.
In times of crisis and uncertainty, owning income-producing real estate in stunning locations that I can enjoy myself gives me profound peace of mind.
This week, Real Estate Trend Alert members have a chance to once again take advantage of our awesome group buying power, and lock in potential gains of $113,000 with a fully furnished, turnkey luxury condo in Playa Caracol.
If ever there was a moment to diversify and protect your wealth it's now. Because when all your eggs are in one basket, you are fundamentally vulnerable.
What better way than to put your money to work on a tropical beach with huge potential gains…
Get Your Free Real Estate Report Now
Sign up for our free daily Postcard e-letter and get a valuable free report on the The 5 Best Places to Buy Real Estate In 2023.
Related Articles
Snowbird Boltholes From $67.5K
A Ghost from the Past in Albufeira, Portugal