With news of a working vaccine this week, the world is breathing a sigh of relief.
After months of lockdowns, bankruptcies, volatile markets, political turmoil, and endless uncertainty, it's a very welcome development.
The stock market rallied on the back of the news. Some news outlets are calling it the "start of the end of the pandemic."
It certainly bodes well. But, to be frank, this isn't the be-all and end-all cure we want it to be.
Sure, it might spell the end for the virus. But the crisis has now grown beyond just that. U.S. debt is at levels not seen since World War II. The unemployment rate is falling but the rate of jobs growth has slowed to a crawl. And the pandemic has exacerbated the already mounting retirement crisis.
The economic recession caused by the global health crisis has led to reduced pension contributions, lower returns, and higher government debt.
Even before the pandemic, private and public retirement systems were under strain from ageing populations and a low-interest rate environment.
The pandemic has now added fuel to the fire. It's estimated that by 2025 some retirement funds may have only enough assets to cover four years of benefits.
The days of sitting back and letting the power of compounding returns do its thing are over. The yield on long-term U.S. government bonds has been falling for 20 years…and virtually every income-producing asset retirees might depend on, from annuities to dividend stocks, are seeing yields shrink.
However, that doesn't mean we're out of options.
In fact, I'd argue that some of us are closer to the retirement we dream of than we think.
Allow me to explain…
While low interest rates adversely affect traditional investment returns, a savvy person can take advantage of low rates to buy an income-producing asset that pays out three, four, even five times more than traditional retirement investments (and even has a capital appreciation kicker).
I'm talking, of course, about investing in real estate.
In this historic low interest rate environment, we have the opportunity to use leverage to create massive profits by buying money-making real estate with some else's money.
For example, in some EU states rates hit 0% even before the crisis.
In Denmark, there are even mortgages that will pay you. A Danish bank launched the world's first negative interest rate mortgage, which charges minus 0.5% a year. Effectively, that means you pay back even less than you borrowed.
In Portugal, I just had an offer accepted on a condo with no money down and a 1.1% mortgage rate.
The price of my condo is €410,000 and I predict I'll be able to rent it (short-term) for an average of €4,500 per month. That's a total of €54,000 per year, or a gross yield of 13.17% (well above what I'd get following a traditional retirement investment strategy).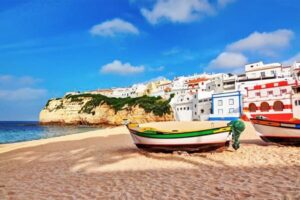 In Spain, members of my Real Estate Trend Alert group used Spanish bank financing to lock down luxury condos next to one of Europe's most prestigious 5-star golf resorts on the Costa del Sol for 50% off.
Non-residents can borrow up to 70% of the property price with a fixed rate from 1.65% to 2.35%. And I figure these apartments members bought from €164,000 can create a potential gross annual income of €28,100 as short-term rentals. That's based on an occupancy of 52%.
That's not even mentioning capital gains potential…
What sets real estate apart is that you can create strong positive cash flow with little money down. Unlike stocks or bonds, you're not all in before you start seeing returns. And with low interest rates, the cost of this strategy has never been cheaper.
With the right real estate, you shock-proof your wealth, diversify it, you can produce income…you can sell for a profit…and you can live in it…
It's an insurance policy against turbulent times that also offers huge upside along the way.
Are we coming to the end of the crisis? For those who aren't prepared, it could just be the beginning. But for those of us who are making the most of the opportunities available right now, the future is looking brighter each day…
Get Your Free Real Estate Report Now
Sign up for our free daily Postcard e-letter and get a valuable free report on the The 5 Best Places to Buy Real Estate In 2023.
Related Articles
The 10 Best Places to Invest in Real Estate
The Mainstream Media Have It Wrong About Real Estate