---
My love affair with Medellí­n, Colombia began after only my third day in the city. I woke to the sound of the birds chirping in the tree outside my window. I spent the day wandering through the neighborhood taking in the sights and sounds of my new surroundings. Fruit vendors were calling out to me announcing what they had to sell. The smell of freshly brewed coffee wafted out of the sidewalk cafés. And I couldn't stop looking at the absolutely spectacular green mountain views.
I am hardly an impetuous person.
As a matter of fact, I am a planner. I make lists, check off the completed items, and then remake the lists. But after only a few days I just knew that Medellín was going to be my new home. My husband and I spent the next two months exploring as much of the city as we could before we made the decision official. We were going to become residents of Colombia.
At the time, getting a visa to reside in Colombia was a rather confusing process.
It wasn't expensive but it was a bit of a hassle trying to figure out which of the 19 visas was best for your situation. The majority of them were only valid for one year, meaning you had to go through the process all over again every 12 months.
Good news though, recent changes mean the process is easier than ever.
As the country becomes more popular with foreign visitors and expats, the Cancillería, (Ministry of Foreign Affairs) recently implemented changes to its visa process that both streamlines and clarifies things. They replaced the 19 separate types of visas with three categories: Type V for visitors, Type M for migrants, and Type R for residents.
Now it's much simpler, and if you choose to move to Colombia, spend the winter there or simply visit the country to get a feel for life there, your options are covered. So, which visa is best for you?
Most people first come to Colombia as a tourist to check out the country and discover its beauty, the charm of the local people, the fresh food and the lifestyle options they can enjoy. For that, a Type V visa is the ideal option.
If you want to start your Colombia experience as a tourist like I did, then you can simply enter the country on your passport (U.S., Canadian, EU, Australian as well as several other countries) and immigration will give you a stamp good for 90 days. If you decide for 90 days. If you decide you want to spend more time, you can go to an immigration (Migracion Colombia) office and get a 90-day extension. You will need to make an appointment online first on their website: Migracioncolombia.gov.co.
That's a full 180 days, with a minimum of fuss. Almost half a year should be sufficient to sample life in the country, and if you choose to make your stay more permanent, there's a visa which will fit your needs. Just be sure not to forget that a tourist visa has a time limit (even if it's very generous).
The new rules state that no foreigner can stay in Colombia as a tourist or visitor for more than 180 days in a 365-day period. This is a change from the previous rule that allowed 180 days in a calendar year. Under the old rules you could straddle two calendar years and actually stay for 360 days without another type of visa—no more. If you want to stay longer, you'll need to get the right visa…
The commonest visa for expats looking to retire or semi-retire in Colombia is the Type M—Migrant visa. For the majority of expats, the Type M makes the most sense.
Type M—Migrant visa has four subcategories that apply to the majority of expats: pensionado rentista, business owner, and real estate owner. If you're not sure how long you want to stay in Colombia, but want to try it out for a year or two, Type M is the visa for you. It's also less of a financial commitment than the Type R, which requires a capital investment (more on that in a moment.)
Under the new rules, all of the Type M visas are now issued for three years instead of only one year. This is great news because it significantly reduces the annual paperwork and trip to Bogotá for reapplication. After maintaining any of these visas for five uninterrupted years, you are eligible to apply for a resident visa. One caveat: You are not allowed to work in Colombia with a Migrant visa.
The pensionado category applies to those who receive Social Security benefits. If you receive at least $2,213,151 pesos ($738) per month in benefits, you can apply for this type of visa. You must provide official proof of your Social Security income. The U.S. Embassy will assist you by issuing a document stating the amount of benefit that you receive.
The rentista category applies to those who are not yet old enough to receive Social Security benefits, but do receive either a private pension or 401K distribution of
at least $7,391,908 pesos ($2,459) per month. Don't forget to provide apostilled documentation with your application.
If you're considering starting a business in Colombia, then the business owner category is for you. This visa serves those who are an owner or co-owner of a Colombian company. To qualify for this visa you must register a capital investment in the name of the company of at least $73,717,000 pesos ($24,572). The new rules require that you have a personal interview with the Ministry of Foreign Affairs and that a Colombian accountant verifies the businesses income. These stricter regulations were put into place because in the past, visa applicants opened a business for the purpose of obtaining a visa, but never actually conducted any business.
Whilst it may seem like a speculative option for someone still contemplating a move to Colombia, it makes a lot of sense for expats who are already there, and have found a business opportunity
they'd like to pursue.
The real estate owner category is perhaps the simplest of all, and applies to people who purchase real estate in their own name for at least $258,200,950 pesos ($86,067).
Type R—Resident visa. This is the route many expats take if they're committed to living in Colombia from the get-go. The rules have not changed for the resident visa since my husband and I received ours in 2012 when we first arrived in Colombia.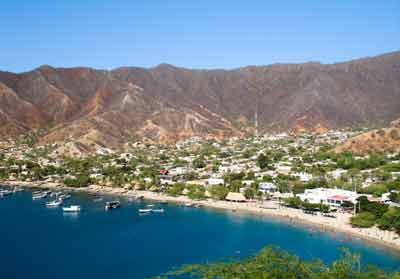 A capital investment of at least $479,516,050 pesos ($159,838) in either the purchase of property or creation of a Colombian company is all you need to qualify. The resident visa has no expiration date, but you must go to the Ministry of Foreign Affairs every five years to obtain a new stamp in your passport.
If you are a married couple, only one partner needs to meet the qualifications and the other partner will apply for a beneficiary visa that is attached to either the Migrant or Resident visa. (Colombia legalized same-sex marriage in 2016, so gay spouses are covered as beneficiaries.)
There are no health-related questions on the application form for any of the visas, nor will you be required to undergo a criminal background check.
While you can apply for a visa on your own, using a professional firm is good idea. If you think about it, these firms do this hundreds of times a year, while you will only do it a few times in your lifetime. I suggest checking out the team at Medellín Legal Partners: Medellinlegal.com. Their English-speaking lawyers are always up to date on the latest changes and trends and are available to help you navigate the process.
Once you decide which type of visa best suits your situation, submit your papers, and pay your application fee (which can vary between $225 and $500 depending on the type of visa) it takes one or two weeks for the Ministry of Foreign Affairs to issue an e-visa (electronic visa).
If you applied for your visa while in Colombia you have 30 days from the date the e-visa was issued to pay the visa stamp fee and have the visa physically affixed to your passport. If you applied for your visa outside of Colombia, you have 30 days from the time you arrive in the country to pay the visa stamp fee.
Once you have your visa, you have 15 days to register it and become a "card carrying" member of society. That is to say, you must get your cédula. This is your national ID card which allows you to sign up for the national health insurance plan, open bank accounts, get a cellphone plan, and in general it makes your life less complicated.
You must do this in person at one of the Migracion Colombia offices, since they will require taking digital fingerprints and photographs.
Editor's note: With perfect weather, plenty to do, and an active social scene, you can have an ideal lifestyle in Colombia. Our editors, correspondents, and scouts have scoured the country to learn everything about life in this up-and-coming retirement destination. Escape to Colombia our in-depth resource, can help you get to know the "Land of Opportunity" that is Colombia. All the details are here.
Editor's Note: This article was taken from a past issue of International Living's monthly magazine. Delivered straight to your door each month, we delve into the details you need to take action. We share our contacts. We lay out the pluses and minuses. And we keep you up-to-date on the latest developments with the best havens abroad, including…7 Great Retirement Towns You've Never Heard of…
In 7 Great Retirement Towns You've Never Heard of Where You Can Live Better for Less we'll pull back the curtain and introduce you to communities where you can embrace the retirement of your dreams…and do it for less than it would cost you to stay home.
Subscribe to International Living today and you'll save 35% and receive this report for FREE.