Around the world, tour operators, hotels, cruise lines, and resorts are fighting for your vacation dollars. They have to pay big bucks to buy ads in magazines and online…and they do so. But some "good press" can be invaluable to their campaign as well.
San Miguel de Allende, Mexico is a case in point. It's long been a destination for expat retirees and visitors from Mexico City and around the country. But Conde Nast Traveler recently named it the Number 1 City in the World and now, all of a sudden, tourism there has positively boomed. You can't buy that kind of publicity!
This is why hotels and tourist boards are so eager to invite travel writers to come experience what they have to offer. Even if it means they have pay for the writer's hotel, meals, on-the-ground transportation…and sometimes even a flight to visit.
The more positive experiences written about in a place, the rationale goes, the more tourists will go there. And more tourists means more money…simple as that.
So how can you set yourself up to be at the front of the line when destinations are looking for writers they can invite to wine and dine and see a place they deem worth seeing?
Turns out, it's not so hard. You need simply to —
1. Like to travel…
2. Be willing to write about your experience (and hopefully take pictures)…
3. Be interested in seeing new places and meeting new people (not be the type of person who looks only for the familiar comforts of home when halfway across the globe)…
4. Have a platform for getting the stories you write in front of an audience (a magazine who agrees to publish your story, for example, or a blog with a lot of readers).
You'll be amazed at the variety of on-the-house trips available to qualified takers. Recently, I've noticed these…
Horseback riding and polo on a real Patagonia estancia (ranch) in the most secluded, private, and spectacular area of the Patagonia Lake District for eight days and seven nights at no cost…eight nights exploring the Balkan Islands and their Macedonian, Albanian, Turkish, and Mediterranean ties…and up to four days at Nicaragua's Morgan's Rock Hacienda & Ecolodge, a 15-bungalow hacienda on a private mile-long sandy beach abutting a 4,000-acre jungle, half of which is government-designated reserve.
But it's more than just complimentary travel. Being a travel writer is about seeing the world in a new way.
Travel writing demands you pay greater attention to where you are than you might do if you were just passing through as a tourist. So you train yourself to notice the smells, the sounds, the tastes, the cultural differences…what people are wearing, what they're talking about.
Traveling this way gives you an excuse to chat with people, to ask the kinds of nosy, pointed questions you couldn't—or wouldn't—ask if you had your "tourist cap" on.
To me, it's this meeting people and this uncovering of the universal truths and fundamental differences about destinations the world over that gives life its greatest texture and interest.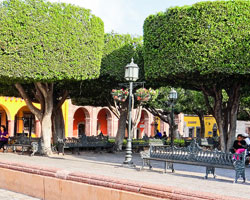 And whether you choose to launch a full-time career as a travel writer or you like the idea of doing it on the side, it works.
This is an incredibly flexible option. I know full-time writers banking $50,000 a year traveling (and writing) a lot. And I know freelancers who write just a handful of stories a year…often about places close to where they live.
But they're enjoying the expeditions, complimentary and reduced-rate perks, and some extra sideline income, too, from the sales of their stories.
And that's another thing worth considering…as a travel writer, you don't even have to travel. You might argue that this is not a benefit…but I think it is. Travel writing is something you can do from home…because your home is a destination for other people. It's certainly a way to start having articles published. Just as travel writing allows you to discover new places in a way you wouldn't as a tourist, it can also allow you to discover your own hometown and places nearby in a way you don't habitually do as a local.
You go out in search of activities travelers would enjoy. You make a point of going to see that visiting exhibit at your local museum. And just as coming to understand faraway places makes your life that much richer, having that same insider's understanding of your own home environment makes your everyday life more interesting and more satisfactory as well.
And the best part about travel writing? Anybody can learn the tricks of the trade and start getting paid to travel and write about their experiences. You don't need an English degree or years of writing experience. You simply need to know how to tell the kind of story an editor is looking for. And that's not rocket science. It just takes a little insider know-how.
Free Fund Your Life Overseas Report:
Sign up for IL's Fund Your Life Overseas e-letter today and we'll also send you a FREE report about ways to earn money abroad. Simply enter your email in the box below and we'll send you this free report: Fund Your New Life Overseas With These 6 Portable Careers.
Get Your Free Report Here