---
I see proof that a major bull market is coming back in mining, the kind of bull market that can make us rich.
The upturn is specific to smaller, leaner concerns—junior mines—which have survived a five-year period from 2011 to 2016, when investors were fleeing the junior mining sector.
The chart [right] shows financings on the Toronto Venture Index (TSXV). It holds 989 mining companies, out of which there have been 918 financings so far this year. That's where the companies raised money to do work.
In 2015, there was only about half that many. That's important, because these little companies have no way to generate cash themselves. Instead, they pitch an idea to investors, who buy in. The companies then test the idea. Success drives the share price up, and investors win.
Over the years, I've made some fantastic gains in this space—both personally and professionally. The run from 2009 to 2011 was the best market I've ever seen, with hundreds of percent gains in just months. The coming bull market will make that look boring.
It takes years to develop mines. The recent five-year hiatus in investment will constrict future supplies of critical metals. That's why prices for metals like zinc and copper are rising. That's also why junior mining companies have cash today.
Cash today means mines tomorrow. And the sweet spot for investors is coming. This cash will spur the next wave of new discoveries. That's when we make thousands of percent gains.
Asia Communications: A Mobile Revolution
"More and more people in Asia are turning to online retail," says Kim Iskyan of Stansberrychurchouse.com.
"But not on desktop computers…on their mobile phones.
"Mobile phone usage grew at a compound annual growth rate of almost 50% between 2013 and 2015 in India.
"That's creating huge opportunities for companies in the mobile payments market. KKR estimates that mobile payments in Southeast Asia will grow from less than $15 billion a year today to $32 billion a year by 2021. Mobile payments are growing rapidly in emerging markets, as people gain access to mobile phones and the internet.
"China has been at the forefront of the mobile payment revolution in Asia. Companies like Alibaba, Tencent, and JD.com have created a booming mobile payment market…one that has risen from US$15 billion in 2011 to US$9 trillion today, according to iResearch Consulting Group. We're also seeing strong companies emerge in India, Indonesia, and Vietnam.
"If the emerging markets e-commerce sector isn't on your radar yet, it should be."
Corn Futures: A Hated Crop
"The market hates corn right now.
"While the corn price isn't at a record low, it's the sentiment extreme that lets us know it could be time to buy, writes Matt Badiali of Banyanhill.com.
"The problem is a record harvest, more than three bushels per acre higher than the October 2017 estimate. That's 300 million extra bushels produced.
"The heavy crop surprised the market. It pushed the price down, when many farmers expected it to rise. The crop news forced them to sell at lower prices. Many took what they could get, which pushed the corn price down further.
"That also marks a good place for speculation.
"The easiest way to do that is with the Teucrium Corn ETF (NYSE:CORN). The exchange-traded fund uses futures contracts to try to match the future price of the commodity.
"The price may fluctuate a little bit in the next few weeks. However, I expect it to rise into early 2018."
Coins or Certificates—What's The Best Way To Buy Gold?
"Physical gold is insurance against another huge financial crisis, an inflation hedge, and a general diversifier from stocks," writes Rob Marstrand of Ofwealth.com. "For these reasons, it remains a core part of the portfolio.
"But when bankers talk about gold, do they actually mean bars or coins in the bank's safe…at arms' reach…or are shares in a gold-backed, exchange-traded fund a reasonable alternative?
"My motto is 'Let's get physical'; at least, that's the preferred route. By that, I mean it's better to own the real thing—gold coins or bars—than to own merely exposure to movements in the gold price via some kind of financial product.
"Here's how I recommend that any investor build a gold position (in order of priority):
1. Gold coins (typically one ounce each) or small bars (for example, 100 grams), kept locally.
2. Allocated gold bullion, kept in a secure vault or vaults. This route is an excellent way to invest larger amounts.
3. Shares in a gold-backed, exchange-traded fund (ETF). Technically, these aren't direct ownership of physical gold. But they're a pretty safe and convenient way to invest in gold.
"Bullion, fortunately, can be bought easily and cheaply online and stored in guarded and insured secure vaults around the world. The service I chose was BullionVault."
Satellite Internet—How to Profit from Connecting the Planet
"Satellite internet is a complete transformation in how we enable communications and internet access," writes Ray Blanco of Dailyreckoning.com. And with "cheaper space launches, better satellites and faster computers…The conditions are perfect for major growth in the sector in 2018.
"Thousands of new small satellites could be put into low orbit, making access to high-quality internet from any point on our planet's surface finally possible. This is called 'constellation satellite technology.'
"The mind behind this innovation, Greg Wyler formerly worked at Google helping put satellites into orbit to better connect Africa. Now he's using new technology to completely envelop the planet in internet connectivity.
"The anticipated constellation would be close to 1,000 satellites, orbiting 750 miles up. To compare, the satellites we use now sit 22,000 miles high. At this height it takes messages half a second to travel.
"For a TV this is OK. But if you're doing something like live video conferencing, that half-second lag is unacceptable.
"But these new satellite constellations will only be 750 miles up, so signals could even travel faster than with fiber optics.
"But how do we get all those satellites in orbit?
Startups like Elon Musk's SpaceX and Jeff Bezos' Blue Origin are a big reason why this tech will work. Cheaper launches are opening up tons of possibilities.
"Early movers will score biggest."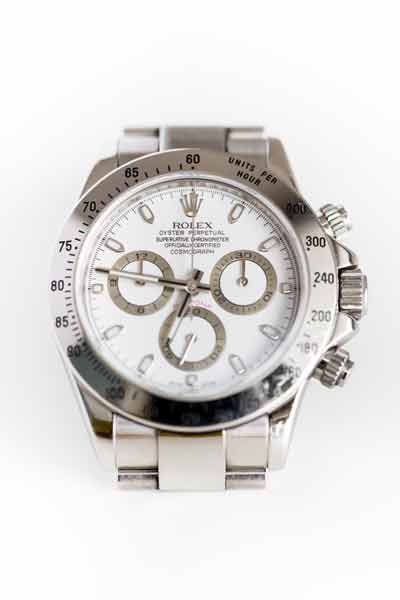 High Time for a Smart Buy
"Blue dials. Gold bracelets. Pictures of scuba divers and race car drivers. I didn't really know much about finance when I was a kid," writes Nilus Mattive of Dailyreckoning.com. "But I could tell Rolex watches were a big deal.
"Recently, the Phillips auction house sold off Paul Newman's personal 6,239-caliber, exotic-dial Rolex Daytona watch for a record-smashing $17.8 million. Newman's wife originally bought the watch for him at Tiffany's back in 1968…right when he was getting into driving race cars."
"At that time, the relatively unpopular Rolex model—a chronograph with bold numbering designed for timing motorsports events—retailed for less than $400. In today's dollars, that would be a bit more than $2,000.
"There's the first lesson anyone can learn from a Rolex: Inflation happens.
"Of course, in the world of Rolex, inflation really happens.
"When Paul Newman stopped wearing his Daytona in 1984, the equivalent model already sported a suggested list price of $1,125. The current stainless steel Daytona model has a suggested retail price of more than $12,000.
"Stainless steel Rolex sport watch prices have risen more than six times faster than inflation over the past 50 years. Again, I'm not even talking about ones that contain precious metals like gold or platinum!
"There is just always enough demand for Rolex watches to keep prices rising far ahead of inflation.
"I've seen it since I got my own back in 1999—a stainless steel GMT Master model with the famous red and blue 'Pepsi' bezel. The watch was about $2,500 new.
"Today, my same actual timepiece—with almost 20 years of wear and tear—would easily sell for $7,000 to a collector.
"So I could net a very handsome profit after two decades of nearly constant use. Indeed, vintage watch aficionados actually assign higher values to watches that show scratches, faded bezels, and other marks of authentic wear, than they do to cases that have been repolished! It's the financial insurance you can wear on your wrist."
Editor's Note: This article was taken from a past issue of International Living's monthly magazine. Delivered straight to your door each month, we delve into the details you need to take action. We share our contacts. We lay out the pluses and minuses. And we keep you up-to-date on the latest developments with the best havens abroad, including…7 Great Retirement Towns You've Never Heard of…
In 7 Great Retirement Towns You've Never Heard of Where You Can Live Better for Less we'll pull back the curtain and introduce you to communities where you can embrace the retirement of your dreams…and do it for less than it would cost you to stay home.
Subscribe to International Living today and you'll save 35% and receive this report for FREE.