I live in paradise—there's no disputing it. My home on the island of Roatan is surrounded by gorgeous, lush jungle and faces out to the sea. The palm trees and flowers that fill my yard draw hummingbirds who zig and zag their way among the colorful blossoms.
At my doorstep, there's the beach, with its resident crabs and regal herons walking along the shoreline.
So often I hear people say, "I wish I could live here!" or "Someday I want to move here." I am often told how jealous people are of the life that I live. But I have something to tell you now…Someday can be today.
You don't have to wait for some undetermined time and place to make your dreams come true. If you truly want to live in your paradise—wherever that may be—it is up to you to make that dream a reality. No one else can live your life for you; you are in control of your own choices.
I made the choice years ago to live my life exactly how I wanted to live it, and that led me to the beautiful Caribbean island of Roatan, Honduras. I realize my dreams every single day.
I spend my days basking in sunshine and deliberately living my life. I no longer rush to and fro, hurrying through each day and missing the moments that once blended together back in the States. Nowadays, I enjoy every moment for all it entails: the sounds of the chirping birds and the sea lapping onto the sand; the smell of fresh, local coffee brewing as I open the front doors to breathe in the salt air.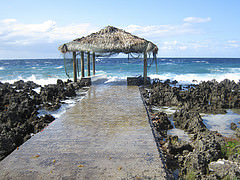 I, too, used to make those plans and dream those dreams of a warmer climate and a less chaotic lifestyle. I used to dread the cold winters and the daily alarm clock, reminding me to drag myself out of bed through a bitterly cold commute to work yet another day. I, too, used to wonder how long I would have to wait to be living the life I wanted to live.
I realize now that I didn't have to wait at all. There's no better time than the present to make your dreams reality. You don't have to wait until you reach a certain age or save a certain amount or meet a certain deadline. Those are merely obstacles you've put in your own path. And you can always add more obstacles—I see people do it all the time. They've made their third, fourth, or tenth trip to visit and scout out a home to buy, but they don't follow through because they're waiting for something. They begrudgingly go back home to lives they don't love to dream of another vacation, rather than seizing the moment to live and love their own lives.
Make your life your own and seize the moment now. I promise you won't regret it for a single second!
Get Your Free Honduras Report Here:
Learn more about Honduras and other countries in our daily postcard e-letter.
Simply enter your email address below and we'll send you a FREE HONDURAS REPORT: Island-living at an Affordable Price in Honduras. This special guide covers real estate, retirement and more in Honduras and is yours free when you sign up for our postcards below.
Get Your Free Report Here