"And this room is—for what, exactly?"
The answer was a bit of a culture shock.
This was my first scouting trip in Latin America, way back in 2006. I was touring condos and homes. They were spacious with big bedrooms, walk-in closets, and lavish bathrooms. But the first house I saw (which had a master bedroom bigger than my European apartment) came with a little extra…
It was a small bedroom and bathroom right behind the kitchen and laundry room. The bedroom was barely big enough to fit a single bed and a modest wardrobe. The bathroom was also tiny. I was perplexed. What on earth was it for?
Oh, the real estate agent answered, that's the maid's quarters, for your live-in maid.
A live-in maid or nanny, it turns out, is normal for many Latin families. For foreigners, like myself, it's not really the norm. They usually prefer someone comes in during the day to cook or clean but who doesn't live with them. I've seen North American expats use the maid's quarters as a small home office or simply for storage.
That's not the only difference you'll come across with homes in Latin America…
Modern condos and houses, aimed at young professionals or foreign buyers, will have open plan layouts. But a closed kitchen is typical in more traditional middle- and upper-class homes. The owners don't cook. Their live-in maid or housekeeper does that. These closed kitchens usually don't come with fancy cabinetry and appliances—after all, guests will never see the inside of the kitchen.
Bars on the outside of windows is something that's routine in many places worldwide, even in super-safe neighborhoods. Ask a local why they have them and they usually shrug their shoulders and say their parents and grandparents always had them.
I've lived in the tropics for more than a dozen years, but I still love a hot shower. Like many people from North America and Europe, I think of hot water as an essential. But in many parts of the world it's seen as a luxury. It's not a big deal if the hot water plumbing is in place and you just need to buy a hot water heater. That's inexpensive and easy to install.
But not having the plumbing takes a lot more work and money to put right. This doesn't just apply to older homes, either. A friend bought a pre-construction condo in Brazil. He imported expensive tile from Italy for the kitchen and bathrooms. Then he discovered that the condo was only plumbed for cold water. He found out, of course, after he'd already finished putting up his fancy bathroom and kitchen tile. It didn't even cross his mind to check, he told me, because he just assumed a new home would have hot water.
These differences also extend to what you get when you buy pre-construction. North American buyers often think they'll get a move-in ready home. But pre-construction property in many parts of the world usually doesn't come move-in ready. You may get the wiring for lights, but no lamps or fixtures. You'll often get the plumbing and wiring pre-installed for air conditioning, but you may need to buy the actual air conditioning system.
Speaking of air conditioning…central air is likely what you're used to, but it's expensive to run. Overseas, homes are often equipped with split air conditioners instead. These are very efficient and typically use less electricity than central air.
In some countries, you won't even get kitchen cabinetry and counters or bathroom fixtures and fittings—you'll just get a "grey shell" finish. It's a great opportunity to truly customize your home if you know that's what you're getting. Triple-check your contract when you buy pre-construction, so you know what to expect. And, always get a detailed list of exactly what's included in your home.
There's one big difference you should also know about. In much of North America and Europe, sellers must follow rules and guidelines on how they describe a property. They may even be obliged to disclose faults with the property, disputes with their neighbors, anything that could materially affect the property's value.
That's not the case in much of the world. Homes are often not quite as they're described by the seller. The ocean view in the listing photos might not exist. The home might not meet current code (or indeed, any code). For that reason, it's hugely important that you see the property yourself before you sign any paperwork or hand any money over.
Get Your Free Real Estate Report Now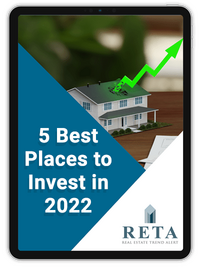 Sign up for our free daily Postcard e-letter and get a valuable free report on the The 5 Best Places to Buy Real Estate In 2022.
Related Articles
How to Own and Purchase Real Estate in Mexico
Find Your Dream Beachfront Property in Costa Rica
Real Estate & Property in Portugal
Upcoming Conferences
Live Better, Spend Less, Retire Sooner
IL's Retire Overseas Bootcamp
October 21-23, 2022 in Atlanta, GA

In safe, warm, welcoming communities abroad, as little as $1,700 a month can bankroll a good life... this fall, our experts will show you where—and how.
Early Bird DISCOUNT—Save $100 When You Register by Sep. 29
Details Here IL's Retire Overseas Bootcamp
---
Registration Now Open for the Best of Europe Private Screening

In the Right Spots in Europe, You Can Retire in Style—in an Historic, Sun-Drenched Locale—for as Little as $2,300 a Month or Less—Especially Now With the Dollar and Euro at Parity for the First Time in Two Decades.
And We'll Show You How, October 1-2, During the Special All-Online Best of Europe Private Screening.
---
The Income Revolution Forum
What if You Had the Freedom to Enjoy the Good Life Anywhere in the World You Wanted to Be...and Get Paid While You're There?
We'll show you how—with hands-on guidance—you could beat inflation...secure your retirement...ditch your commute...and turn a skill you already have into a portable side income of $300, $600, even $3,000 or more a month.