When it comes to the ideal beach lifestyle abroad, many expats look to Koh Samui in Thailand where the palm-lined beaches, azure ocean, year-round tropical weather, and affordable costs make for ultra-easy living.
Just an hour-and-a-half flight from the Thai capital of Bangkok, this popular spot offers something for everyone, whether you dream of a tranquil seaside retreat or prefer frequent nights out on the town. You can access quality health care, where a basic doctor's visit costs as little as $20, and there's plenty to keep you busy—from yoga and Pilates to salsa dancing and bridge club—when you're not soaking up the sun on one of the island's many beaches.
Even though there's plenty to do and see, the island's relatively small size means it's easy to navigate. You'll find supermarkets, fine-dining establishments, wine bars, and boutiques…even a new mall. Plus there's hiking, kite-surfing, and some of the finest snorkeling and kayaking in the Gulf of Thailand.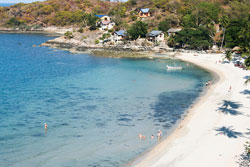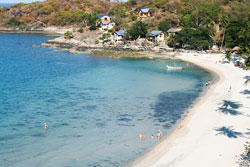 Expats come to Koh Samui for the sea, sand, and sun, and they stay for the affordable, laidback lifestyle. "It's like Hawaii, only easier," says Sam Rogers, who's originally from California and is set to retire full-time to the island with his wife Hilary in the coming year. Or, as another resident expat put it, "You can get away from it all…find a quiet beach and enjoy the surf or sunset…or you can join any form of entertainment or adventure, from zip-lining to chartering your own sailboat."
The best part? A couple can live here comfortably for as little as $2,500 a month, including rent, though some expats spend much less.
There are lots of areas to live in to suit any taste or pocketbook. But one of the best for peaceful seaside living is Mae Nam, a low-key community on the beach, which is home to seasoned expats, locals serving the tourism industry, and generations of Thai residents who remember the days before beach bungalows brought visitors from abroad.
It's easily the island's prettiest area, with a shallow bay and majestic palms lining a four-mile stretch of sand. Set in nearby tropical surroundings is Santiburi Golf Course, featuring well-maintained fairways and sweeping views of the coast and Samui's neighboring islands.
Take a turn down one of Mae Nam's side streets, at the main intersection, and you'll find welcoming guesthouses, cafés, and massage shops lining the street. There's an understated feel to the area. You won't find a bustling nightlife (though you'll find that elsewhere on the island, should you desire it.) Instead, it makes the perfect setting to enjoy a laidback meal, at a restaurant such as the top-rated Barracuda, run by German expat Ferdinand Dienst and his wife.
Get Your Free Southeast Asia Report Here:
Learn more about Asia and other countries in our daily postcard e-letter.
Simply enter your email address below to sign up for IL's free daily postcards and we'll also send you a Free Asia Report – The Best Islands, Beaches and Cities –
Southeast Asia's Top 6 Retirement & Vacation Destinations
This special guide covers real estate, retirement and more in Southeast Asia and is yours free when you sign up for our postcards below.
Get Your Free Report Here