Greetings from Lagos on Portugal's Algarve, and week three of my month-long scouting trip.
I'm here in Portugal to put boots on the ground and find double-your-money RETA opportunities. I'm here to find a base for myself. And as with anywhere I travel, I'm on the lookout for overlooked bargain homes we can snag for pocket change.
Lagos has the coastline and climate of Southern California and an old town steeped in rich history. You'll find building's clad in magnificent azulejos tiles. Beautiful 15th-century churches. You can stroll the award-winning marina. Or dine on grilled sardines, clams in garlic, or delicious piri piri chicken.
It's a place where we can generate $40,000 to $50,000 a year in rental income from a condo. And I've sent more details on the rental play to RETA members.
But here with you today I want to talk about the truly cheap homes you can find in Portugal…
The Algarve is not a place for those. But go to Portugal's interior or its northern regions and you'll find incredibly inexpensive real estate in some stunning locations.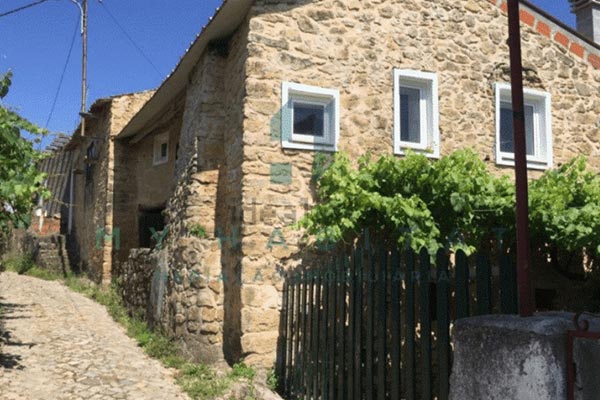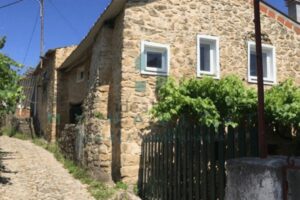 See the listing here.
Portugal has mountain villages and hidden hill-towns where time slows down and the food is farm fresh every day. There's rich rolling hills, sun-drenched vineyards, and vibrant little university towns. The cost of living is incredibly low, the people are so polite and friendly…
The trouble is that there are so many bargains, it's a case of where to start…
Fortunately, when you're on the road, sometimes serendipity steps in and points you in the right direction.
Or the wrong one…
As you might recall, last Sunday I brought you a video from a bargain home I found in the small town of Espinhal, 20 minutes outside Coimbra.
It's an impressive building. Built in the 18th-century. Four bedrooms… 2,800 square feet. Located opposite the Palace of the Vicondessa de Espinhal. And selling for just €89,000. You can check out my YouTube video here.
What I didn't know is that there are two Palaces of the Vicondessa de Espinhal in the Coimbra District…
Each is in a different town.
That's how I found myself at the wrong Palace of the Vicondessa de Espinhal in the town of Lousã, where the building has now become the Palácio da Lousã Boutique Hotel.
And boy am I glad of the mistake…
Lousã is a quiet little town in the foothills of the Serra da Lousã mountains. It's something between a commuter town for folks who work or study in Coimbra and a base for the growing number of domestic tourists coming for activity vacations. There are many hiking and biking trails in the area.
It's a really charming place. And there seemed to be some major gentrification and improvements going on. Houses were being done up. Roads were newly paved. There were boutique hotels, a small wedding destination industry, and a number of businesses catering to activity vacations.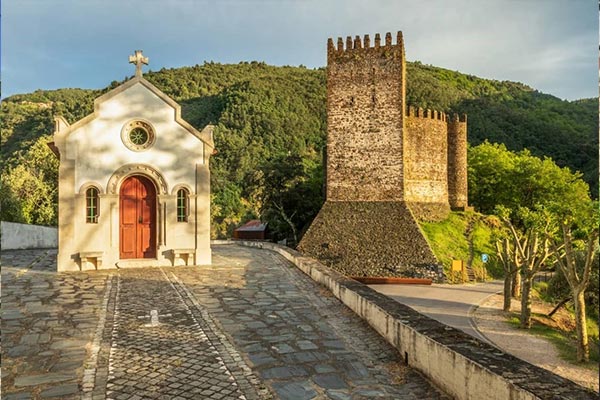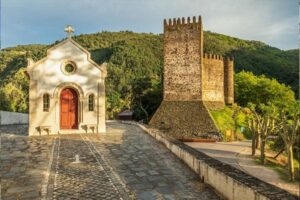 I found a bunch of attractive fixer uppers in the €50,000 to €120,000 range.
This intriguing old manor house on the banks of the Arouce River, about 15 minutes from the center of Lousã, was on the market for €57,500. It's got a bit of land with it and a large terrace with views of the valley.
For the right person there's some tourism potential here. Fix up a place, convert it to Airbnb, cater to adventure tourists.
Close to the town and stretching across the Serra da Lousã, you'll find a number of what are called "Schist Villages," little farming villages built out of a distinctive earthen stone.
Their Old-World charm has made them quiet the tourist attraction. They cling to mountainsides and rest on riverbanks, and are set along popular mountain trails.
I found an entirely restored three-bedroom, schist stone house just a few minutes outside Lousã on the market for €105,000.
It sits on nearly half an acre of land, right on a river, with views of a waterfall from the house, and recently opened walkways of Ribeira do Quelhas, Praia das Rocas, and the mountain village of Xisto close by.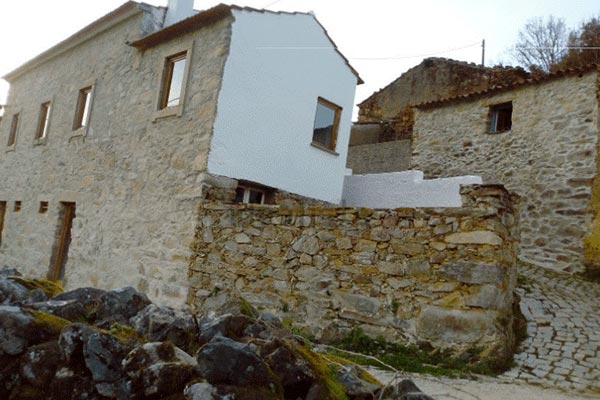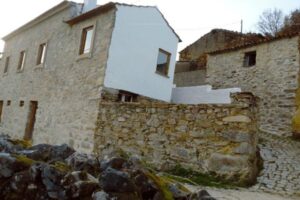 It's exciting looking for property in Portugal…it's rocket-fuel for anyone's dream of a more international life…
Portugal is an extremely attractive place for mobile people. It's safe, secure with good transport and infrastructure. The education system is good and the cost of living is incredibly low. The authorities have been smart about this with their Golden Visa and non-habitual resident regime. The Golden Visa is a fast-track visa program for investors from outside the European Union.
And there's a kicker: Portuguese banks are lending to foreigners as much as 80% at interest rates as low as 1%. This has created amazing opportunities to use leverage to double our money with profitable plays.
Now imagine buying that dreamy historic home with bank financing and owning it for just a few hundred bucks a month.
With homes at these prices, it's completely doable.
Get Your Free Real Estate Report Now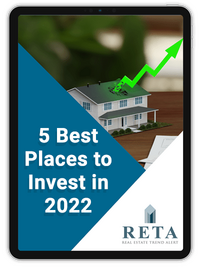 Sign up for our free daily Postcard e-letter and get a valuable free report on the The 5 Best Places to Buy Real Estate In 2022.
Related Articles
The 10 Best Places to Invest in Real Estate
Cut Your Property Tax by 75% or More
The Overlooked Value in European Real Estate