The vibe of Langkawi, also known as the Jewel of Kedah, is one of a laid-back island. If it's beaches and wildlife that you're after, Langkawi is probably the Malaysian Island to head to—and Malaysia does have a few to choose from.
This tropical archipelago is off the beaten tourist trail, and although geographically close to Thailand it attracts backpackers of an older more sophisticated type. The hotels are a little bit more expensive than in Thailand and there is a good selection of five star hotels to choose from (The Danna, The Datai, The Andaman, The Westin and The Sheraton). There are also some wonderful boutique hotels and lots of clean backpacker hostels to suit everyone's budget.
Langkawi lies on the northwestern tip of Malaysia and if you haven't heard of it, you are in good company. It's a mixture of picturesque paddy fields, sheer craggy limestone mountains, thick jungle and unspoiled mangrove swamps. It also boasts the Kilim Karst Geoforest Park, the first UNESCO listed Geopark in all of Asia, and is home to the famous crab-eating macaque.
A Snowbird's Paradise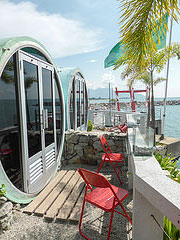 An island steeped in legends, the story behind Gunung Mat Cincang and its neighboring peak Gunung Raya, the island's two highest peaks, is one of the most romantic. These two mountains were once two giants who were lovers. At the wedding of their children they fell out and had a scrap, spilling gravy and breaking pots and pans. The gravy spillage became the coastal town of Kuah (which means gravy in Malay), and the neighboring village of Belanga Pecah (or broken crockery) was born from the pots and pans. Finally coming to their senses and ashamed of their behavior, they chose to be turned into mountains. Mat Sawar, their mediator, was also turned into a small hill, and to this day he lies wedged between the two peaks, keeping a watchful eye over them.
The drive from Langkawi international airport to most of the hotels takes you through sleepy Malay villages, with established low-level homes on stilts surrounded with colorful verandahs, yawning dogs, chickens, and paddy fields. You'll pass hundreds of acres of virgin rainforest and row upon row of planted rubber trees without a single sign of tourism anywhere. It's easy to see why this island is so popular and why people tend to stay as long as they do.
When you enter Malaysia you'll get a three-month visa. Quite a few of the tourists my age (early 50s) bunker down for the entire three months, returning to Europe and North America tanned and happy, as their winter starts to thaw. And it's a place that they return to each year—a number of people I met on the beach or at lunch were returning for their fourth and fifth year in a row.
The roads to the hotel are comparatively empty save the occasional motorbike, and groups of grooming monkeys using the highway like their own personal tanning salon. It took me less than eight minutes to drive to the Bon Ton Temple Tree Resort.
This eight-villa hotel is an eclectic mix of heritage buildings disassembled from different parts of Malaysia and re-assembled. With names like Silk, Black Coral and Blue Ginger, they claim to be over 100 years old. I eventually settled on one facing the pool. The pool itself was delightful—there were no children in sight, and the restaurant, which is one of the best on the island, overlooks a natural lagoon. Filled with a multitude of local exotic birdlife I stood on my verandah and witnessed an eagle swooping down to pluck a small fish from the surface, only to be attacked by another eagle that sought to steal it. It was far better than tuning in to National Geographic and I came to realize that this is one of Langkawi's main draw cards. Its fauna is spectacular.
That evening, having dinner in the alfresco restaurant, the only sounds as the sun set were the hundreds of birds in the lagoon as they settled down for the night. Minutes later, when they had presumably settled, there was absolute silence. I was reminded of the movie Out of Africa and at one stage fully expected Meryl Streep to join me at my table. "There isn't a great deal to do here," admitted Alison, one of the owners of Temple Tree, as we sat and chatted. "Things here tend to be a little more expensive than Penang and there isn't such a variety of crafts. People come here for the beaches, the solitude and the wildlife."
Great Hospitality and White Sand Beaches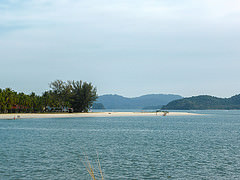 Just down the road from the resort is one of Langkawi's more popular beaches, Pantai Cenang. The strip of shops, restaurants and hotels that run parallel to the beach were unassuming, inviting, and tranquil. The beach itself was gorgeous. A mixture of white sand and crystal clear turquoise water fringed with an abundance of coconut palms.
Planting myself next to a coconut seller I asked for one to go. After cutting the top off and offering it to me, he stopped and withdrew it saying, "You look hot. Let me get you a chilled one. It will make you feel wonderful." He was right, and for just $1 I had another.
The area of Pantai Cenang, near the island's southwestern tip, is the island's most vibrant tourist hub. Pantai Cenang also has the best waterfront nightlife on the island, where the numerous bars offer a laidback atmosphere filled with Motown tunes and cold beer. I met a lot of tourists here, and it's a good place to pick up information about what's happening around the rest of the island.
Kuah, the main town, is on the southeast corner of the island, while most of the larger five-star resorts are on the northwest coast. In-between and around the fringes are deserted beaches, and numerous wildlife parks which are the main attraction.
No matter how much time you have on the island, be it a few days or a few months, the Kilim Karst Geoforest Park tour is a must. There are different packages to choose from and for $20 I really felt that I got value for my money. The Bat Cave was awesome and the forest itself is stunning. Seeing eagles fishing naturally just feet from our boat is something that I'll always remember.
I'm not a beach bunny—I would rather be active than sit on the beach—and Langkawi gave me all the options that I asked for and more. Its beaches, stunning mountains, enchanting forests, superb diving, and some remarkable restaurants, make it a destination unlike any other in Malaysia.
The best time to visit Langkawi is from December to March, the dry season. This is the season of blossoms, courtship and nesting, with refreshing sea breezes keeping temperatures from climbing much above 86 F. August to October is the wettest period with monsoonal downpours so heavy and so noisy it's impossible to hear the person next to you talk.
Get Your Free South East Asia Report Now
Learn more about Asia and other countries in our daily postcard e-letter.
Simply enter your email address below to sign up for IL's free daily postcards and we'll also send you a Free Asia Report – The Best Islands, Beaches and Cities – South East Asia's Top 6 Retirement & Vacation Destinations.
Get Your Free Report Here