If you want to get away from the hustle and bustle of Mexico's better-known beach resorts such as Cancun, Los Cabos, and Puerto Vallarta, consider heading down to the State of Oaxaca's Pacific Coast. Although the beaches there are further from the U.S. and Canada than those further north, Mexico's budget airlines (Volaris, Interjet, and Viva Aerobus) make the trip simple, affordable ($50 to $80 one way) and relatively short, flying from Mexico City to Puerto Escondido or Huatulco in about an hour. These flights are a far cry from the stomach-churning, windy, seven-hour trip on a mini-bus that my husband and I took from the city of Oaxaca to the coast 10 years ago.
Are you interested in retiring abroad? Yes | Not Sure Yet
In this article I'll discuss Puerto Escondido, Mazunte, Zipolite, and Huatulco. Each beach has its own distinct personality, but between them they offer snorkeling, surfing, paddle boarding, whale-watching, turtle sanctuaries, and national parks—not to mention delicious seafood and friendly, warm-hearted people.
Puerto Escondido

©iStock.com/Isabellaphoto
The largest town on the Oaxacan coast, Puerto Escondido (population 45,000) is known for excellent surfing. It boasts several beaches that cater to different types of visitors. Playa Principal, the most central, is popular among Mexican families. Early in the morning you can watch fishermen arriving there with their catch. I enjoy swimming slalom-style in and out of the many moored boats.
Zicatela, the main surfing beach at the east end of town, attracts surfers from all over the world. It is packed with bars, cafes, and restaurants, from funky watering holes to classy seafood restaurants.
West of Zicatela, over a rocky outcrop is Playa Marinero, a good beach for swimming as the surf and undertow are much more gentle.
This year, while staying in the Rinconada neighborhood, we strolled down residential streets to the 170 steps leading to the U-shaped cove of Playa Carrizalillo, where, early in the morning, we practically had the calm, cobalt water to ourselves. You can also rent paddleboards there. 
Mazunte

©iStock.com/abalcazar
Mazunte Beach is a village located about an hour's drive east of Puerto Escondido. Buses and colectivos run regularly along Highway 200, the coastal road. A colectivo is a pick-up, with as many people as can fit sitting and standing in the back. Costing 10 pesos (50 cents), colectivos drop passengers off on the highway, where they catch another colectivo into town.
Mazunte is a relaxed town with a curved, protected bay. Known for its range of yoga centers and retreats, it's also the home of the "Centro Mexicano de la Tortuga," a turtle research center and museum, well worth a visit, where you can see turtles close up in large tanks.
In the mornings, around 8:00 a.m., motorboats depart from the beach on half-day tours that offer the opportunity to spot whales, dolphins, and sea turtles. Cost is about $30.
Get Your Free Mexico Report Here:
Learn more about Mexico and other countries in our daily postcard e-letter. Simply enter your email address below and we'll send you a free special report - Why Millions of Americans Are Moving to Mexico.
This special guide covers real estate, retirement and more in Mexico and is yours free when you sign up for our postcards below.
Zipolite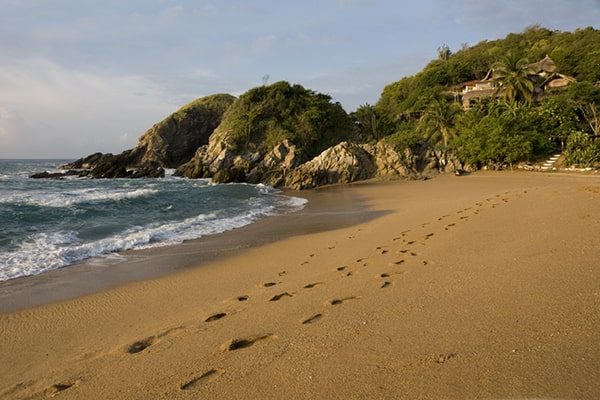 ©iStock.com/diamirstudio
The next beach along is tiny Zipolite, one of Mexico's few clothing-optional beaches. In fact, the weekend after we left, the town had scheduled its fourth annual Zipolite Nudist Festival in early February. The unwritten agreement is that people can swim and walk on the beaches nude (though plenty of folks are clothed), but as they cross an imaginary line halfway up the sand, they get dressed. In other words, you won't see people eating in restaurants or shopping, naked.
Zipolite is easygoing and undeveloped, with no five-star-type hotels or cookie-cutter architecture. Restaurants and small family-run hotels line the mile-long shore, and more brightly-painted shops, restaurants, and cafes are located on the few streets behind the beach.
There's not a lot to do in Zipolite—which is the point. You can lie on the beach, stroll along the shoreline, enjoy a michelada (beer spiced with lime and tomato juice, chilies, and sauces), admire the sunset, and swim—but beware. The powerful surf and current are not for the faint-hearted. Flags along the shore signal the danger level, particularly when the undertow is strong.
You can also climb up the rocky steps at the eastern end of the beach and follow the path down to the small secluded cove, Playa del Amor, on the other side.
One late afternoon we took a colectivo to the village of Ventanilla, where we walked a kilometer down the side road to the beach, in order to experience "la liberación" of newly-hatched baby turtles. This doesn't happen everyday, so check with the locals to find out when, but it's an inspiring experience. For 100 pesos/$5 each (a fee that helps to support the cooperative that stewards the beach), we joined a group of 10, there for the same purpose. Each of us was given "our" own turtle to release ceremonially onto the sand and observe him or her skitter towards the ocean. It was very touching to watch the tiny turtles scrambling towards life.
In Ventanilla, you can also take a guided boat tour into a lagoon, to view birds, iguanas, and an occasional crocodile. We were told the red-coated guides (rather than the white-coated) were more eco-conscious and helped to replant the mangrove swamps.
Huatulco and La Crucecita

©iStock.com/User10095428_393
Known simply as Huatulco to the locals, this series of seven turquoise bays was anointed resort status by the Mexican government in the 1980s. Happily, the development has been much less intense than we expected, with a range of hotels and resorts for all budgets sprinkled around the main beach, marina, and cruise-ship dock, Santa Cruz, and the nearby town of La Crucecita.
We stayed in La Crucecita, enjoying its leafy zocalo (plaza), its church with a 20-meter painting (largest in the world) of the Virgin de Guadalupe on the ceiling and a shady park five minutes walk from downtown. Connecting La Crucecita and Santa Cruz is a mile-long spacious, landscaped pedestrian walkway and bike path.
Both La Crucecita and Santa Cruz are popular among Canadians, thanks to direct flights between Calgary and Huatulco on the budget Canadian airline, Westjet.
The area hosts an array of marine life, perfect for snorkeling. Head to the Santa Cruz beach, where you can rent gear for less than $10 a day. We explored the bay on a paddleboard and a sit-on-top kayak—each costing about $15 for two hours.
One day we took a taxi to the end of the road at the boundary of the Parque Nacional Huatulco, from where we hiked along a shady trail through coastal forest to Playa Cacaluta, a lovely deserted beach. We then headed up the beach to another trail that took us along wooden boardwalks to a lagoon beloved by birdwatchers.
The Takeaway
Wherever we were along the coast, we ate sumptuous home-cooked Oaxacan food—tlayudas (pizza-like baked flatbreads topped with beans, lettuce, cabbage, avocado, mushrooms, or meat); doblados (folded tortillas, sautéed in oil, covered with sauce, and sprinkled with cheese), and of course the chili-spiced chocolate sauce mole, washed down either with cinnamon-flavored café de la olla or a cerveza. We also sampled mescal, the liqueur which originated in Oaxaca and which, like its cousin tequila, derives from the agave plant.
What a coast. And still relatively undiscovered. I'm already looking forward to going back. Whatever your style, whether you want to surf, paddleboard, watch wildlife, or just sip a beer, the Oaxaca Coast probably has something for you.
Get Your Free Mexico Report Here:
Learn more about Mexico and other countries in our daily postcard e-letter. Simply enter your email address below and we'll send you a free special report - Why Millions of Americans Are Moving to Mexico.
This special guide covers real estate, retirement and more in Mexico and is yours free when you sign up for our postcards below.
Related Articles
Everything You Need to Know about Oaxaca
Upcoming Conferences

Maximize what you receive in retirement benefits, pay less tax, and position yourself to retire earlier.
REGISTER NOW. DISCOUNT ENDS SOON
---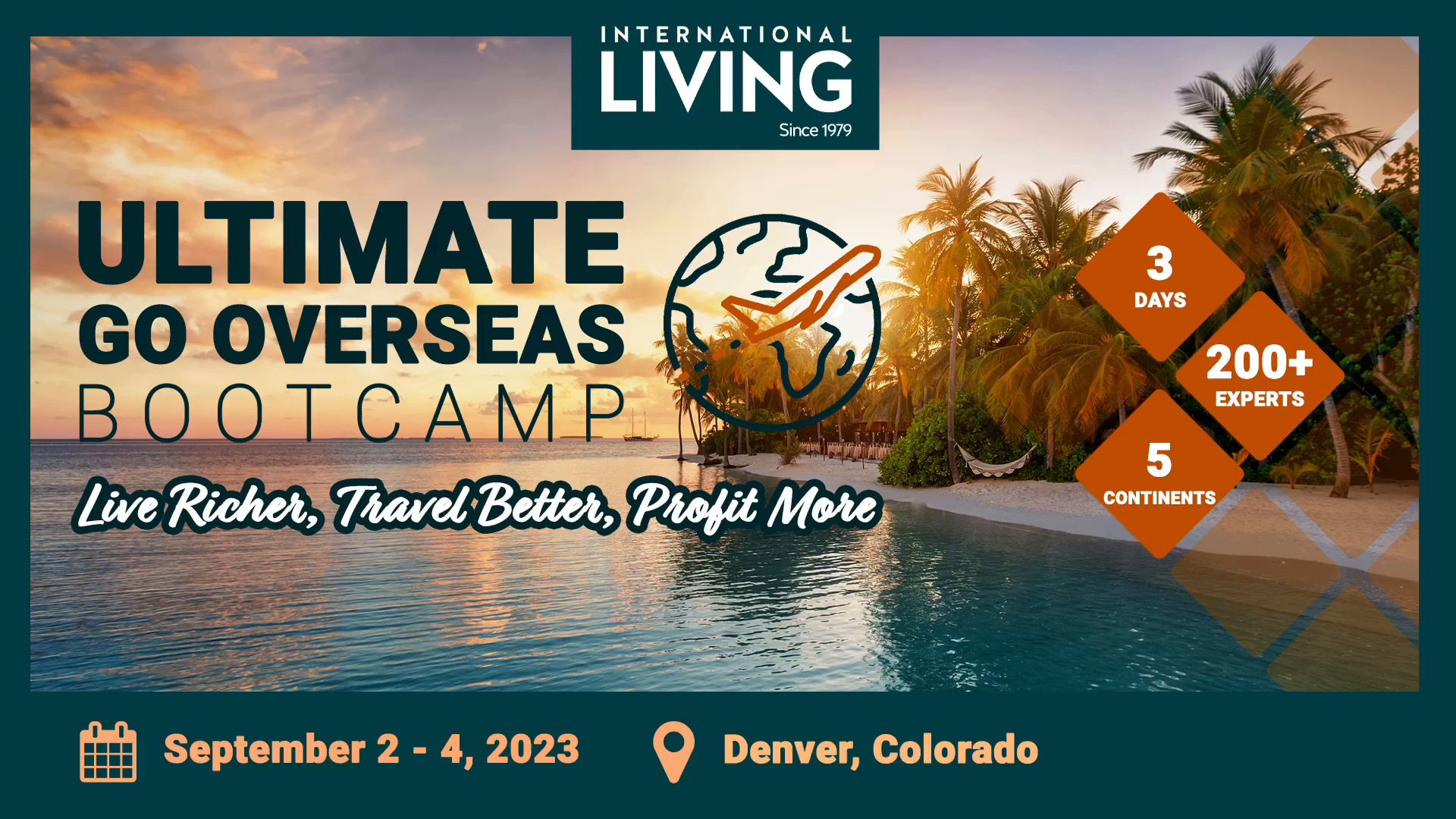 Most Popular Products
Popular Articles You May Also Like